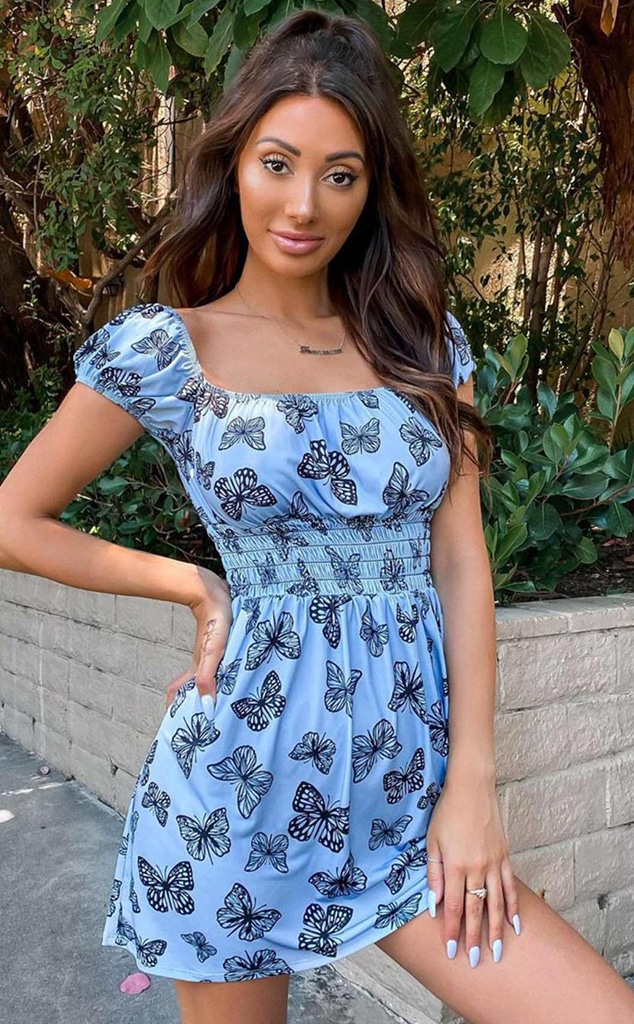 Instagram
Too Hot to Handle's Francesca Farago is setting the record straight.
The Netflix star recently opened up about her dating history and the many romance rumors she's sparked since breaking up with co-star Harry Jowsey in June.
"There's been a lot of drama and stuff happening, and a lot of rumors," Francesca began her YouTube video on Sunday, Sept. 6. "I don't know if anyone is even following, but it's being brought to my attention a lot. I figured I'd... address situations."
For the reality TV personality, she said she wanted to give her fans and followers "some clarity" about her dating life. She described it as "pretty crazy" since she's been linked to many celebrities including Jersey Shore's Vinny Guadagnino, Australian model Casey Boonstra and, more recently, Bachelorette alum, Jef Holm.
"It's hard because I go out to dinner or I just start talking to someone casually, and there's photographers or it gets blown up," Francesca explained, adding that she's is currently dating a "person that I just recently met."
Although the model didn't name anyone specifically, it's assumed she's referring to Jef, who confirmed to E! News just last week that they were seeing each other.
"We've been hanging out and getting to know each other. She's a great person inside and out and we have a lot in common. I definitely have a crush on her," he revealed on Sept. 1. "People are quick to put a title on things but we're just in the beginning stages and are taking things slow."
The two also packed on the PDA ahead of the Labor Day weekend when they were spotted kissing at the Los Angeles International Airport.
In her YouTube clip, Francesca kept a tight-lip when referencing Jef but she shared that she wants him to join her on her Canada trip. 
"This person and I is [sic] very, very new and now I'm leaving," she expressed. "So it's gonna really put whatever this is to the test."
On the topic of the other romance rumors she's fueled in the last few months, the Netflix star admitted that most of these stars are just her friends. When discussing Casey, Francesca said she originally wanted to be romantically involved with the Australian model, but they both decided it was best to be gal pals.
Francesca also addressed her recent outing with Love Is Blind star Damian Powers. She revealed they are strictly friends, which Damian also shared in a statement to E! News on Aug. 29.
"Over the past week, I have been in L.A. with my attorney, Alex Ion, pursuing new projects and business ventures. Francesca and I both share the same attorney," he explained at the time. "Alex arranged for both Francesca and I to meet with him for dinner at the Eveleigh in West Hollywood along with some of our other friends, including Mitchell Crawford and Raiane Macedo."
Watch:
6 Craziest Blind Dates to Get You Through Quarantine
He added that the Too Hot to Handle star grabbed his arm in order to "shield herself from the paparazzi as our entire group" left the restaurant. "Francesca and I are not dating or romantically involved but remain friends," he closed.
As for Vinny? Francesca said she and him were "flirty" with each other on Instagram but, due to living on opposite ends of the coast, things didn't go any further than that.
To hear more about star's dating history and all of the speculation surrounding her love life, watch her full video here.