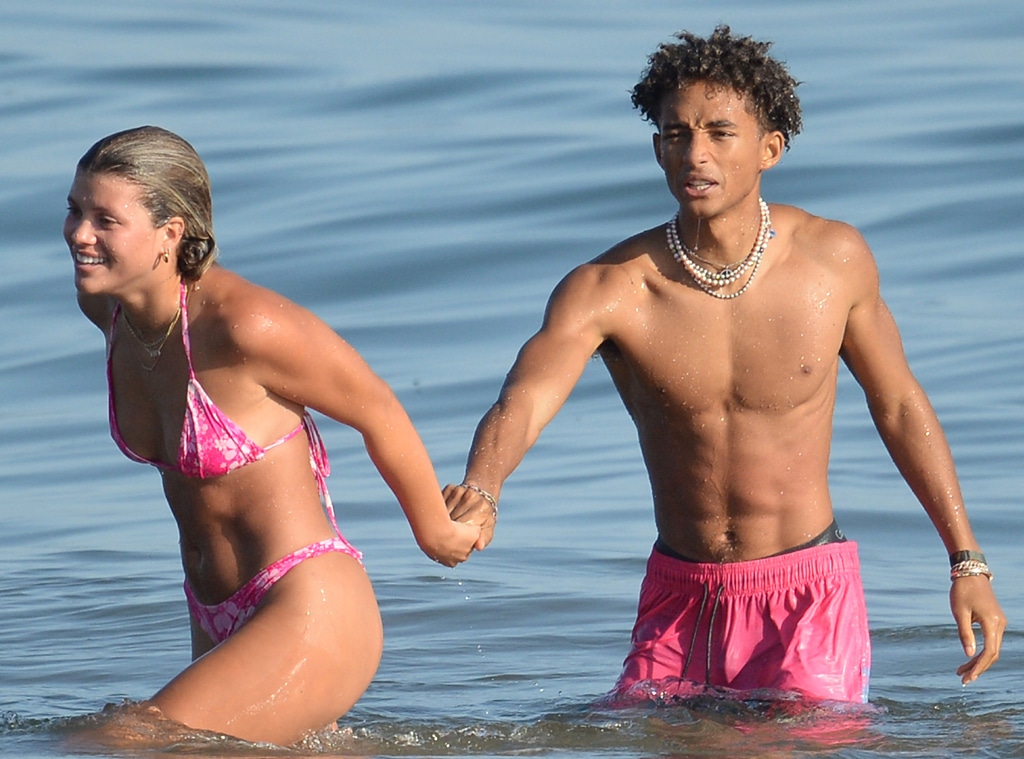 GAC / MEGA
Beach bums!
Sofia Richie and Jaden Smith made waves online after they were spotted hanging out in Malibu, Calif on Saturday, Sept. 5. According to the Daily Mail, who obtained photos of the duo's beach day, Sofia and Jaden had fun in the sun.
For their outing, the 22-year-old model donned a bright pink bikini that featured a floral print. As for the singer? He also rocked pink swimming trunks. Although a picture says a thousand words, a source tells E! News exactly how Sofia and Jaden's outing really went down.
Spoiler: The two spent "all day and night" hanging out together.
"They spent the afternoon playing on the beach together with friends. But Sofia and Jaden only had eyes for each other," the insider shares, adding, "They swam in the water together and wrapped their arms around each other. They held hands as they went in and out of the water and then they pulled each other in for a hug."
When the duo wasn't splashing around, the source notes they enjoyed "cocktails" and a "picnic."
All in all, the chemistry between the two seemed to be off-the-charts. As the source put it, "They were smiling at each other and very flirty the entire day. They seemed comfortable together."
Watch:
Scott Disick & Sofia Richie Break Up "For Good"
Sofia and Jaden didn't just hang out at the beach. According to the source, they grabbed dinner with friends at the celebrity hot spot Nobu.
"They stayed for several hours and left together in a Sprinter van. Sofia was in a great mood and never stopped smiling," the source shares. "She seems to be having a lot of fun and is very happy. She and Jaden went back to a friend's house for the night."
As pop culture fans might recall, Sofia and Jaden go way back. In 2012, the two actually began dating when they were both 14 years old. However, their romance ran its course by early 2013.
Rachel Murray/Getty Images for Rolla's
More recently, though, Sofia was in a serious relationship with Scott Disick. Last month, the couple decided to break up "for good" after nearly three years together.
"They have been off and on for two months," an insider told E! News at the time. "Sofia really pushed to make things work between them after they initially broke up, but Scott officially called it off recently and they are no longer speaking."
According to the insider, Scott and Sofia's age difference played a part in their split.
"Friends attributed their 15-year age difference becoming an issue," the insider explained. "He's in a very much different place in his life, really focused on a more quiet lifestyle, his kids and his investment businesses. And Sofia [is] really still trying to figure what she wants to do which drove them apart over time."
While they initially broke up in May 2020 and reconnected shortly after, the insider said things are different this time around. "Scott was very clear with his decision to end things and doesn't see them getting back together again in the future," the source explained.
Just a few weeks ago, Sofia celebrated her 23rd birthday with her gal pals in Cabo San Lucas, Mexico. "Sofia's friends wanted to make it really special for her and she was so excited to get away to celebrate," a separate source previously told E! News. "Sofia expressed she wanted a chill birthday but wanted to be somewhere other than L.A. She just wants to drink, dance and party at the house, and is excited she's with her closest friends."
That same source revealed Scott reached out to wish Sofia a happy birthday "but that was the extent of it. They aren't on speaking terms at all."
At this time, Jaden nor Sofia have commented on their recent outing together.