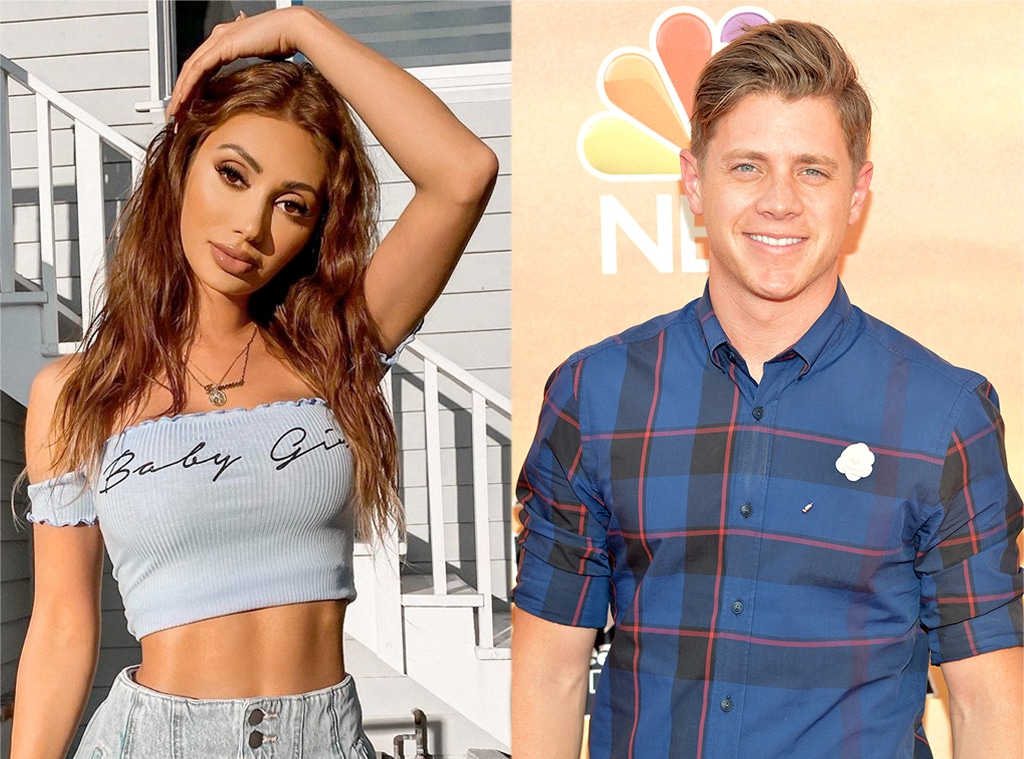 Instagram/Getty Images
Francesca Farago's single status is coming to an end.
The Too Hot to Handle star is dating Bachelor Nation's Jef Holm. The former Bachelorette contestant, who appeared on season eight of the ABC series and got engaged to Emily Maynard, exclusively tells E! News about his new romance.
"Our mutual friend, Casey, introduced us a few weeks ago," Jeff reveals, adding that he and Francesca have been spending a lot of time together.
"She's a lot of fun to be around," he dishes. "We've been hanging out and getting to know each other. She's a great person inside and out and we have a lot in common. I definitely have a crush on her."
While the two are enjoying each other's company, the Bachelor Nation star explains they aren't rushing into anything. The way he described it, "People are quick to put a title on things but we're just in the beginning stages and are taking things slow."
At this time, Francesca has yet to publicly comment on her romance with Jef. 
However, the pair recently uploaded the same image to their Instagram Stories, which sneakily hinted they've been hanging out. On Tuesday, Sept. 1, The Bachelorette alum posted a group photo of him, the Netflix star and several others floating on a boat while at Lake Powell, Ariz.
News of Francesca's fling comes exactly one week after she made headlines for being seen with Love Is Blind star Damian Powers.
The Netflix stars were seen leaving a restaurant in West Hollywood, Calif. on Tuesday, Aug. 25. During their late night out, Francesca was photographed holding onto Damian's arm as they walked out of the hot spot. 
As Love Is Blind fans know, Damian has been in a relationship with Giannina Gibelli. Even though the two decided to not get married on the series finale, they revealed they wanted to give their relationship another shot after the reunion special.
In a statement to E! News, Damian set the record straight on his outing with Francesca.
"Over the past week, I have been in L.A. with my attorney, Alex Ion, pursuing new projects and business ventures. Francesca and I both share the same attorney," he explained, adding, "Alex arranged for both Francesca and I to meet with him for dinner at the Eveleigh in West Hollywood along with some of our other friends, including Mitchell Crawford and Raiane Macedo."
Watch:
Giannina & Damian After "Love Is Blind" Wedding Disaster: "The Rundown"
Moreover, Damian explained why he was photographed with Francesca holding onto his arm.
"Francesca grabbed onto me in an attempt to shield herself from the paparazzi as our entire group entered the car," he said. "Francesca and I are not dating or romantically involved but remain friends."
Since summer began, Francesca has been living the single life. In June, she and her Too Hot to Handle co-star, Harry Jowsey, went through a very public breakup. Following her split, Francesca was spotted getting cozy with Jersey Shore's Vinny Guadagnino and Australian model Casey Boonstra.
But now, it's clear that she has her eyes set on only one person: Jef Holm. And it looks like the feeling is mutual.