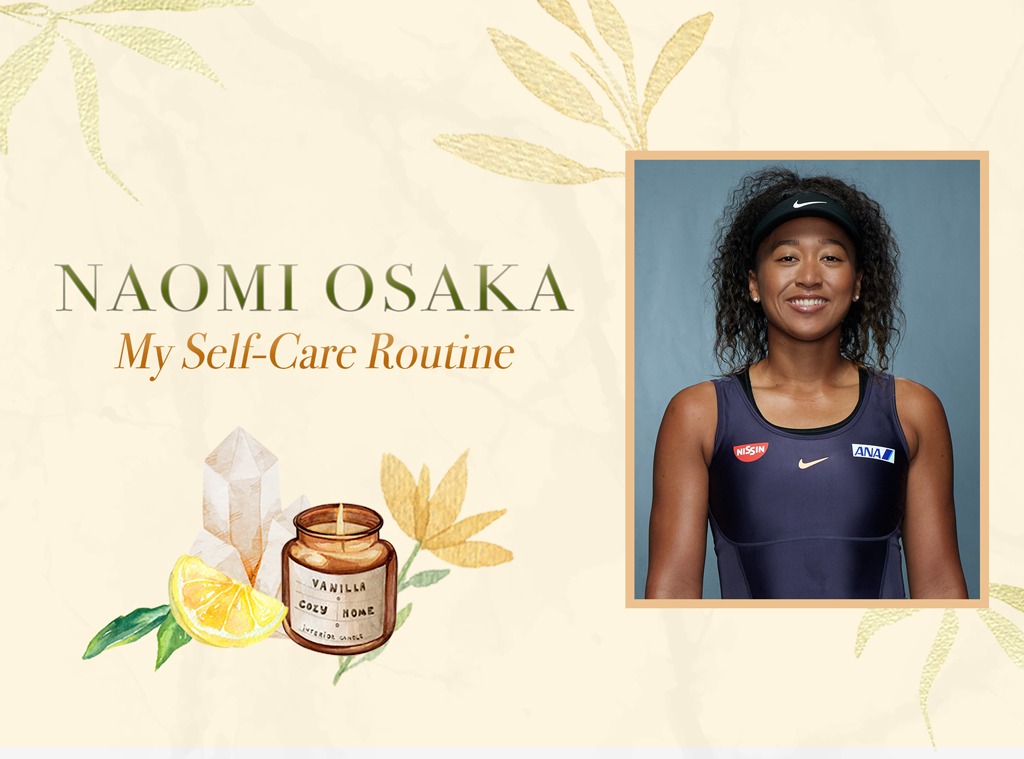 Naomi Osaka; E! Illustration
We have nothing but love-love for Naomi Osaka.
OK, cheesy pun aside, the 22-year-old tennis superstar is inspiring on and off the court, whether she's speaking out about social injustices or netting yet another championship. And she's on her way to doing just that at the 2020 U.S. Open, winning her first round match while wearing a black face mask in memory of Breonna Taylor, who was fatally shot by police in March 2020. Let us repeat: love-love.
The Japanese athlete, who is sponsored by Nike, took time out of her busy training schedule to share the details of her self-care routine with E! News, including her go-to healthy recipe, her favorite way to unwind after a grueling practice and how she likes to break a sweat when she isn't dominating her sport. 
The First Thing You Do in the Morning:
I practice every day during the week so normally I brush my teeth, wash my face, put on sunscreen (I use sunscreen by Shiseido called Anessa), prepare breakfast (usually avocado toast with smoked salmon) and drink a green juice.
Three Things You Try to Do Each Day:  
The tour schedule is really long and I spend most of my year on the road so it's really important that no matter where I am, I carve out some me-time each day. I like watching Netflix, listening to music and have gotten back into painting and reading. I also call my sister every day. Tennis is a solo sport, so it's important to maintain familiarity and routine to stay focused.
Your Favorite Way to Break a Sweat Right Now: 
I mean there's one obvious answer and that's tennis. It's what I've grown up doing and I have been back on the court training for the upcoming season. When I am not on the court or the gym, I like to ride my bicycle or run by the beach and have been exploring local hiking trails.
Your Go-To Snack:
I always have a cup of fruit near me, usually with grapes or berries. For drinks, I like homemade green juice. I mix in BODYARMOR Lyte, Coconut for some sweetness and flavor without having to worry about sugar.
Your Go-To Healthy Recipe:
I make a lot of Japanese food at home. It's what I grew up eating and is definitely my comfort food. I have a grill so I have been making grilled salmon and tuna tataki and eat that with quinoa and spinach as my recovery lunch.
Your Go-To Indulgence:
Nike sneakers. I can't get enough. When I find a shoe I like, I get them in every color.
In terms of food, I don't usually eat sugary foods, but every now and then I love Japanese strawberry cake. It's light and airy so you don't have to feel as guilty when you eat it. I mean it's mostly fruit anyway…right? If I'm really feeling myself, I add green tea ice cream.
No. 1 Self-Care Tip:
One thing that is incredibly important to me every day is my pre- and post-workout routine. My training is very intense and if I don't warm up and cool down properly, it's really easy to get injured. The easy way to start is by foam rolling your muscles. I am sponsored by Hyperice and they have a vibrating foam roller that cuts my warm up time in half because of how effective it is.
Editor's note: Osaka is an investor in Hyperice and BodyArmor.