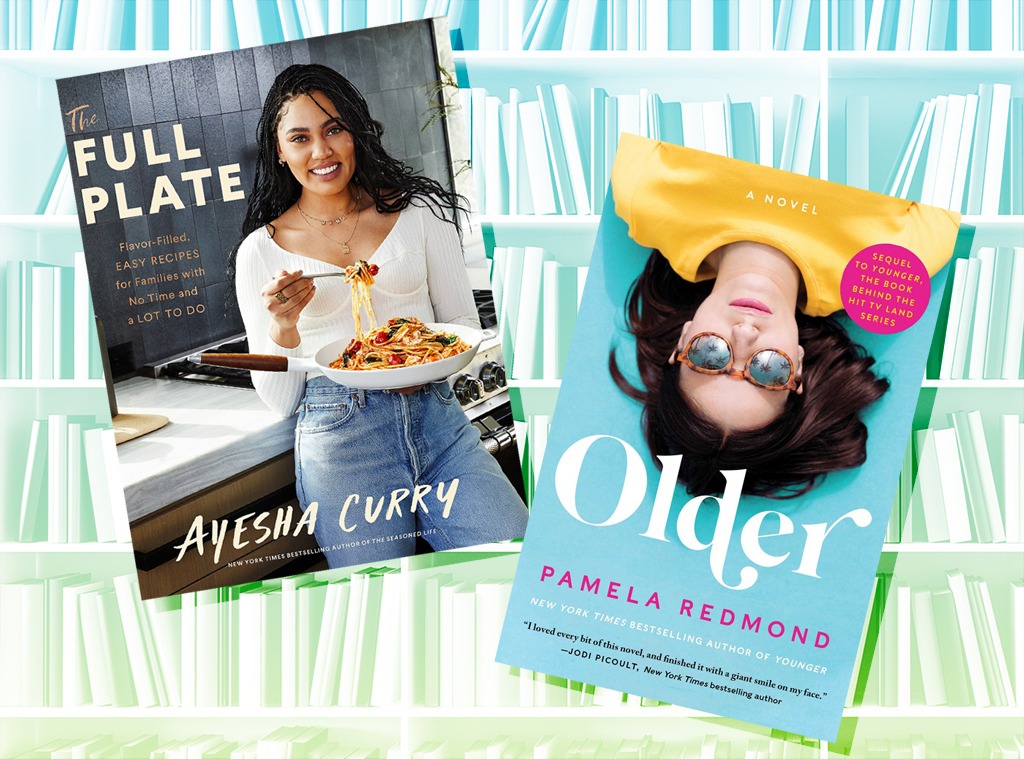 E! Illustration
We love these products, and we hope you do too. E! has affiliate relationships, so we may get a small share of the revenue from your purchases. Items are sold by the retailer, not E!
Merry September!
Why are we so cheery, you may be asking? Well, It's the first of day of the month, which means fall is just around the corner. And for avid readers, there's nothing quite like cozying up with a book and getting lost in a new world for a few hours.
This September, we're recommending a slew of buzzed-about titles, including Elena Ferrante's first novel in five years, Mariah Carey's memoir and Jodi Picoult's latest tearjerker. Plus, we've included three cookbooks from beloved personalities to help inspire you in the kitchen. 
Whether you prefer print, Audible or Kindle, they're all available at prices where you can stock up on several books to spend the dog days of summer with—or you could even try Kindle Unlimited. So grab a PSL (don't lie, we know you already started drinking them!), put on your summer sweaters and get lost in one of our picks...
The Unraveling Of Cassidy Holmes by Elissa R. Sloan
If you loved Taylor Jenkins Reid's Daisy Jones and the Six and know every lyric to Britney Spears' "Toxic," this one is definitely for you. The novel details the rise and fall of Cassidy Holmes, a.k.a. Sassy Cassy, a member of Sassy Gloss, one of the world's biggest pop groups. Fifteen years after the Glossies' big break, her band mates and the world are shocked when Cassidy dies by suicide. Told in multiple perspectives and in different timelines, The Unraveling of Cassidy Holmes dives into the darker side of fame.(September 1)
The Lying Life of Adults by Elena Ferrante
The beloved author of My Brilliant Friend and The Lost Daughter is here to provide your next literary obsession, which is already set to become your next Netflix binge. Five years since her last release, Ferrante's new Neapolitan book, which was delayed due to the coronavirus pandemic, follows a character named Giovanna as she comes of age in Naples, Italy, in the '90s. Is there anything more dramatic and delicious than the psyche of a teenage girl? (September 1)
Majest by Katharine McGee
It's finally here! The highly anticipated sequel to last year's juicy American Royals, Majesty continues to explore what it would look like if America had its own royal family, including its first queen as Princess Beatrice struggles with her new position. If you binge-watch The Crown as soon as new episodes drop, saw Crazy Rich Asians multiple times in theaters and obsess over Prince Harry and Meghan Markle's every move, this one may just reign supreme on your summer reading list. (September 1)
Older by Pamela Redmond
We weren't getting any younger waiting for this highly anticipated sequel to Younger, Redmond's 2005 novel that became a hit series starring Hilary Duff and Sutton Foster. Fortunately, Older was well worth the 15-year wait, following Liza as she must choose between two cities and two men (she does start off the book dating Josh or Charles, love trianglers!) after her novel is picked up by a TV network. (September 8)
Think Like a Monk by Jay Shetty
Ready for peace and purpose in your life? The On Purpose podcast host is here to hep you achieve those seemingly elusive Ps as he shares the wisdom he learned as a monk in India. Less stress, more meaning, the social media superstar will provide the practical steps you can take every day to change your mindset. (September 8)
Anxious People by Fredrik Backman
Imagine if you were watching an episode of Selling Sunset and a failed bank robber burst into one of Christine's open houses and held everyone hostage. That's the compelling premise of the A Man Called Ove author's latest story about these—you guessed it—anxious people who find they may have more in common than just being held at gunpoint. (September 8)
The White Coat Diaries by Madi Sinha
Move over Meredith and McDreamy, there's a hot new medical couple in town. Sinha's debut novel follows resident Norah Kapadia as she deals with sleep deprivation, the high expectations of her Indian parents and her complicated relationship with her mentor, the charming chief resident. Inject the TV adaptation of this into our veins STAT. (September 15)
The Home Edit Life by Clea Shearer and Joanna Teplin
Marie Kondo is so 2019. Hot on the heels of their Netflix series' September 9 debut comes the Instagram sensation's "no-guilt guide to owning what you want" and organizing it in a way that is aesthetically pleasing. And, like, efficient. Forget sparking joy, it's all about color-coordinated spaces now. (September 15)
The Full Plate by Ayesha Curry
Listen, does anyone really have time to cook a nutritious and delicious meal every single day? We barely have time to change from our morning sweats to our afternoon ones! Fortunately, Curry is here to help. The busy mom of three and TV star is bringing you over 100 recipes that may take less than an hour to make but will satisfy the entire family. Easy sheet-pan dinners, kid-friendly meals are included. And did we mention a spicy margarita? Definitely worth leaving the bubble for, if you ask us. (September 22)
The Book of Two Ways by Jodi Picoult
Is it truly a reading list without an unputdownable (yep, we just made it a word) new release from Picoult? In the bestselling author's latest, she's exploring Dawn Edelstein's near-death epiphany—made right before a crash airplane landing—that she may have made the wrong choice between men 15 years ago, setting her off on a second chance search for what her life could've been in Egypt. (September 22)
Just Feed Me by Jessie James Decker
Has there ever been a more relatable cookbook title? And that's totally fitting as the country singer and reality star is nothing if not accessible, including when it comes to food. Decker is offering you a seat at her kitchen table by sharing her family recipes,  including Italian, Southern and Cajun dishes which were handed down from her mom. (September 22)
Just Like You by Nick Hornby
With all the staples of a classic Hornby tale—humor, heart and emotion—Just Like You is the unexpected love story you need to read right now: A jaded and divorced single mother is in no way looking for love when she hires 22-year-old Joe to be her new babysitter and yet...What do you do when the person who makes you happiest is the one you least expect? (September 29)
Didn't See That Coming: Putting Life Back Together When Your World Falls Apart by Rachel Hollis
First, Hollis told you to just get your s--t together with her first book, Girl, Wash Your Face and Girl, Stop Apologizing. Now, the RISE founder is hilariously guiding you through the transformation that comes after difficult moments in life in this small book about big feelings. Girl, what are you waiting for? (September 29)
True Comfort by Kristin Cavallari
Your cooking rut? Like, totally dunzo thanks to the Very Cavallari star's latest guide, which has over 100 gluten-free recipes that will help kick your sugar habit without sacrificing taste. Think cozy breakfasts like an apple pecan dutch baby and decadent desserts, including a dark chocolate peppermint silk pie. Consider us very hungry. (September 29)
Happily This Christmas by Susan Mallery
F--k it, if we're already rushing pumpkin spice season, why not just skip to Christmas?! The New York Times bestselling author returns to Happily Inc. for the sixth time to tell the sweet love story between a single mom and the local cop she's secretly been nursing a crush on for years. (September 29)
The Return by Nicholas Sparks
Please, like you really weren't going to read this before [insert hot A-list leading man here] is cast to woo [insert up-and-coming actress here] in the film adaptation of this tearjerker about an injured Navy doctor who forms an unexpected connection with his hometown's deputy sheriff. Yep, we're already crying. (September 29)