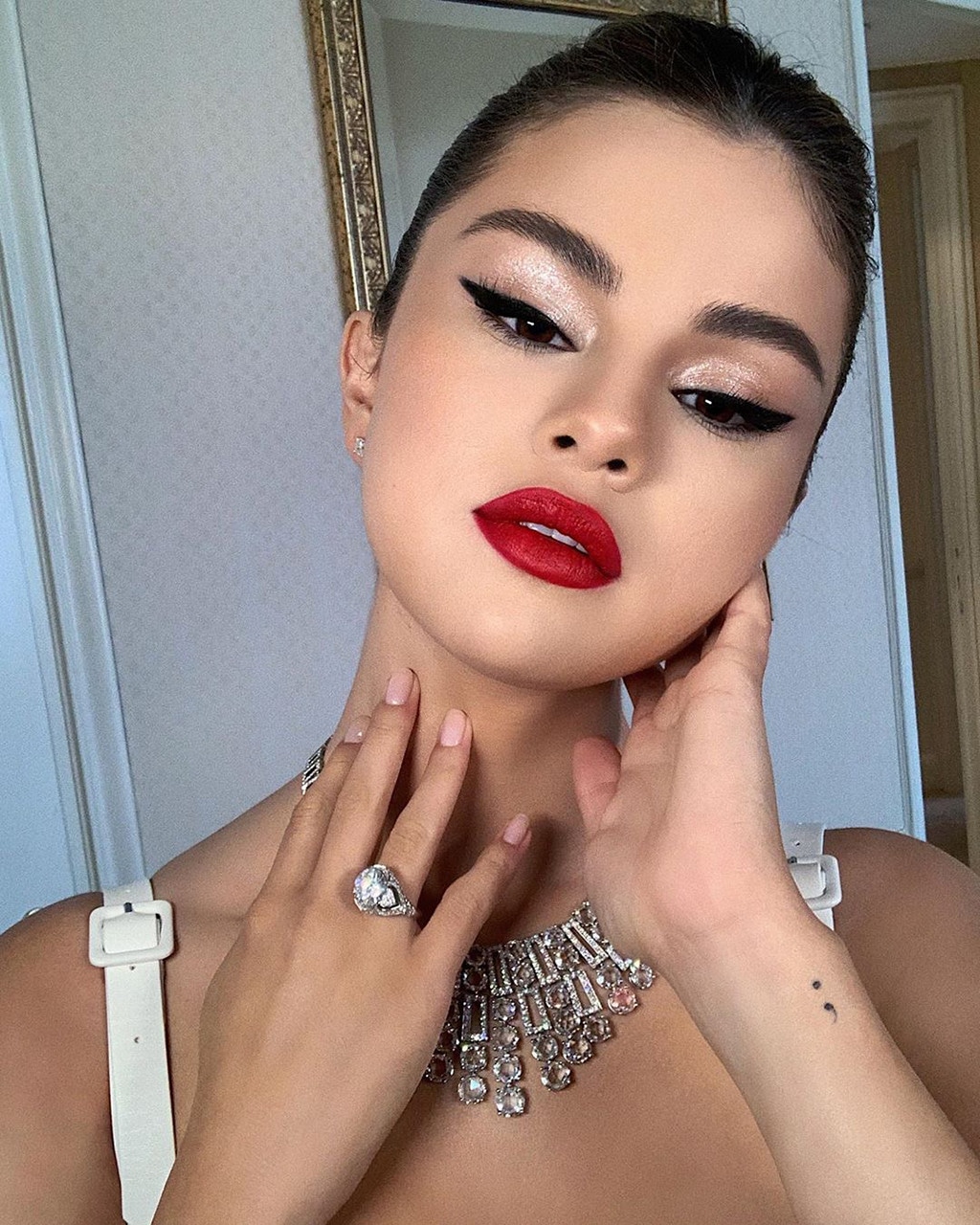 Instagram
Selena Gomez is ready to show the world Rare Beauty.
But the 28-year-old star wants to make it clear that her latest venture is far from a cash grab.
"I'm excited that this is finally coming out. The whole reason why I wanted to create Rare was to kind of challenge the beauty space," Selena said during a virtual press conference with E! News and other reporters.
"I didn't want to be just a celebrity attaching her name to something, because that's definitely not my style. I would feel very disingenuous," she added.
The way Selena put it, Rare Beauty is.... well, rare.
For her, the world of beauty helps with mental health and that was something she wanted to explore more of for her brand.
"Two and half years ago was when we started having the conversion, a lot of that bled into my mental health and the relationship that can be with yourself. I believe that it's mind, body and soul," she expressed, adding, "I just know that there is such a stigma... I wanted this to feel like a community, where people talk about that and where they knew they were always welcome."
The "Ring" singer isn't just talking the talk either. Earlier this year, Rare Beauty announced its Rare Impact Fund. 
"Supporting the mental health of our community, employees, and partners is core to everything we do," a statement reads on the brand's site. "By celebrating our uniqueness and supporting each other, we aim to reduce the stigma associated with talking about mental health and to reduce feelings of loneliness."
As Selena described, her beauty philosophy began to change when she started looking inward and focusing on her own wellbeing.
"Because I have struggled, very openly, about anxiety, depression and mental health, I would say therapy and the time that I've taken for myself has actually just reflected everything that I've been releasing," she shared. "And I don't know if anyone can tell or cares, but you could just see the amount of happiness with what I do have and with what I'm blessed with."
Due to her new outlook, the pop star said she hopes her fans will look at the world of beauty differently.
"When I would talk to fans... I was just flabbergasted that these young girls think they need to feel and... be a certain way. And I'm not afraid to say it, it sometimes makes me uncomfortable," she noted. "Because they're so young and they're worried about all these things, and they're dressed a certain way. I wanted to break that mold just a bit."
"And I don't judge you, you should wear your makeup however you want to wear your makeup. But I think that's when I started realizing that it's about how you feel inside," she added.
Watch:
Selena Gomez Shares Heartfelt Message to Fans
Although, like her fans, Selena opened up about how she goes through the same thing as them.
"I mean, I started working since I was seven, so my relationship with makeup has constantly evolved, and I think through that there has been moments where maybe I don't feel my best, maybe I'm self-critical, maybe I compare myself to other people," she admitted. "And that's kind of the standard I wanted to break as well."
She revealed that her brand not only focuses on beauty from within but it's made with everyone in mind.
"The line is completely inclusive, it's diverse. I wanted it to be a home for everyone. It was beyond what the makeup is...," she shared. "Making sure it's also something that's easy for you to use and for you to feel beautiful in."
Along with Rare Beauty's unique take in the cosmetics space, Selena is also releasing an array of makeup goodies. The initial launch features 48 foundation shades, 48 concealers, eight liquid blushes, eight liquid highlighters, 12 liquid lipsticks, eight lip balms, eight brow pencils, a liquid liner, a primer, a face mist, a touch-up set and three tools.
Basically, the brand has covered all the bases.
In the words of the singer, "For this one, we wanted to start with a pretty broad range of selections. Because I want everyone to pick and choose."
Rare Beauty hits its website and Sephora on Sept. 3 at midnight EST. So mark your calendars and set those alarms.