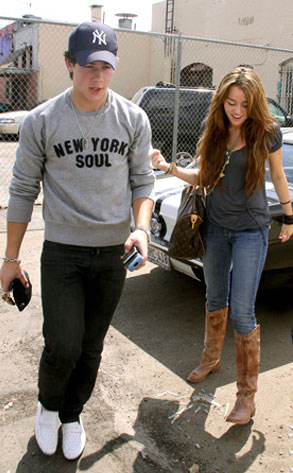 CR:RIV/ Fame Pictures
It was a busy weekend for box-office queen Miley Cyrus—getting photographed walking the dog, then getting photographed picking up a smoothie, then photographing herself on her way to getting photographed.
And somehow, she also managed to squeeze in a personal triumph: getting photographed with Nick Jonas.
Miles and her ex-Prince Charming reunited this weekend for some lunch at the Village Idiot (too perfect) where she twittered their talk about music. No, Miley's older manfriend Justin Gaston was not there, but that's OK: "Nick and Miley's relationship is strictly platonic," a source tells E! News. The two were just grabbing some food in between filming the Disney version of "We Are the World."
Once this platonic good time came to an end, Nick went to give his ladyfriend a ride home in his supercool vintage Mustang, but you know how it goes: Steering is hard, especially for new 16-year-old drivers.