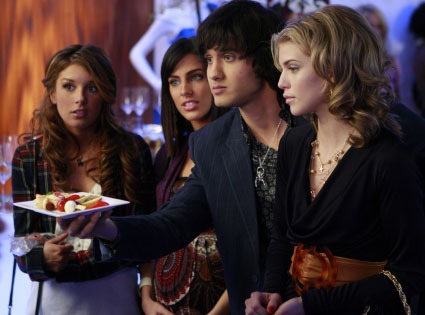 Michael Desmond/The CW
Sex, drugs, alcohol and murder. "Oddly enough all of those things [happen in the finale]," teased 90210 star Rob Estes at last night's Paley Festival event.
Wait, murder? "There may be a death at the very end of the season." That's right, kids, someone in America's most famous ZIP code may be saying goodbye for good.
Also, not one but two students are leaving West Beverly High, and we have the deets on a freak-out that will shock you, especially since it comes from someone other than resident bipolar gal-pal Silver (Jessica Stroup).
Death Strikes 90210: Executive producer Rebecca Rand Kirshner Sinclair tells us, "There are some rash actions at the end of the season, where one of the characters makes some decisions that may have very serious consequences, life and death consequences, if you will." Though everyone assumes Ethan will bite the dust, since Dustin Milligan is leaving 90210 this season, Rebecca confirms that the cliff-hanger death has nothing to do with Ethan. So where does the big death take place? "A lot of stuff happens during prom. There's love that's finally fulfilled and yet, because of various circumstances, potentially destroyed forever. There's love, there's death, there's heartache, heartbreak," says Rebecca.
Leaving West Bev: Ethan's not the only one saying goodbye to the high school. Silver actually makes her exit in next Tuesday night's episode as well. Because of her breakdown, little Silver can't show her face at school without being scrutinized, so she's heading off to an all-girls Catholic school. Jessica teases, "As far as the recovery goes, though, she's trying things out. When we come back, she's already on her medication. She's going through a routine instead of just being out with her friends and letting too much influence her and let her emotions get to her too much and go into another episode. As far as the rest of the season, it's figuring out what works for her and getting back to Silver because she loses touch with that again."
Love Lost: With Ethan exiting, there's a flurry of questions as to why he's saying goodbye. As Rebecca teased above, there's a couple who finally find love but ruin it forever. You'll be surprised as to who that couple actually is. Says Jessica, "Ethan's character has also gone through a lot, you're going to see in the next couple for him that he's exploring life and trying to get out of his little bubble of a world that he's been living in. In a lot of ways, Silver and Ethan do have a lot in common and they've known each other for a long time. It's understandable they would have feelings for each other, so they possibly may try to do something." Does that mean Silver and Dixon are on the outs? "There's going to be a lot of problems up and down. They're working out whether or not it works for them anymore and if he's supportive enough. In the end do they stay together? You're going to have to see," adds Jessica.
Annie Flips Her Lid: Silver can't be the only one to hog the crazysauce spotlight. Rob spills, "In the final episode of the season, Annie (Shenae Grimes) blows her top. It's the cliff-hanger from hell. It's a great surprise. Liam just keeps pressing her, saying, 'When are you going to lose it? You're not really as good as you pretend to be,' and she's not." Matt Lanter innocently says, "Liam is doing some teasing, but he teases everyone." Oh, it's much more than that. Adds Ryan Eggold, "Annie definitely goes crazy. Not in the way Silver does, more like 'What the heck am I doing in my life?' kind of thing. She has a very interesting last moment in the finale." Could Annie be on a death-ward spiral? You'll have to tune in to the finale.
Donna Martin, Welcome Home: Donna Martin returning to 90210 is by far the best thing that could've happened. Putting Kelly (Jennie Garth) and Donna back together is comedic gold, especially when the pair accidentally end up in a gay bar. Tuesday's episode sets up for an extended Donna stay, but no hope in sight for David to swing by. For now, Donna settles with helping Kelly find her "six pack," which coincidentally turns out to be Ryan. Spoiler alert: Kelly and Ryan have the sexiest make-out sesh in next Tuesday's episode, and it's so hot and heavy, you may turn away from your TV. But don't expect happiness for the pair. Shannen Doherty will be back in the finale to stir the pot, along with the introduction of Naomi's sister, Jen Clark (Sara Foster), who's around Ryan's age and loves to start drama.
Who do you think will die? And are you looking forward to Tori Spelling's hilarious return? The comments section is yours for the taking!
Get full episodes of 90210 at Fancast.