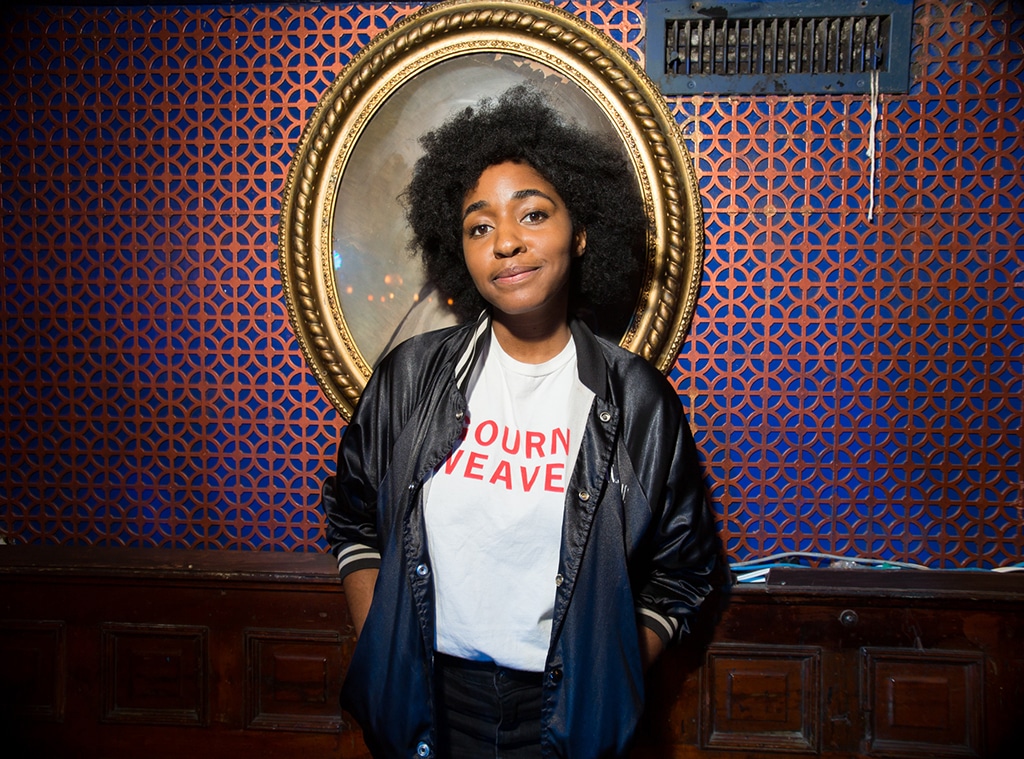 Netflix
Big Mouth has found its new Missy. 
Comedian and writer Ayo Edebiri will take over for Jenny Slate in the Netflix animated comedy, beginning at the end of season four. She will take on the role in the final two episodes of the season, and then will continue to voice the character in all future seasons. 
Edebiri previously wrote for the NBC comedy Sunnyside and had joined Big Mouth as a writer for season five. She is also a co-producer on Tina Fey and Robert Carlock's upcoming Netflix comedy Mulligan and will write for and appear in season two of Dickinson on Apple TV+. She also voices one of the lead roles in Netflix's upcoming animated show We Lost Our Human. So in other words, she's busy! 
Slate had voiced the character in the Netflix animated comedy since its beginning in 2017, but she stepped aside on June 24 with a statement explaining that Missy, who is Black and biracial, should be voiced by a Black actress. 
"I have come to the decision today that I can no longer play the character of Missy on the animated TV show Big Mouth," she wrote in a statement posted to Instagram. "At the start of the show, I reasoned with myself that it was permissible for me to play Missy because her mom is Jewish and white—as am I. But Missy is also Black, and Black characters on an animated show should be played by Black people." 
Slate continued, "I acknowledge how my original reasoning was flawed, that it existed as an example of white privilege and unjust allowances made within a system of societal white supremacy, and that in me playing Missy, I was engaging in an act of erasure of Black people. Ending my portrayal of Missy is one step in a life-long process of uncovering the racism in my actions." 
Big Mouth co-creator Nick Kroll also released a statement at the time in which they promised to cast a Black actor for the role. 
"After thoughtful discussion with us and our Black collaborators, Jenny Slate has decided, and we wholeheartedly agree, that Missy on Big Mouth should be voiced by a Black actor," he wrote along with fellow creators Andrew Goldberg, Mark Levin, and Jennifer Flackett. "We sincerely regret our original decision to cast a white actor to voice a biracial character. We made a mistake, took our privilege for granted, and we're working hard to do better moving forward."
Edebiri celebrated the news on Twitter with some pretty solid proof that she's the right person for the role in the form of a picture of Missy next to a picture of herself as a teen. 
Big Mouth also stars Kroll, John Mulaney, Jessi Klein, Jason Mantzoukas, Fred Armisen, Maya Rudolph, and Jordan Peele.
Apple TV+'s Central Park also made headlines on June 24 when Kristen Bell stepped down as the voice of Molly, a biracial teen. 
"This is a time to acknowledge our acts of complicity," she wrote on Instagram. "Here is one of mine. Playing the character of Molly on Central Park shows a lack of awareness of my pervasive privilege. Casting a mixed race character with a white actress undermines the specificity of the mixed race and Black American experience. It was wrong and we, on the Central Park team, are pledging to make it right."
She was "happy to relinquish this role," she continued. 
Exactly a month later, Umbrella Academy star Emmy Raver-Lampman was announced as the new voice of Molly. 
Watch:
Kristen Bell Steps Down as Voice for Biracial Character
Season four of Big Mouth will premiere this fall, and the show has already been renewed by Netflix through season six.