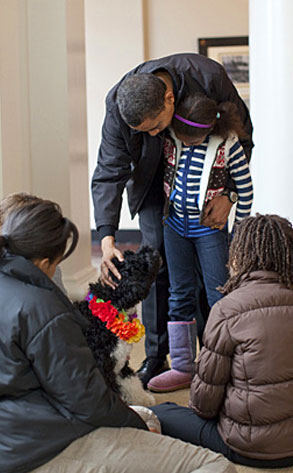 Pete Souza/The White House
Bo knows the White House.
President Barack Obama and the first family welcomed a 6-month-old Portuguese water dog on Saturday.
Daughters Malia, 10, and Sasha, 7, named the presidential pooch Bo, according to the Washington Post, because Michelle Obama's father was nicknamed Diddley, as in Bo Diddley, and because their cousin has a cat named Bo.
The curly black-haired, allergen-free puppy was a gift from Massachusetts Sen. Edward Kennedy. It's the very first pet dog for the Obamas. While the first family at one point considered adopting a shelter dog, they have pledged to make a donation to the District of Columbia Humane Society instead.
Bo will have his official unveiling on Tuesday.
(Originally published April 12, 2009, at 8:30 a.m. PT)