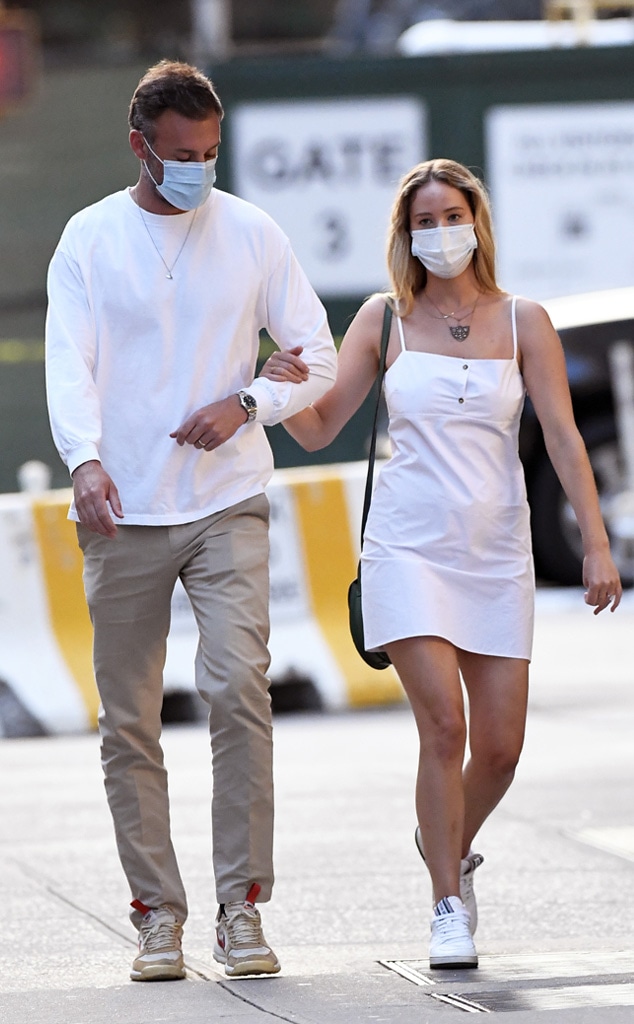 Elder Ordonez / SplashNews.com
Jennifer Lawrence and Cooke Maroney are making the most of the warm summer nights in New York City.
The newlyweds were photographed taking a walk in the SoHo neighborhood of the Big Apple on Thursday, Aug. 27. Wearing a white linen dress and matching mask, the 30-year-old briefly popped into a bodega to grab a bottle of water. Cooke waited outside in a white long-sleeved shirt and khakis, as well as a disposable face covering.
A witness added that the actress and art director later enjoyed a romantic dinner at a local French restaurant. 
The sighting was a definite treat for fans of J-Law. Until Monday, nobody had seen the star in public since March, just before the country went into lockdown for the ongoing coronavirus pandemic. 
For their first outing in what seemed like ages, she and Cooke were seen walking around with a bottle of wine in their hands. Though it was a low-key moment, the Hunger Games actress wore a $369 slip dress from Ciao Lucia, which she accessorized with minimal jewelry and white tennis shoes. 
Cooke wore an equally minimal look, comprised of a white tee, khakis and Vans. 
Elder Ordonez / SplashNews.com
The private pair is coming up on their first wedding anniversary in October.
Last year, the duo tied the knot in an A-list wedding attended by Emma Stone, Cameron Diaz, Adele and plenty of other stars. No pictures of the ceremony or reception have been shared but a source previously told E! News the event was an intimate, fall-themed gathering. "Guests were greeted on a lawn with cocktails served in copper mugs," the eyewitness revealed. "The wedding had all the touches of fall with dark-colored flowers, apples in baskets and open fire spits roasting beef. All the food was prepared outdoors with wood-roasted fish and heirloom roasted carrots and squash as part of the menu."
Unsurprisingly, the insider said that Jennifer and Cooke were among the last ones on the dance floor. 
They later caught up on some much-needed rest when they honeymooned at an Indonesian resort in November. 
Watch:
Happy Birthday Jennifer Lawrence!: Live From E! Rewind
After that, the couple went back to flying under the radar, especially once the pandemic started. 
But fans of the star caught a glimpse of her here and there over the past few months.
In May she appeared on Amy Schumer Learns to Cook, where she told Amy Schumer all about her love for sauvignon blanc, but if it's before five p.m. she will go for a beer. 
And she really had her followers abuzz when she joined Twitter in June. Her first tweet demanded justice for victims of police brutality, something she said she "cannot be silent" about."