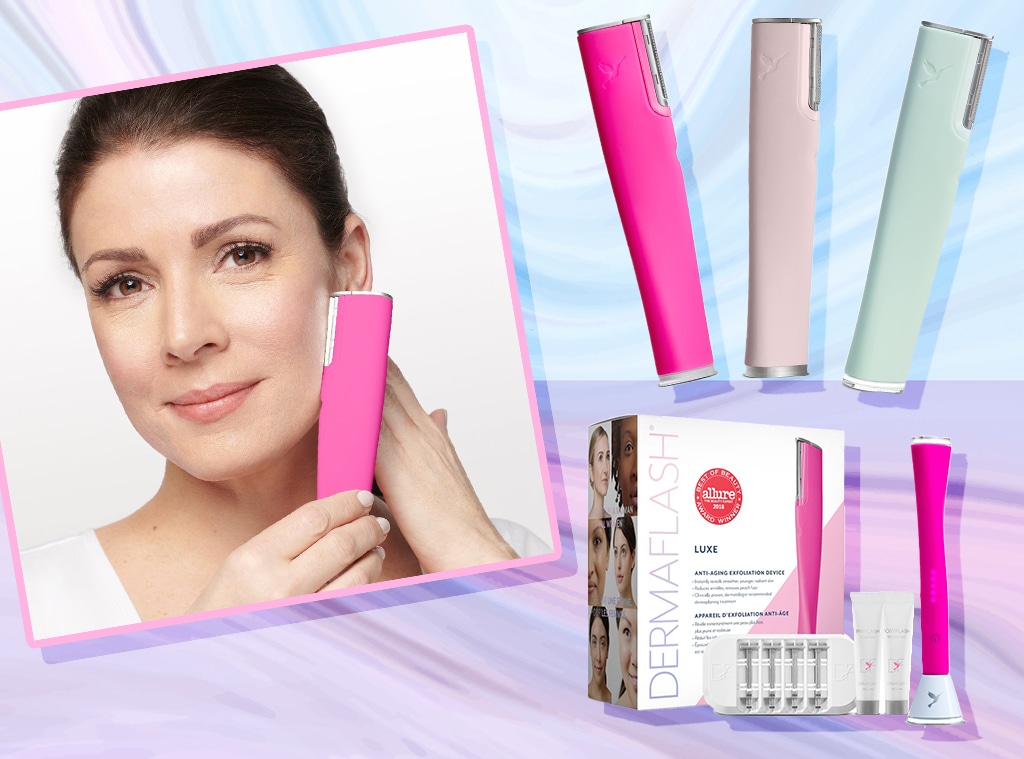 We love these products, and we hope you do too. E! has affiliate relationships, so we may get a small share of the revenue from your purchases. Items are sold by the retailer, not E!.
We've been on a quest to perfect our skincare routine, which has led us to overhauling our beauty fridge in a quest to find new favorites, and figure out how they fit in with some of our old staples. But nothing prepared us for the day that we caught a glimpse of our cheek in the sunshine, leading us to think, "Are we growing a beard?!"
The short answer is no, but it still begged a longer conversation. Peach fuzz can be a sneaky little devil, as can dead skin cells, no matter how many AHA/BHA solutions you slather on your face. So we decided it was time to face facts: it was time to invest in a dermaplaning tool. So we went on the hunt and settled on the Dermaflash Luxe Anti-Aging Exfoliation Device, partially because it's hard to ignore that "Allure Best of Beauty" seal, and partially because we loved its hot pink hue.
Oh, and then there's the fact that it's a pretty kick-butt beauty gadget.
Dermaflash is the brainchild of Dara Levy, who realized the benefits of dermaplaning on her own skin before offering it as a foundation treatment at her Chicago-area Med Spa. After realizing how much her clientele loved it, she also realized that not everyone had access to a spa that could offer dermaplaning... not to mention, the cost of treatment was cost prohibitive for most. So she set out to create an at-home solution, and in 2016, Dermaflash was born.
We weren't skeptical of the Dermaflash's capabilities, but we were afraid of it... to the point where we e-mailed a friend to ask if it was safe to use on our forehead. It can be intimidating to put a blade to your face when it's not something you normally do. But after several e-mails and some internal pep-talking, we were off to the dermaplaning races. The tool is supremely easy to use, with two settings in case the standard "speed" is a little too intense for your skin.
We followed the instruction video shared on the brand's site, using short, feathery strokes across our cheeks, over our chin, under our nose, and yes, across our forehead. Some of our fuzz was stubborn, so it took a little patience to get it to budge. But when we finished, what the Dermaflash promised came true: our skin was flawlessly smooth, if a little more pink than usual (irritation can happen, but our skin got used to it). 
In the days and weeks after using the Dermaflash, we noticed our skincare goodies were sinking in more, which was resulting in fresher-looking skin. And on the days we wear makeup (which, yes, are fewer and further between lately), we've had a flawless canvas to work with, resulting in easier and more seamless application. It's recommended you Dermaflash every week if your fuzz comes in quick. We can usually make it to three weeks before it's time for another treatment, but it's become something we actually look forward to.
So if you feel like your skin has been dull or needs a refresh, shop below to get your own Dermaflash!
Dermaflash Luxe Anti-Aging Exfoliation Device
If your skin is feeling a little lackluster and not sopping up your skincare products the way you like, the Dermaflash Luxe may be the answer to your prayers. It removes dead skin cells, built-up debris and peach fuzz, eliminating the barrier to penetration so your creams and serums can do their duty, and reveal flawless skin.