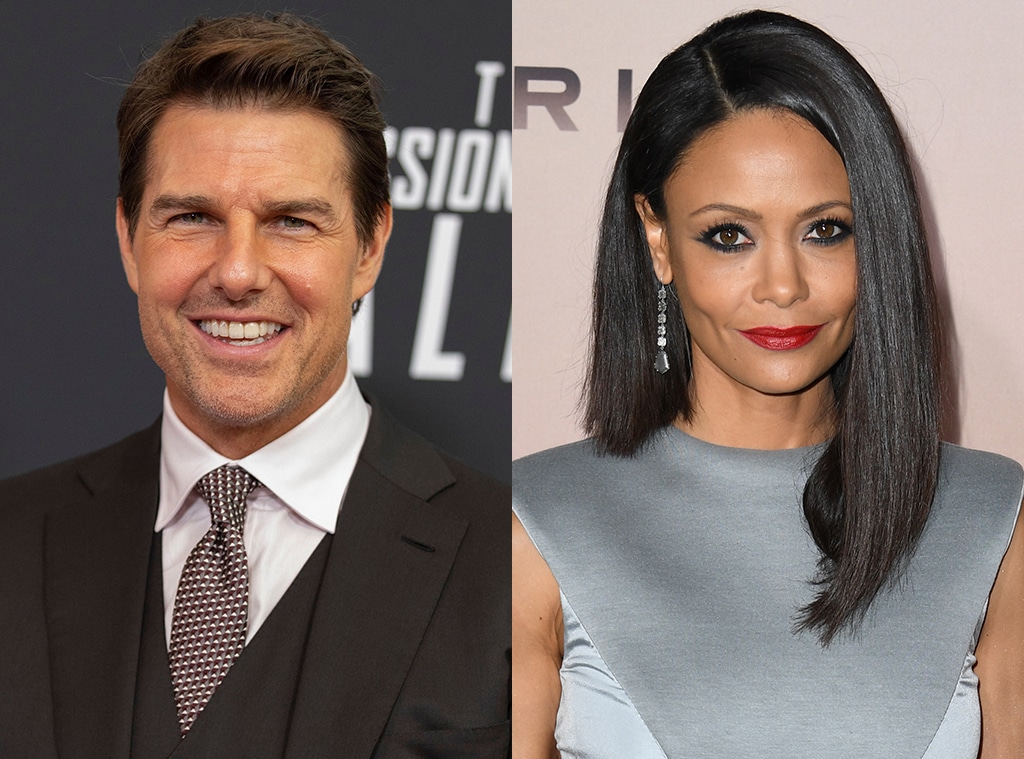 Alex Edelman/Shutterstock; Jon Kopaloff/FilmMagic
Thandie Newton continues to speak her truth.
Just last month, the Westworld actress opened up about her Hollywood experience and even detailed what it was like working with Tom Cruise on Mission: Impossible 2. In her candid interview with Vulture, Thandie didn't hold back and claimed the actor was "a very dominant individual. He tries super hard to be a nice person."
Fast forward to now and the actress said she still stands by her story.
Speaking on the Variety and iHeart podcast, The Big Ticket, the 47-year-old star explained why she felt it was time to speak up and speak out. As she put it, "I have nothing to lose."
However, she confessed that she wasn't sure how her remarks about Tom would be perceived. "I was surprised by the appreciation I had got. I thought that I would be in trouble because that's kind of what I'm used to," she admitted.
"I am not even supposed to be viable anymore. I am a Black woman, from a conventional stereotype," she explained further. "A 47-year-old black woman, I shouldn't even be able to get a role."
She added, "There is such a quick turnover; people aren't famous enough to reveal things and have people listen. Once someone pops out of their fame, people are no longer going to pay attention, they are not going to listen."
Thandie credited HBO's hit series, Westworld, for keeping her "relevant and current." For her, she felt it was time to finally share her experiences in the movie-making business.
"I just happen to be an older woman, who is recognized that knowing the truth and speaking the truth has benefitted me a hell of a lot than being silenced or seeing people be silenced around me. And I have nothing to lose," she expressed. "I have nothing to lose because I can just not get hired, which is normal for people in my generation. I would rather go out using this moment to... It's not about my confessions, this is the reality of what people face."
While the actress didn't dive into detail about her Tom comments, she did admit that it felt good to finally let it out.
"I felt solid. That whole time... That I know that it made people frightened. Individuals were very frightened at what might happen," she claimed. "That was hard, it was really hard to be the cause. But how far back do you go?  Because I wasn't the cause of pain. I was recounting something that caused me pain. I wanted it to end."
She also noted, "There is no place for casual racism. It is a symptom of systemic racism and we have to weed it out."
Last month, Thandie got honest about working with the Top Gun alum in the 2000 movie Mission Impossible 2. "He takes on a lot. And I think he has this sense that only he can do everything as best as it can be done," she told Vulture at the time, and even said she was "scared of Tom."
When describing a night scene they filmed together, she explained things weren't off to a great start.
"Tom was not happy with what I was doing because I had the s--ttiest lines... We filmed the entire scene with me being him—because, believe me, I knew the lines by then—and him playing me. And it was the most unhelpful... I can't think of anything less revealing," she shared. "It just pushed me further into a place of terror and insecurity. It was a real shame. And bless him. And I really do mean bless him, because he was trying his damnedest."
The actress claimed she later received a phone call from Tom, who told her they needed to do reshoots.
"The next time we shot it, I went in there and I just basically manifested all the—because I realized what he wanted. He just wanted this alpha bitch. And I did as best as I could," she described. "It's not the best way to get the best work out of someone. He wasn't horrible. It was just—he was really stressed. I had the most extraordinary time, and you know who got me that role? Nicole Kidman."
Thandie said she likes to believe she'd handle the experience much differently if it happened today.
"That was more just surreal than anything. Look, creative stuff is difficult. I was so tender and sensitive. And, also, if you think about the timeline of that, it was still early in my healing, in my recovery. I'd had good therapy. I'd realized that I was precious," she shared, adding, "If it was me now, I would want to go in and go, 'Hey!' I'd be it. You wouldn't need to play me and I play you on that balcony. And I would have squeezed that spot. Bam!"
At this time, Tom has yet to publicly address Thandie's comments.