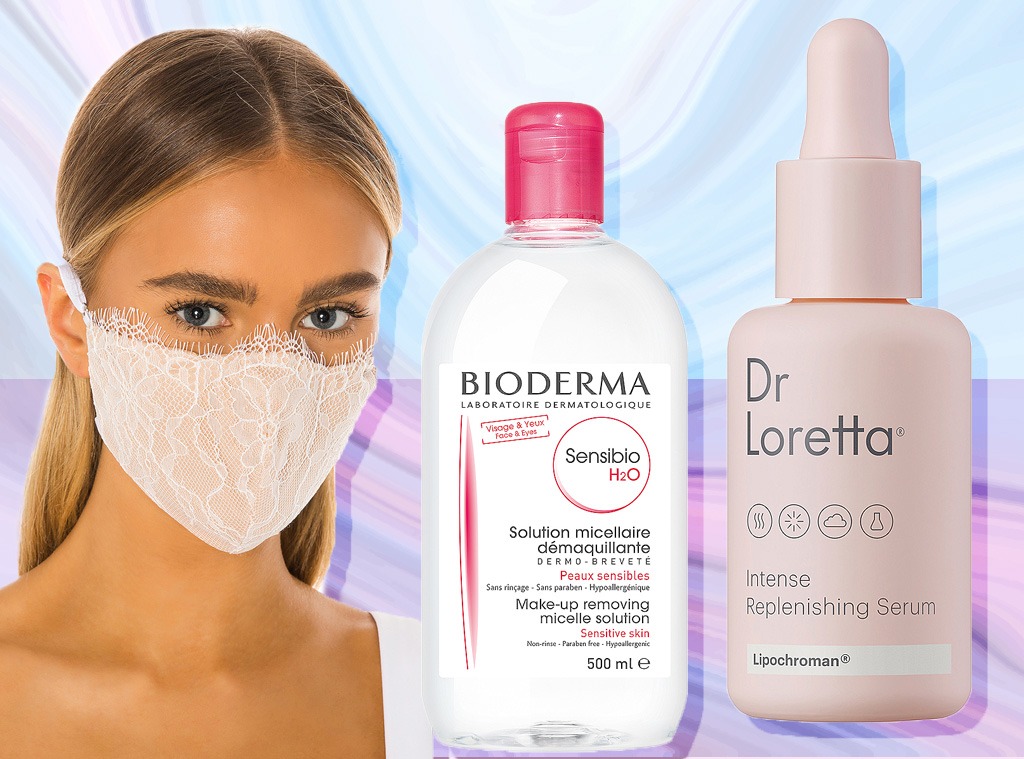 E! Illustration
We love these products, and we hope you do too. E! has affiliate relationships, so we may get a small share of the revenue from your purchases. Items are sold by the retailer, not E!.
By this point you've probably experienced maskne, the unfortunate result of wearing a face mask every day. You can combat these blemishes with a good skincare routine though, and celebrity dermatologist Dr. Loretta has some product recommendations for you to try from Revolve, some of which are from her own line.
Shop them and hear all about them below. We've also found some cute face masks from Revolve that you'll be sure to love.
Dr. Loretta Gentle Hydrating Cleanser
"The Gentle Hydrating Cleanser is my first recommendation for treating maskne as it's incredibly nourishing for irritated and sensitized skin. It super-hydrates compromised skin with marine peptides, soothes with ginger and chamomile and detoxifies pollution particles which can lead to more inflammation and irritation in addition to wearing the masks."
Dr. Loretta Intense Replenishing Serum
"The Intense Replenishing Serum will boost overall skin health by enhancing barrier function and locking in moisture with its lipid-rich base. It also contains omega 3 and omega 6 fatty acids which are deficient in acne prone skin, further benefiting the maskne sufferers!"
Dr. Loretta Micro Peel Peptide Pads
"Micro Peel Peptide Pads will be the at home peel treatment I recommend to help with active maskne breakouts and post inflammatory hyperpigmentation. The Glycolic Acid is at a low pH of 3.5 and balanced with marine peptides for the perfectly safe and effective medical grade weekly treatment that won't dry you out."
BKR James 500mL Water Bottle
"It's incredibly important to hydrate, hydrate, hydrate! I love these beautiful water bottles as they are hard to miss in the busy-ness of my desk and home. I find with most of my patients, including those with acne, that oftentimes they aren't consuming the daily recommend amounts of water."
Sensibio H2O Sensitive Skin Micellar Water 500 ml
"I always recommend to my acne patients to ensure all makeup is removed before cleansing. With maskne, that's no different. It's so important to make sure makeup is fully removed so that the products you're applying penetrate better and also to lessen the chance of congested pores or irritation due to leftover makeup."
LPA I Miss You Protective Face Mask
GRLFRND Protective Face Mask
Katie May Provocateur Face Mask
Lele Sadoughi Set of Three Face Masks