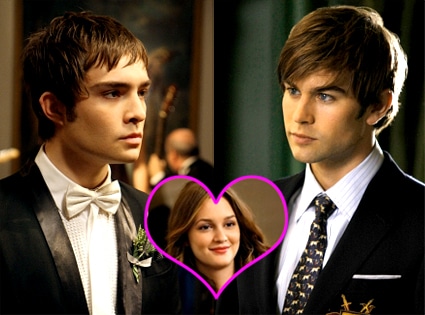 Eric Leibowitz/The CW; Giovanni Rufino / The CW; Giovanni Rufino / The CW
Updated with a new Nair argument, just because we're friendly like that...
Whatever terms you use (Bluck, Chair, Nair or Blate), every Gossip Girl has an opinion on Blair's one true pairing, so in the tradition of our previous Lost, House and Smallville love debates, we're determining once and for all who belongs with whom.
How does this work? Well, we're giving the floor over to the fans, with two partisan arguments submitted by each side. Take a look at the statements for Chuck-Blair and Nate-Blair, and then it's your turn to make the call in our Gossip Girl Love Debate poll.
Ready? Go!
Resolved, That Blair Waldorf Belongs with Chuck Bass...

Alice, for Team Bluck:
There is something Old Hollywood about Chuck and Blair. They have the raw passion of Burton and Taylor, the sly recognition of Bogart and Bacall, the comradeship of Tracy and Hepburn. There is a touch of classic literature to their coupling—Cathy and Heathcliff, Beatrice and Benedict, Scarlett and Rhett. Ed Westwick and Leighton Meester are magnificent apart, but they are magic together. There is a sense of the intuitive to their acting partnership. They are completely in sync with one another; completely entranced by the others' presence when they embody those characters. That kind of chemistry is a rare bird indeed. It cannot be taught, and it cannot be contrived.
Something alchemic happened when Chuck and Blair fell in love. Two people so determined to control and exert authority would never submit to any other, but the prospect of relinquishing that control is always a delicious impossibility.
They can never pretend again with each other and that is what they love and hate the most. There is no one else who does that for them in either of their lives; no one else who refuses to look at them until they take off their respective masks. For me, that is real love. Their being together or not together is not even the point. They belong to each other, and that will be true regardless of the years or the distance or the people between them.
CJ, for Team Chair:
In a medium where characters are often stereotypical and loosely defined, Blair and Chuck are complex individuals with textured histories and keen minds, portrayed by two incredible young actors. Neither are "easy" people. They are cunning, hell-bent on achieving their ends, and deeply insecure. They are also both desperately hungry for love and desperately afraid of it.
And while their sexual chemistry is blistering, more important is their mutual admiration, respect and wariness. Because they are so sharply observant and have known each other all their lives, the one person that neither can fool is the other. This deep understanding is both the source of their emotional resonance and of great pathos.
This couple will never need manufactured misunderstandings or third parties to remain compelling. Can Chuck figure out a way to be with Blair and still remain Chuck Bass? Can Blair give up control over her perfect ending? We, and they, don't actually know. We do know that this is their only chance for being loved for who they are, not in spite of it, and what could be more OMFG than that?
Edward Opinaldo, PacificCoastNews.com
Resolved, That Blair Waldorf Belongs with Nate Archibald...
Ivan: Here is what I think is a better argument for team Blate since everyone is angry that the competition is unfair, please consider that by posting a more appropriate Blate argument fans of the WWK team will be happier with you guys! Please post it.
Jacob, for Team Blate: I would like to start saying I perfectly understand why people would like Blair to be with Chuck. I remember thinking back in season one that Nate never really cared about Blair, and one of my favorite G.G. moments will always be when she and Chuck had sex in the back of the limo, but at that time I had no idea that a few episodes later Nate and Blair would also look so perfect for each other after the dance when they slept together. Knowing Blair is a fan of Hollywood Golden age makes me think that she desires a perfect Hollywood ending…and what could be better that ending up with your first love? Even though this couple has had little screen time we have been hinted that they know each other a lot since they grew up together. For a long time Blair thought Nate was her charming prince and then she found out they did not worked. But after the events of the past year Nate has grown up a lot, having been removed from the comfortable world he lived in. Blair got to grow up too by trying a different kind of relationship with Chuck and releasing the evil side of her personality to a maximum, but neither one of those worked for her. Now the two of them can try again and maybe find the happily ever after they planned as kids.
Done and done. (For the record, we chose the very best and most eloquent four arguments from among the original 23 Chair and 6 Nair submissions.)
Zack, for Team Blate:
Blair and Nate balance each other out, like yin and yang. Blair is bitchy, and Nate at first was a complete sleazebag, but he has proven to be a really nice person. He is also friends with basically everyone on the show. They were the longest-running couple. And the odds of Chuck cheating on her are huge compared to Nate's. They both want to be successful and go to college. They are a cute couple. My vote is and always will be for Blate!
Szabo, for Team Nair:
Nate/Blair are so awesome. I love that they're back to being friends and the chemistry between them recently has been fantastic. I don't know how some say there's no chemistry, maybe because they are blinded by the CB stuff. Blair deserves a much better boyfriend than Chuck, and Nate could love her honestly. I don't mind CV either, since Vanessa brought out the most human side of Chuck I've ever seen, though this seems a bit desperate and pathetic of them. Plus, CV were so hot together in the latest episode.
 
I understand that Chuck and Blair have great sexual chemistry, but Nate and Blair are just so lovely and have shared so many adorable and genuine moments together.
Chuck and Blair got boring after their endless immature Cruel Intentions games. With Nair, they just seem like a real couple.
So, after carefully considering both sides, what do you think? Chuck and Blair, or Blair and Nate...or none of the above. (Maybe you think Blair really belongs with Dorota?) Vote in the poll and then weigh in with your take in the comments!
Get full episodes of all your favorite shows at Fancast.
Gossip Girl airs Mondays at 8 p.m. on the CW.