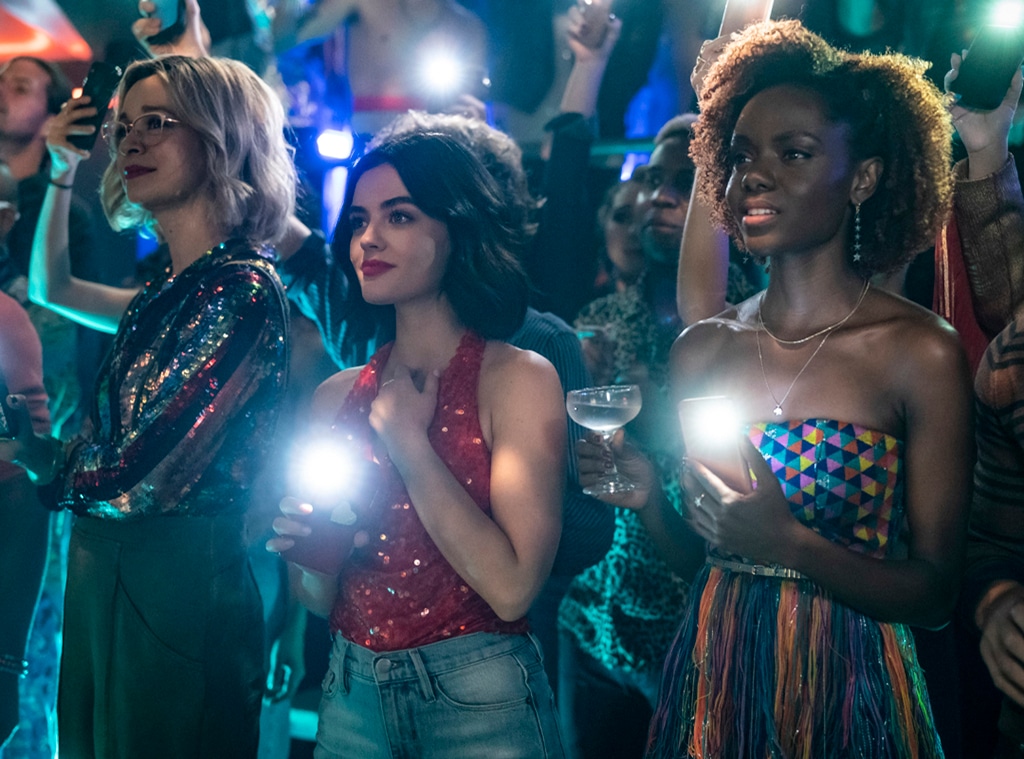 The CW
It's been a few months, but the cancellation of Katy Keene still stings. 
The Riverdale spinoff starred Lucy Hale as Katy, an aspiring fashion designer living it up in New York with her friends. The CW said goodbye to the colorful series after just one season, devastating fans and stars alike. Hale is still sad about the news, but has really appreciated the love from the people who loved it as much as she did, she tells E! News in an interview to promote Amazon's Pawsitive Impact event, which she's co-hosting.
"It is always sad when things come to an end prematurely but in my opinion, I wanted that show to go on for many years and seasons," she says. "The powers at be had a different plan for it...It was such a horrible day when we found out about it not coming back but seeing the response from everyone being upset and the response of everyone else who supports me was only to show how much the show was loved." 
For Hale, there is no mystery about what would have gone down in a season two, though she's not sharing. 
"I definitely knew where Katy would go in the second season and all the plans for her so its always a bummer to see that come to a halt without you wanting it to but ultimately, I only had amazing things to say about that show and the people and everyone involved in it," she says. "It really was a highlight of my career and living in NYC was amazing." 
Hopefully, Hale says, fans will continue to discover and fall in love with the one "really great season" they got to make, and maybe Katy will rise again. 
In the meantime, Hale is keeping busy hiking, preparing for new projects and living the dog-lover's dream. She's co-hosting Amazon Pets and Treasure Truck's Pawsitive Impact virtual event in honor of National Dog Day, which is Wednesday, Aug. 26. Basically, it's just about hanging out with dogs. 
"I will be co-hosting with celebrity dog trainer Brandon McMillan, which he is amazing, so pretty much the show is going to be us celebrating dogs and the bond between us and our dogs," she explains. "We're going to offer fun tips and tricks. There will be some fun celebs showing up, and videos from our fun dog influencers." 
Dog influencers will include Jiff the Pomeranian, Tuna, also known as TunaMeltsMyHeart on Instagram, and Hale's own dog Elvis. 
McMillan will be offering tips for dog training, and Hale's hoping to learn how to teach Elvis tricks. 
"Elvis only knows how to sit so I am going to ask him how I can get Elvis to do tricks," she says. "It kind of goes in one ear and out the other. Elvis always ends up on the kitchen table. I don't personally mind, I think it's cute but when I have people come over he is always on the table. I need to figure that one out." 
Hale says her dog has been her saving grace during the pandemic. 
Watch:
How "Katy Keene" Differs From "Riverdale"
"I don't know what I would have done without Elvis," she says. "I live alone so he has been my only companion when we were in the thick of it. We have gotten closer but we have always had a bond. He is my best friend... Usually I am working so I would get to see him in the mornings or night, so now we have been going on walks and going to dog parks. Sometimes a dog walker would have to do that for me because I am working but we really have gotten to do all the fun things, all the walks, all the hikes. I think he has gotten sick of me being home at this point." 
Hale says her relationship with Elvis is "one of the most important" relationships she has in her life. 
"[Dogs] are selfless and always there and it's unconditional love," she says. "The amount of truly positive impact that Elvis has put into my life truly can't be put into words. I'll do anything to bring awareness to adoption and rescue, anything animals I am on board." 
You can watch the Pawsitive Impact virtual event beginning at 10 a.m. PT on Wednesday, Aug. 26 on Amazon Live.