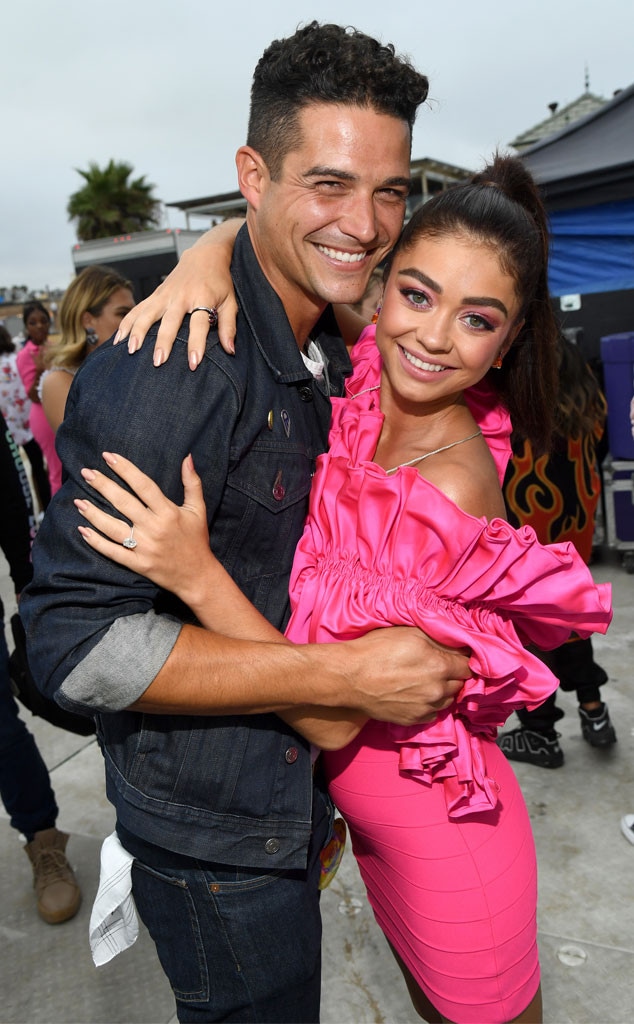 Kevin Mazur/Fox/Getty Images for FOX
Want the inside scoop on Bachelor Nation? Sarah Hyland might know a guy.
The 29-year-old actress spoke exclusively to E! News earlier this month and revealed whether her fiancé, Bachelor in Paradise alum Wells Adams, has been keeping her up to date on the recent shakeups.
"I don't know what the f--k is going on, but I am losing my mind trying to keep up with it. I quit," she told E! News while discussing her partnership with Lightlife to create "The Triple S" plant-based burger. "If Wells was catching me up, I still couldn't tell you. At this point, I am not paying attention to what is going on with Bachelor Nation. I am just waiting for it to air. I will get my popcorn, a bottle of wine and maybe have one of my girlfriends get tested so she can come over and we can dish about it."
Earlier this month, E! News confirmed Tayshia Adams is replacing Clare Crawley as the star of the 16th season of The Bachelorette.
"The producers have told her that the season will still lead with Clare and her short-lived journey and will show Clare falling in love with one of her suitors," a source told E! News. "Clare will then conclude her journey and announce that Tayshia is the lead." 
While fans will have to wait and see how this season plays out, Hyland suggested she would be excited to see both Crawley and Adams appear on her screen.
"I guess it's a two-for-one, so that's great," the Modern Family star said. "I am into the drama of the show, like everyone else is. If anyone is actually a Bachelor fan and they aren't excited about having two Bachelorettes in one season, they aren't really a fan I guess."
So what else have Sarah and Wells been up to as they continue social distancing at home? 
As the star described, "We are grateful that this quarantine is during summer time and at least there's nice weather. We've been grilling and having picnics for two in the backyard. It is really easy to eat unhealthy foods while you're in quarantine. I was excited to find the Lightlife meat because it makes me feel like I am having a cheat meal, but also helping the environment and being healthy as well."
Watch:
Tayshia Adams Replaces Clare Crawley on "The Bachelorette"
And if The Bachelorette rumors are any indication, this is already shaping up to be, in true Chris Harrison fashion, one of the "most dramatic" seasons yet.
Even though a specific premiere date has yet to be announced, The Bachelorette will be "returning soon" to ABC and airing on Tuesday nights. Fans can then watch Matt James hand out the roses on the 25th season of The Bachelor in 2021.