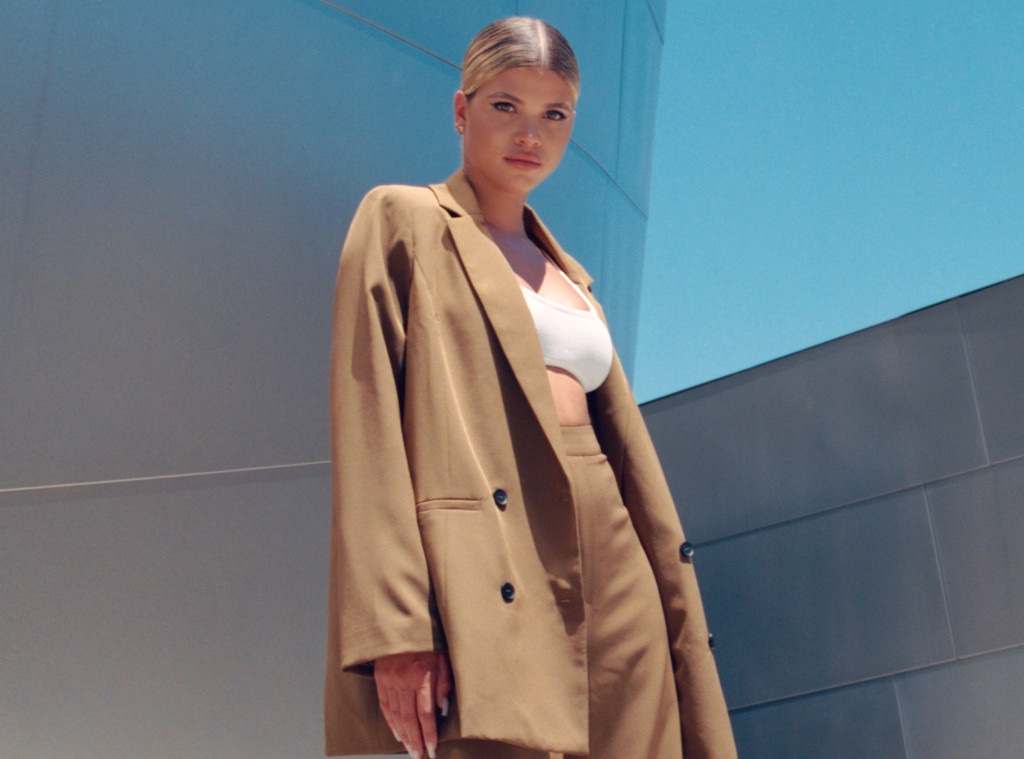 Virgo season is in full effect and Sofia Richie is eager to celebrate!
While the model turns 22 years old on Monday, Aug. 24, she decided to have some fun over the weekend and ring in her birthday a little early. In true Sofia fashion, she had one unforgettable celebration with family and close friends, which included some of Kylie Jenner's besties.
"22 feels good," Sofia captioned her Instagram, alongside a photo of her with her gal pals before they stepped onto a private jet. Those tagged in the post? Anastasia Karanikolaou (aka Stassie Baby), Victoria Villarroel, photographer Amber Asaly, Frankie's Bikini founder Francesca Aiello and others.
Plus, Sofia's family also joined in on the fun. Her brother, Miles Richie, and their mother, Diane Alexander, were spotted on the plane.
For the fun festivities, the group all donned matching cream-colored sets that included a sweet message. "Sofia turns 22" was written on the tops and bottoms in baby blue. According to the birthday girl, the custom-made merch was a surprise gift by Stassie.
"Happy almost birthday Shmurp! I LOVE YOU! So beyond proud of the woman you are," Miles captioned his Instagram post. "My loves," Stassi shared on her Instagram Stories of the group.
"Birthday queen," Victoria wrote.
While some of Kylie's BFFs were spotted on Sofia's birthday trip, it's unknown if the beauty mogul will participate in any party plans later this week.
Following news that Sofia and Scott Disick officially broke up for good, a source told E! News that there is no bad blood between the model and Kylie—because, you know, she's the younger sister of Scott's ex, Kourtney Kardashian.
If anything, the source explained that Sofia still considers Kylie to be a close friend.
"They have a lot of friends in common and they've always had fun together," the source shared. "Scott isn't going to stand in the way of their friendship. Kylie and Sofia have a long history and a bond. Whether or not Sofia is dating Scott, she will be friends with Kylie."
As eagle-eyed fans noticed, the birthday girl was actually spending time with Kylie the same day news broke about her split. On Wednesday, Aug. 19, Sofia took to Instagram Stories and snapped a photo with the beauty mogul at her Hollywood Hills mansion.
Watch:
Scott Disick & Sofia Richie Break Up "For Good"
Despite celebrating her birthday as a single gal, a separate insider told E! News that Sofia and Scott are both enjoying this time apart.
"They have been off and on for two months," the insider said of the duo's relationship. "Sofia really pushed to make things work between them after they initially broke up, but Scott officially called it off recently and they are no longer speaking."
"Friends attributed their 15-year age difference becoming an issue. He's in a very much different place in his life, really focused on a more quiet lifestyle, his kids and his investment businesses. And Sofia [is] still trying to figure out what she wants to do, which drove them apart over time."
With Sofia's official birthday tomorrow, fans will just have to wait and see what her festivities entail!