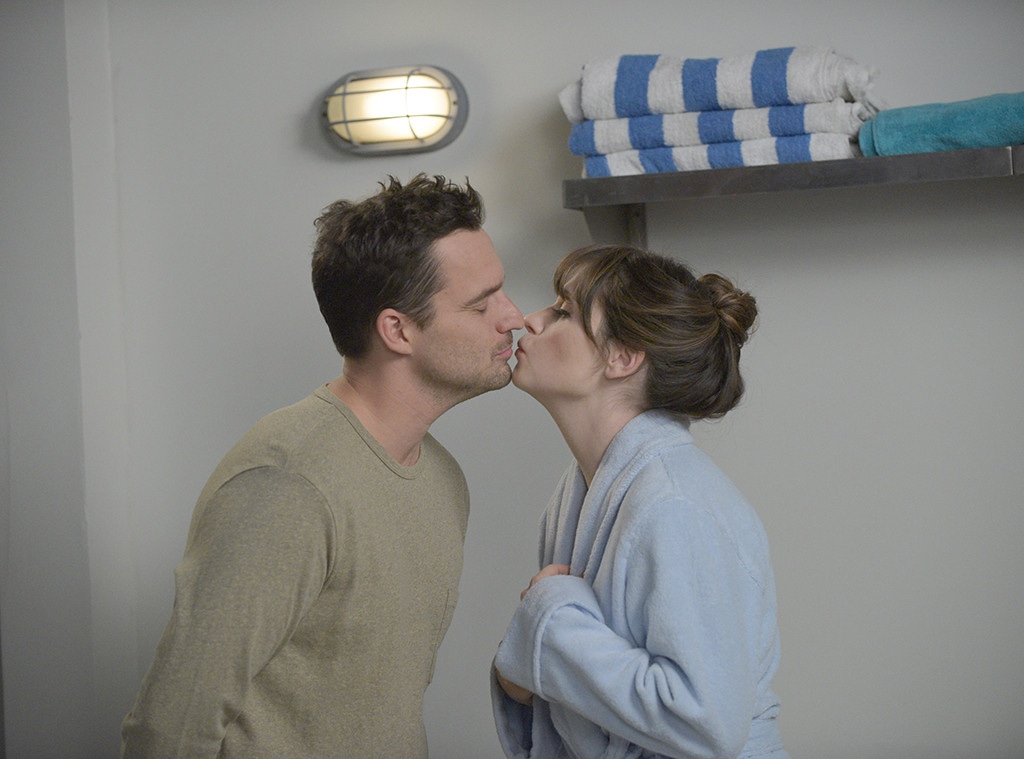 Fox
Jake Johnson sees your New Girl quarantine binges and would like to know where everybody was in 2018. 
The man known to many as Nick Miller and/or Julius Pepperwood stopped by Slate's Thirst Aid Kit podcast on Aug. 21 and was asked about the resurgence of the series, which seems to have found a second life on Netflix while everyone's been stuck at home.
Whether it's because fans have been realizing that the final season, which was set in 2020, featured face masks and references to hand washing or have simply been rediscovering just how attractive Nick Miller could be, it's been a good few months for a show that had to fight to get its final episodes on the air more than two years ago. 
"When we were going away, Fox was being pretty cool and saying like, 'We don't want to cancel you, but nobody's watching,'" Johnson said. "So when we did our final season...Zooey Deschanel and I literally wrote an email to the heads [of Fox and 20th Century TV] asking for more, for the few OG fans who stayed with us. You can't end the way season six ended where it was rushed. I was like, 'Give [creator] Liz Meriwether the time to finish this right!'" 
Johnson recalled that while many shows get the chance to celebrate their series finales on Conan or Jimmy Kimmel Live!, New Girl—which also starred Deschanel, Lamorne Morris, Max Greenfield, Hannah Simone, and Damon Wayans Jr.—didn't get that chance. 
"Nobody asked us to be on any show!" he said. "So now that there's people following [New Girl], I'm like, it's not like you're 10 years too late, you're 18 months! It's a little bittersweet. We were just working!" 
However, Johnson thinks that the renewed attention means there's an even better chance we'll get a reunion. 
"Hannah Simone and I were texting two nights ago...Zooey and I still text. All the guys and I are on a text chain," he shared. "Everybody's still linked up, so I would be surprised if there's not some sort of a thing at some point where everybody comes back."
The problem now is that the cast is doing so well for themselves that Meriwether would have her work cut out for her in writing everyone a storyline. 
"Lamorne is now running his own show. He's becoming a mogul, so Lamorne...he's coming back with an arc!" he said. "So Liz Meriwether would have to crack a great story, and if she does that, it would be really fun to get everybody back." 
Johnson also opened up about the days immediately after landing the role of Nick, when he was literally on his way to spend his new TV money on extra sides and a full pitcher of margaritas at a Mexican restaurant and he got a call from his manager asking him, on behalf of Fox, to lose 10 to 15 pounds. 
"No part of me was offended the way one might be offended by that...I almost started crying because I wouldn't be able to eat the [celebratory] meal I was so excited for," he recalled. "But, once I was in the show and it got established, they can't fire me for being chubby."
"They made a bunch of jokes, once Liz made a joke about it and Max Greenfield hit the joke and everybody laughed," he continued. "I think everybody at the network could exhale and say, 'Nick Miller he could be the chubby guy.' As soon as that joke happened, I got my two sides, I got my margaritas, I was back to eating the way I should eat."
Watch:
"New Girl" Cast Plays "Who Knows "Elf" Best?!"
Johnson is currently starring in Hoops, a new animated comedy on Netflix in which he plays a miserable foul-mouthed basketball couch trying to turn both the team and his life around. It also serves as a mini New Girl reunion with voice appearances by Simone, Greenfield, and Wayans Jr. But Johnson knows the show isn't for everybody. 
"If somebody starts watching this show, and a minute in they don't like it, they don't like the swears, they don't think it's funny, then I ask that person to just change the channel," he said. "Because it's not going to get better, it's not going to come around and you're gonna say 'Episode three just really earned my viewership.'"
Hoops and New Girl are now both streaming on Netflix.