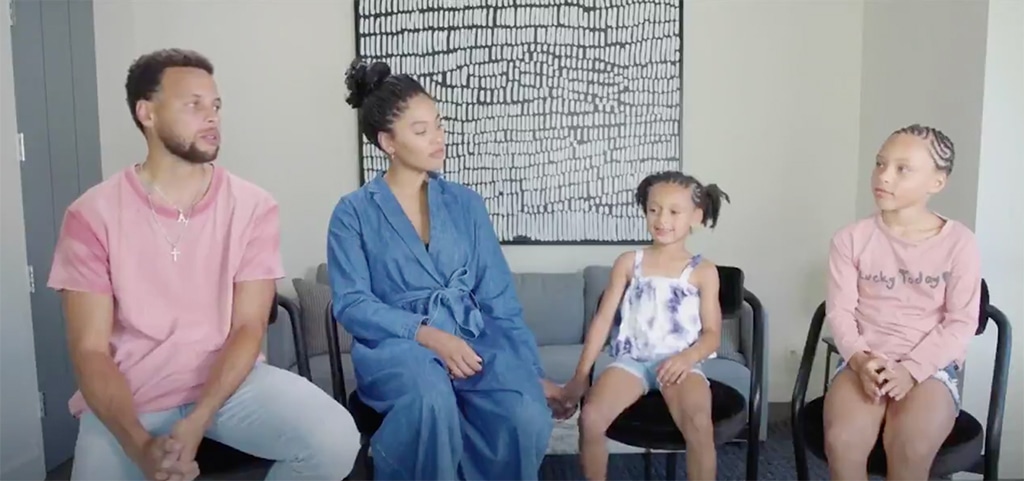 @DemConvention/Twitter
They may not be old enough to vote, but Stephen Curry and Ayesha Curry's kids caught everyone's attention at the Democratic National Convention on Thursday, Aug. 20.
The 32-year-old basketball player and the 31-year-old cookbook author sat down with their daughters—Riley Curry, 8, and Ryan Curry, 5—for a candid conversation about the 2020 presidential election.
There were several adorable moments throughout the interview, too—like when Ryan asked what the phrase "jump in" meant and when she told her mother, "Mommy, I can't be quiet." 
"Why?" Ayesha replied in regard to the latter, later adding, "I don't want you to be quiet. You deserve to speak and say whatever it is that comes to your mind in this moment right now." 
At one point, the Currys' youngest daughter also paused the interview and told her famous family members she needed a quick bathroom break.
Still, the children covered a lot of ground. The Golden State Warriors star quizzed the kids on everything from where the president lives to who is running for president. In addition, the proud parents asked them for their opinions on a number of topics, including what kind of characteristics they think the leader of the United States should have.
"What would you say if you knew that Joe Biden was going to have a woman as his Vice President?" Stephen also asked his daughters, referencing Biden's running mate Sen. Kamala Harris.
Riley then said she'd be "surprised" and "happy."
"There's, like, not a lot of women being president and helping alongside the president," she added.
In addition, Ayesha and Stephen, who are also parents to their 2-year-old son Canon, asked Riley how important faith is in her life.
"Really big," she replied. "Because I'm grateful for all the things that I have and that I love my family."
Watch:
Ayesha & Steph Curry's Son Has a Message for All You Haters
Watch the video to see the discussion.