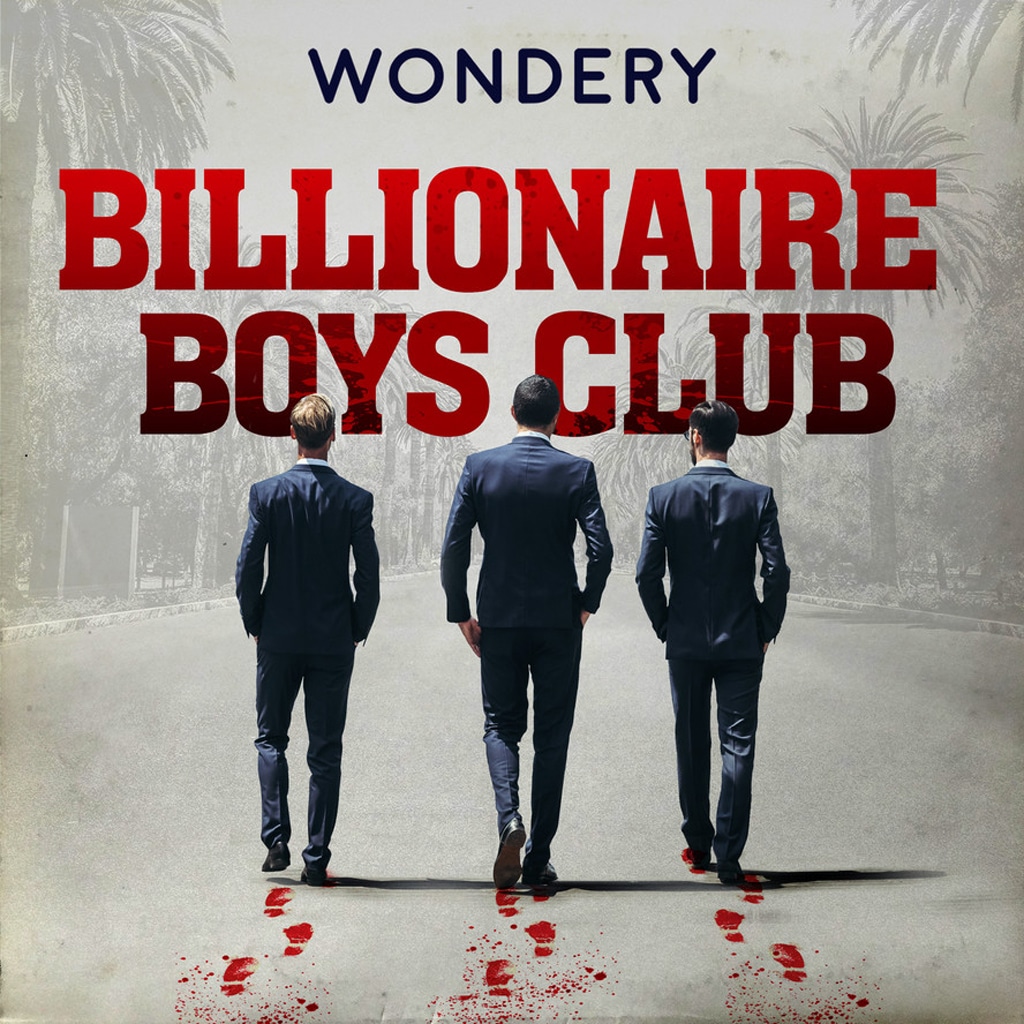 Wondery
Ah, the 1980s, when shoulder pads, hair and egos ran sky high.
Reaganomics created a crop of bullish investment bankers, yuppies dug into Caesar salads, greed was good and it all ended up mercilessly mocked by Bret Easton Ellis in American Psycho.
But Patrick Bateman is a fictional character. The Billionaire Boys Club was real.
Even Hollywood and Crime host Tracy Pattin—whose latest podcast takes on the twisted '80s-era tale of money, lies, manipulation and cold-blooded murder—summed it all up at first with a simple "wow."
And she's excited to expand on that "wow" because, though it's been the subject of books and an Emmy-nominated miniseries, as well as inspired plenty of TV and film plots, it has been one of those insanely juicy stories that somehow slipped through the cracks of the true crime canon that always seems to be in rotation decades after the events in question occurred. (Needless to say, an ill-timed film starring Kevin Spacey that made less than $200 at the box office in 2018 did nothing to move the needle.)
"No one that I have met to this day really knows the whole story. They just kind-of know," Pattin, who co-hosts Billionaire Boys Club with Timothy Olyphant, told E! News in a recent interview. And, even for those more familiar with it, "there are always new nuggets to find."
Especially now, she added, a good story "is therapeutic and it's escapist. It's a way to get away from the real crazy [out in the world] and we can just kind of go to the other crazy, and be entertained and horrified."
Watch:
6 Binge-Worthy Shows Based on Real-Life Murders
The whole podcast is currently available in full to Wondery Plus subscribers, but for everyone else, you can subscribe wherever you get your podcasts—and, while the majority of the series was produced last year, a bonus episode awaits, providing current updates on the sprawling cast of all-too-real characters.
Douglas C Pizac/AP/Shutterstock
In the late 1970s, Joe Hunt (then known by his real name, Joseph Henry Gamsky) was a student at the exclusive Harvard School in Los Angeles (then all-boys, now it's the co-ed Harvard Westlake). He was ambitious and charismatic—and also on scholarship, meaning he didn't have the deep-pocketed parents that so many of his classmates had. In fact, he lived in the middle-class city of Van Nuys, only about a 21-minute drive from the school in Holmby Hills, but what must have felt like a world away to the teenager. And not only because he rode his bike there and back.
After graduation, he enrolled at USC to study accounting, passing the CPA exam when he was only 19, after which he promptly dropped out. He managed to get a job at a prestigious accounting firm, relying on his CPA exam score and skipping over the part about not having a college degree.
Visions of power and prestige dancing in his head, he went to work as a commodities trader in Chicago in 1981, ready to make millions despite not knowing what he was doing. Having lost money, he started his own investment fund—and was promptly kicked out of the Chicago Mercantile Exchange.
So, he tried it again in Beverly Hills—christening himself Joe Hunt and forming an investment club with some of his former classmates, using his bravado and promises of quick, big returns to get them to put up the capital for what eventually became known as the Billionaire Boys Club.
Ironically, officially Hunt called his company the BBC, after the Bombay Bicycle Club restaurant he liked in Chicago, but he did insist to his buddies, including fellow Harvard School alum Dean Karny, they would all be actual billionaires one day—and the acronym was at the ready.
Hunt "almost seemed like everybody's savior," a former investor in the BBC, Brad Buckley, said in a 2002 episode of TruTV's Dominick Dunne's Power, Privilege and Justice. "He had this quality about him. He just struck everybody who got to know him as the person you wanted to be with, who could help you achieve your goals, whether they were financial or personal. Whatever it was, Joe was like this rock."
The more important, wealthy people Hunt attracted to the club, the more VIPs they brought into the mix—which proved, at first, to be a legitimately lucrative venture. Soon Hunt really did have a few million dollars in his investment accounts and he leased a suite of offices in Beverly Hills. But all the designer clothes, Rolexes, sports cars, fancy dinners and other trappings of wealth began to add up, and when he started to lose money in the market...
The Ponzi scheme began.
When Hunt met man-about town Ron Levin in 1983, they clicked in an instant-frenemies sort of way. The increasingly foundering Hunt encouraged (and needed) Levin to invest with him—and Levin, who had multiple arrests for fraud and theft on his record, eventually agreed to $5 million, but to be held in his own brokerage account. Levin agreed to split the profits with the BBC, meaning Hunt's cronies (most of whom had family money, which thickens the mystery of why they were so drawn to Hunt) were also looking forward to a payday.
Eventually, when Hunt sought his share, it turned out that Levin, despite having shown him paperwork that said he had deposited $5 million, had never invested at all—part of a bigger scheme he was running that involved other parties. BBC investors started to ask for their money back, money Hunt didn't have.
On June 6, 1984, Hunt showed up at the office with a $1.5 million check signed by Levin. But when the BBC tried to deposit it, the check bounced.
On June 8, 1984, Levin's mother reported him missing to the Beverly Hills Police Department. Knowing his history, officers weren't particularly concerned. 
But also that year, the father of another BBC investor, Reza Eslaminia, had gone missing in Northern California. There was reported speculation that the disappearance of Hedayat Eslaminia, who was a wealthy businessman back in his native Iran, had something to do with the Ayatollah, whom he had criticized. Another mystery.
In August 1984, two of Hunt's fed-up associates went to authorities to report that they had been swindled—and that they had reason to believe Hunt and his bodyguard, Jim Pittman, had something to do with Levin's disappearance. They were of that belief because Hunt had basically said as much in a meeting at the BBC.
When police searched Levin's condo, they found what appeared to be a to-do list in Hunt's handwriting that said things like "close blinds" and "tape mouth."
Levin's body has never been found. But Hunt and Pittman, the doorman at the condominium building where Hunt lived before he was hired to provide security for the BBC, were arrested for Levin's murder in October 1984.
Dean Karny, Hunt's best friend who had previously stuck by him when other investors started to drop out, agreed to testify in exchange for full immunity—and he also said that Hunt was behind the death of Hedayat Eslaminia. Karny alleged that they had planned to kidnap Eslaminia in Northern California and bring him back to Los Angeles, where they'd torture him till he shared the location of his assets. But the man died on the drive down, Karny said, so they dumped his body in Soledad Canyon, which is in a remote area of L.A. County. 
Authorities found bones in the spot Karny led them to, and the remains were identified via dental records. Hunt was charged with Eslaminia's murder, too, in 1985.
Hunt's trial for the murder of Levin eventually began in 1987 and was the talk of Beverly Hills, the downfall of the handsome, young, investment wunderkind so much fodder for cocktail party conversation.
The defendant not only insisted he was innocent, but that Levin was alive and in hiding, having run from the law to escape consequences for his own bad acts.
But Hunt was convicted of murder and sentenced to life in prison without the possibility of parole, a jury choosing not to give him the death penalty.
A few years later came Hunt's trial in the 1984 kidnapping and murder of Hedayat Eslaminia in San Mateo, Calif.
Despite not even testifying in the Levin trial, Hunt, who had no formal legal training, chose to defend himself—and he pinned the whole thing on Karny, again the prosecution's star witness in exchange for immunity. Hunt didn't deny participating in the kidnapping, but he said that Karny killed Eslaminia.
"There is one voice that will never be stifled—and that's the voice of an innocent man talking about his innocence," Hunt said in court.
The trial lasted for nine months and, in the end, he managed an 8-4 hung jury after 26 days of deliberations. The judge declared a mistrial, making Hunt reportedly the only person in San Mateo County legal history to defend himself in a capital murder case and not end up sentenced to death. Prosecutors decided not to retry him and the charges were dropped in 1993.
Reza Eslaminia, however, the dead man's son, was found guilty of his father's murder—but his conviction was overturned on appeal and the case against him was dropped in 1998.
After his own trial for Levin's murder ended in a hung jury, Hunt's former bodyguard, Jim Pittman, pleaded guilty to one count of accessory to murder after the fact. Having been in prison for three and a half years, unable to afford bail, Pittman was sentenced to time served and released.
In 1993, Pittman went on A Current Affair in 1993 and said he shot Levin at the man's Beverly Hills home—and Hunt was there. "They cannot charge me for the murder of Ron Levin because they dropped it," Pittman said. "They dismissed it...so it would be like double jeopardy to try me twice."
They went to Levin's house, Pittman recalled, and Hunt—angry and seeking revenge because "Levin was the first person ever to make Joe look like a fool in front of the rest of the guys"—made Levin write him a check for $1.3 million. Then "Joe nodded and that was my signal to do what I had to do." They wrapped the body in a comforter and drove 45 minutes north to a canyon, where, Pittman claimed, they fired shotgun blasts at the body to further disfigure it and buried it.
At the time, searches were still being conducted for Levin's body. "I don't know if anything is going to come of this or not," Lt. Frank Salcido told the Los Angeles Times of Pittman's purported confession to A Current Affair. "We have basically an open investigation."
Nothing ever came of it, authorities secure in the knowledge that Joe Hunt was in prison. 
The only one of the BBC members still behind bars is Hunt, who lost his final appeal in 2016. In 2018—with the support of a Free Joe Hunt campaign started by friends and family online—he petitioned then-California Gov. Jerry Brown for a sentence commutation, seeking the possibility of parole.
"I see other men similarly situated getting commutations and figured, 'Why not me, too?'" Hunt, 59 at the time, told the Associated Press. The website started on his behalf lists all the ways in which he's been a model prisoner for the past three-plus decades.
"Was I a catastrophic, world-class jackass in 1984? No doubt," he said. "But it's not right that I get to be the garbage dump of everybody's peccadilloes."
Sometimes renewed attention on a case can affect public opinion enough that something shakes loose—but treatments of Hunt's story haven't exactly been sympathetic toward the man who became the poster boy for '80s excess run amok.
Judd Nelson and Brian McNamara were nominated for Emmys for their respective turns as Hunt and Karny in the 1987 NBC miniseries Billionaire Boys Club. 
Nelson returned to the story to play Hunt's father in the more recent film, which was announced in 2010 and shot in 2015 in New Orleans with Ansel Elgort as Hunt, Taren Egerton as Karny and Kevin Spacey as Ron Levin.
Also starring Emma Roberts, Rosanna Arquette, Billie Lourd, Suki Waterhouse and Cary Elwes, surely it sounded like a good idea at the time, but sexual misconduct allegations against Spacey made in 2017 basically assured that it wouldn't be the production that brought this story to the masses.
But Wondery's Billionaire Boys Club delves beneath the known facts of the case to probe what motivated not just Joe Hunt, but the already wealthy, privileged young men who ended up in his orbit, lured by the promise of more money, more stuff and, maybe, a bigger piece of the pie than their rich parents could give them. And there are peccadilloes aplenty.
Subscribe to Billionaire Boys Club wherever you get your podcasts.