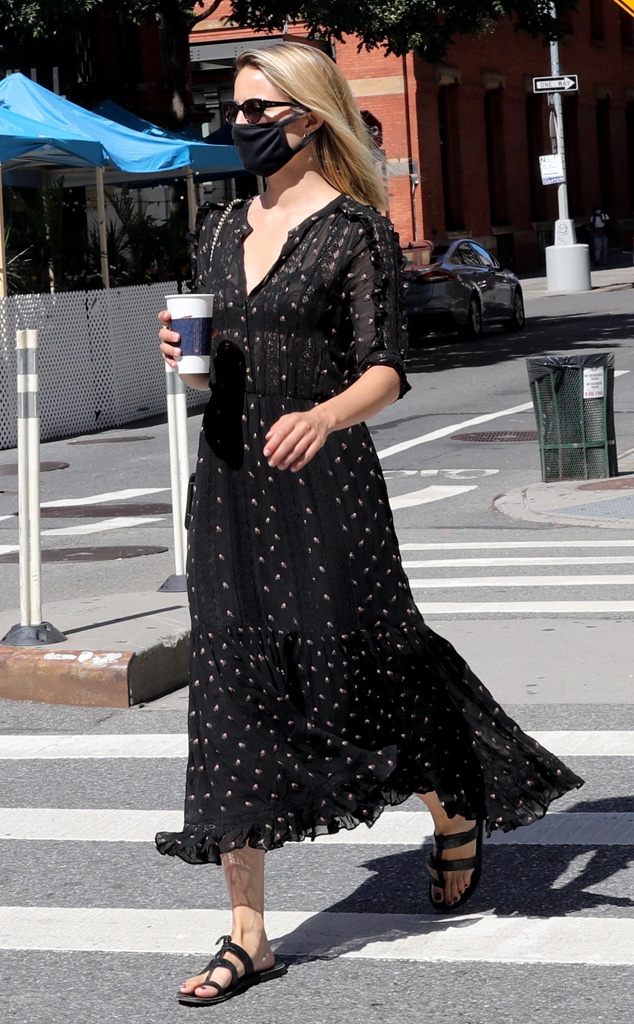 Jose Perez / SplashNews.com
Dianna Agron has taken off her wedding ring amid a reported breakup from Winston Marshall. 
On Friday, Aug. 21, the Glee actress was spotted in New York City without her go-to diamond accessory. The outing marked Agron's first since multiple sources told Us Weekly that she and the Mumford & Sons musician split after over three years of marriage.
"They have been living separately since last year," one source told the outlet, adding that the 34-year-old is back on the dating scene.
Agron has yet to publicly address a possible divorce, but perhaps she's letting her ringless hand send the message instead. 
Despite the former couple's rumored split, Agron and Marshall appear to still follow each other on Instagram, though it seems they've been spending time in separate locations recently. Just days ago, the 32-year-old artist took to social media to post a photo of himself in Amsterdam, while Agron's latest Instagram post shows that she's back to work on her upcoming movie The Laureate. On July 31, the 34-year-old actress shared a behind-the-scenes photo with fans while recording voice-over work for her latest project, writing, "ADR in the time of Corona."
As fans may recall, the private stars tied the knot in Oct. 2016 in a romantic destination ceremony in Morocco, which took place just under a year after the couple got engaged.
While Agron never officially confirmed the news, she did show off her gorgeous diamond ring in early 2016 at the Erdem autumn/winter presentation during London Fashion Week. The actress flashed cameras with the sparkler, set in a yellow-gold band, which appeared to be somewhere around four to six carats.
Though Agron has been tight-lipped about her relationship with Marshall, she did open up about the mosquito bite she received after the ceremony. As she explained on an episode of The Late Late Show in 2017, Agron went to bed and woke up an hour later "and something felt wrong." In a photo shown by host James Corden, viewers could see Agron's swollen lips. "I went to the bathroom, things were wrong," she recalled. "I had also lost my voice at this point, so I was like, 'Honey! Something is happening!'"
Watch:
Cole Sprouse & Lili Reinhart and More 2020 Celebrity Breakups
Agron and Marshall's reps have not responded to multiple requests for comment.