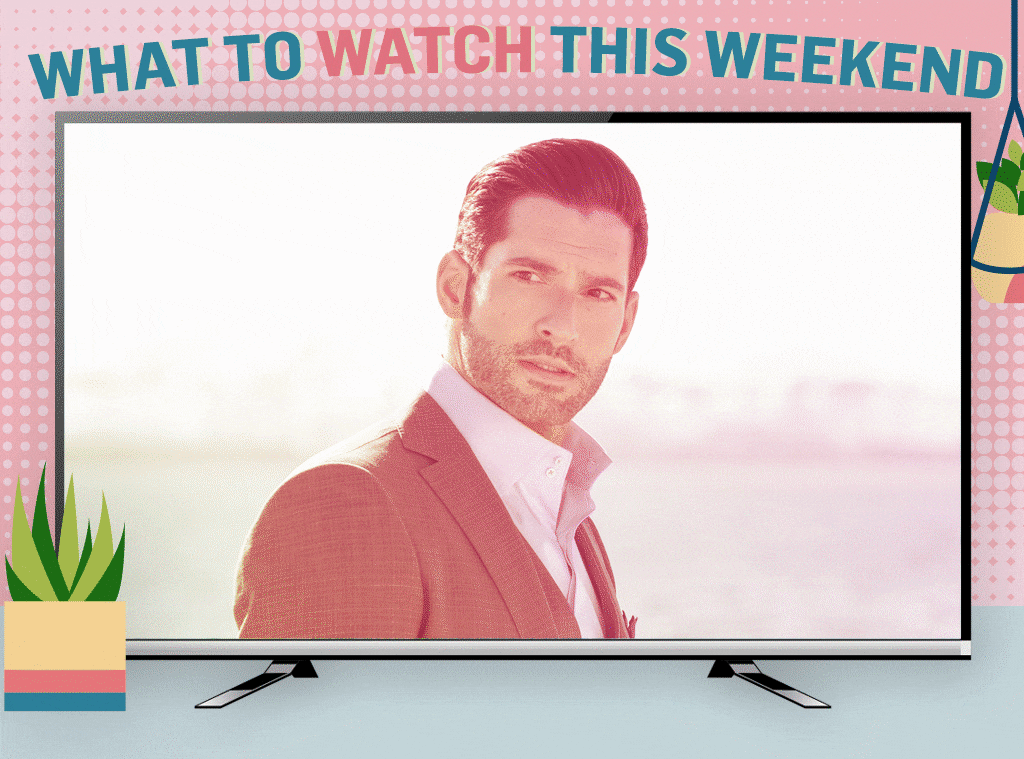 E! Illustration
Siiigh, anyone else missing the movie theater lately? 
While we don't miss the sticky floors, coated in spilled soda, or the ever-rising cost of tickets (in our day...), we can't help but long for the big-screen experience. Fortunately, there are several new movies coming to streaming platforms this weekend that are worth gathering your family and popping some popcorn to have a movie night all from the comfort of your living room. 
Other options for August 22-23 include a critically acclaimed series that is likely to dominate the 2021 Emmys and a reality series we're sort of embarrassed to admit we can't get enough of. It's all about balance, people. Plus, one of the Internet's favorite shows returns and a country music superstar is making the jump from the stage to the small screen with a reality series. 
So hide your responsibilities, hide your calendar 'cause you're about to stream the weekend away...
If You Want to Be Watching What Will Likely Be the Best Show of 2020: We may unfriend you if you do not catch up on I May Destroy You in time for the unforgettable series' impending finale. You've likely seen people on your social media feeds gush over creator and star Michaela Coel so hard and after watching her haunting and searing show about surviving sexual assault, you'll be joining the club, probably promising one of TV's next great voices your first born. Not like we'd done that or anything. You won't be able to take your eyes off of her or give up the real estate I May Destroy You will take over in your brain for quite some time. (Where to Watch: HBO Max, finale airs Sunday at 9 p.m. on HBO)
Watch:
Angelina Jolie Enjoys "Chaos" in Her Home During Quarantine
If You Have a Thing for Bad Boys: He's ba-aack. Lucifer returns for its fifth season on Netflix after the streaming giant saved it from damnation by Fox, and dare we say Tom Ellis is devilishly charming as ever in the titular role? Like, do we feel weird about our crush on the human embodiment of evil and how much we ship him with Chloe (Lauren German)? Eh, not really. See you in hell, kids! (Where to Watch: Netflix)
If You're Looking for a Movie the Whole Fam Can Enjoy: Come one, come all to The One and Only Ivan. Disney+'s adaptation of Katherine Applegate's award-winning children's book blends CGI and live-action to tell the story of Ivan (voiced by Sam Rockwell), a silverback gorilla who lives in a cage at a mall. Angelina Jolie (who is also a producer), Helen Mirren and Danny DeVito all lend their vocal talents to the heartwarming story about Ivan's quest to save a baby elephant newcomer, while the always-reliable Bryan Cranston breaks bad to star in the live-action portion as the ringmaster of the shopping center's zoo. Sorry parents, prepare to watch this on repeat for the foreseeable future. (Where to Watch: Disney+)  
If You Are Looking for Another Family-Friendly Option to Make It a Movie Night: Ah, just like the days of renting a bunch of flicks from Blockbuster, right? Should you be in the mood to keep streaming, The Sleepover is another SFH (safe for home, duh) option about two kids trying to save their mom (Malin Akerman). A former thief whose been living in witness protection for over a decade, she is kidnapped by her former co-horts. Pitching in to help her kids out: Her seriously hunky ex, played by Joe Manganiello. So...Adventures in Babysitting with Big Dick Richie? Sold! (Where to Watch: Netflix)
If Your Boyfriend Never F--king Stops Playing Video Games: If you can't beat 'em you might as well watch a Netflix docuseries about 'em, right? And High Score delivers in the nostalgia department when it comes to gaming, delving into the golden age of the pastime in its six episodes. Beginning in the '70s with the rise of arcade games, the doc travels through the '80s and '90s, exploring the biggest names and trends of the lucrative sub-culture, all narrated by Charles Martinet, the voice of Mario himself. Let's a-go! (Where to Watch: Netflix)
If Rascal Flatts Is Your Favorite Band: Bassist Jay DeMarcus and wife Allison are set to be your next reality TV obsession with their show, DeMarcus Family Rules. The couple, along with their two children, are opening up their Nashville home, with Jay telling E! News, "It was important for us to really have a whole lot of heart in our show. Let it be a show that the whole family can watch together,"
But Allison admitted that viewers can expect things to get a little wild. "We also have our fair share of crazy too," she laughed. "When it all comes down to it, we do love each other. We also definitely try each other in various times." (Where to Watch: Netflix)
If You Still Consider Nick Miller the Dreamiest TV Character: Should you find yourself—gasp!—growing a little tired of watching New Girl on an endless loop, may we suggest Jake Johnson's latest series, Hoops? The animated comedy finds the artist formerly known as Nick Miller providing the voice of Ben Hopkins, the foul-mouthed coach of a terrible high school basketball team that's hoping to use them as his spring-board to glory. OK, so it's not the most original plot ever, but Hoops will stage a vocal New Girl reunion with Max Greenfield, Hannah Simone, and Damon Wayans Jr. all guest-starring. To quote Nick: It's perfectly fine to watch TV all day. (Where to Watch: Netflix)
If You Miss the Glory Days of Laguna Beach: Glossier than its MTV predecessor, Siesta Key is just as much of a guilty pleasure, if not more so, as this group of twentysomethings earnestly say things like "We went from a millionaire to a billionaire," slo-mo walk into every room like they are in a music video, and have had numerous physical altercations that require plastic surgery (Lauren Conrad is clutching her Chanel pearls somewhere.) Season three comes to an end next week, with the network delivering the show's first-ever reunion special, so we highly recommend a quick jaunt down to Florida to be up to speed on all of the delicious drama. (Where to Watch: MTV app)