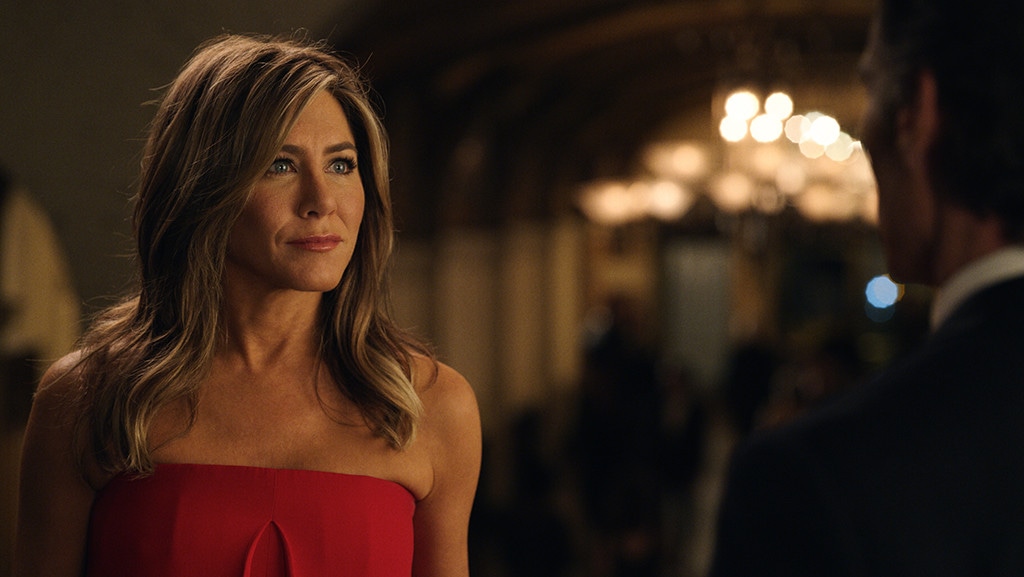 Apple
If it looked like Jennifer Aniston was working through some very real feelings on The Morning Show, that's because she was. 
In a new interview with the LA Times, the actress opened up about just how truthful some of those scenes felt to her, even calling the show "20 years of therapy wrapped into 10 episodes." 
"There were times when I would read a scene and feel like a whole manhole cover was taken off my back," she said. 
She described it as "cathartic," but also a way to look at her own behavior. 
"[The show was] interesting for me to look at how I always have tried to normalize being fine and 'everything's great, you know, this is all normal,' and then there are moments where you have your private breakdown or your 'Calgon, take me away' moments," she said, referencing an old bath powder commercial about a stressed out woman who really needs a break. "To actually look at it from an actor brain observing it and acknowledging it, I had to look at it as opposed to pretending it doesn't exist." 
Aniston was arguably the best part of the Apple TV+ show, which she and Reese Witherspoon developed together, and one scene in particular was a stand-out. 
In the second episode, after her co-anchor Mitch (Steve Carell) has been fired for sexual misconduct, Alex (Aniston) is on her way to an event where she's being honored. She's trying to fit everything she needs in her tiny red carpet purse while also dreading having to face the public as her professional life is in shambles. She has a full breakdown in the car and has to force herself to stop crying so she doesn't ruin her makeup, but then steps out of the car all smiles to walk the carpet. 
"There have been moments—not to that level of hysteria—but moments of 'I don't want to f--king go here,' 'I don't want to walk out onto the carpet,' 'I don't want to be seen,' 'I don't want to be looked at and everyone's going to be talking about me and judging me' ... that's real," Aniston said. "I just loved being able to walk into it and lean into it and not be ashamed of it, but actually just... it was like... 'Oooooooooh.'" 
Watch:
Jennifer Aniston Says "The Morning Show" Role Felt "Oddly Natural"
Season two of The Morning Show is currently in the works, though production had to pause after filming two episodes due to the coronavirus pandemic, which will actually allow the pandemic to become part of the storyline in season two. Aniston told LAT that she's been spending the unexpected time off in a quarantine bubble with three other families and has been watching shows like Queer Eye and Lenox Hill. 
She also might win an Emmy, since Aniston is nominated for Lead Actress in a Drama for her work on The Morning Show. It's her seventh nomination overall, but would be her second win. She took home the prize for Lead Actress in a Comedy series in 2002 for—what else—playing Rachel Karen Green.