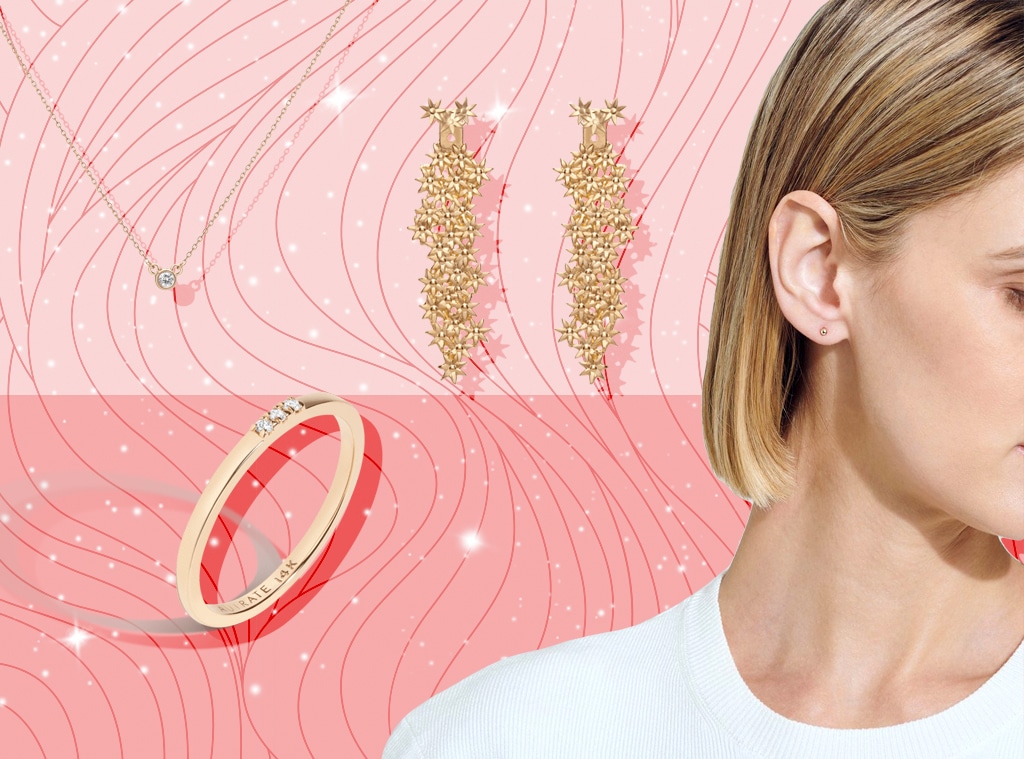 We love these products, and we hope you do too. E! has affiliate relationships, so we may get a small share of the revenue from your purchases. Items are sold by the retailer, not E!.
Jewelry shopping can present a minefield of issues, ranging from overblown costs to deeply unethical practices in sourcing gems and precious metals. But Aurate is here to change the game.
Aurate was the brainchild of Sophie Kahn and Bouchra Ezzahraoui, two grad-school friends who combined their background in fashion (Kahn) and finance (Ezzahraoui) in an effort to bring transparency and quality to the fine jewelry market. They wanted to offer pieces that were made using durable materials, but also had transparent, approachable pricing... not to mention, sustainable production practices and a built-in charity component to go the extra mile in doing good.
The result is a beautiful line featuring designs that are crafted using ethically-sourced and sustainably made 14K gold, 18K gold, and 14K gold-plated vermeil. To ensure it lasts, their vermeil is coated with 2.5 microns of 14K gold (instead of industry standard of 1.5 microns and 10K gold). Their gold is 100% recycled. Their pearls are sustainably harvested from family farms that give back to their local communities. They're also meticulous about how they source their diamonds and gems, tracking each one from mine to workshop, ensuring that their mines have acceptable working conditions, offer fair pay, and respect local indigenous communities.
Plus, everything is handmade in New York, so there's no import taxes tacked on to the final price of your piece. And as part of their partnership with Mastery Charter, Aurate supports and empowers children in need across U.S. schools by donating a book in your name for every piece of gold you purchase.
We're super sensitive types, so we hadn't worn a single piece of jewelry in over three years. But the Gold Ball Studs in 14K rose gold spoke to us, both from a style perspective, and for being a minor investment if it turned out our ears didn't like them. We started with one pair, wore them for a week, and were delighted to discover that we didn't break out in a rash and our ears didn't try to swallow the studs whole (which has happened, and no, it's not fun). So we invested in two more pairs, and were even more delighted that we had no reaction to them.
And when we had an issue with our order, customer service was incredibly helpful and quick to respond, even in these challenging times. Our shopping experience was so positive, we've since invested in a series of gold hoops, and have a variety of other pieces on our wish list. And while we wouldn't characterize their offerings as cheap, they're certainly more approachable in price, especially if you opt for the vermeil finish in select pieces.
So if you'd like to make your jewelry collection a little more ethical and a lot more sustainable, we recommend checking out some of Aurate's bestsellers below!
Aurate Gold Ball Studs
You can't go wrong with a pair of classic ball studs, These come in 14K gold, with the option to choose from a yellow, rose or white gold finish. And you can either buy them as a pair, or just get one if you have an odd number of piercings. These traditionally retail at $65, so at $25 for one or $50 for two, they're a steal.
Aurate Large Gold Curb Chain Necklace
Aurate Diamond Stacker Ring
Aurate specializes in stackable jewelry, with series of rings and necklaces designed to play off one another. If you want to build your own stack from scratch, we recommend starting with this slender gold ring sporting three radiant diamonds. It comes in your choice of 14K or 18K in yellow, rose or white, in whatever sizes you need. Retail price? $780.
Aurate Diamond Bezel Necklace
Aurate Deco Fan Pearl Ring
Aurate Flower Earring Back Large
Then again, sometimes bold statements are the way to go. Make one with these jacket earrings, featuring a cluster of flowers that come in a range of golds, from vermeil up to 18K. You can get these as a single or a pair, with the comparative retail price starting at $234 for a single vermeil gold earring.
Aurate The Triple Edge Ring Set
Remember how we said Aurate specializes in stackable details? This ring set is the perfect example of that stylish expertise. It features their Infinity Cigar Band (a $120 value in gold vermeil) and their Mini Infinity ring (a $70 value in gold vermeil). You can get it in a variety of golds and sizes, but if you bought it at retail value, it'd set you back $416.
Aurate Mini Gold Letter Charm Pendant
Admit it: you still harbor a crush on those classic initial necklaces from back in the day. Get an updated version with this Mini Letter Charm Pendant in either 14K or 18K gold. If you were to spend retail on it, you'd be shelling out $650...so at this price, you could get a few letters of your choice.
Aurate Bold Ear Cuff
Don't have piercings but want to rock some earrings all the same? How about an ear cuff? This one also comes in your choice of gold vermeil, 14K or 18K gold, and finishes of yellow, rose or white. It's contemporary but bold, stylish but simple, and it definitely belongs on your ear. If you were to get one retail, it would cost $104.
Aurate Birthstone Ear Chain Threader
Perhaps it's our love of all things 80s, but we just can't get over the awesomeness of this Ear Chain Threader. It comes in 14K gold, with optional finishes of yellow, rose or white, with a dainty birthstone accenting the end. You can choose your fave from January's garnet to December's London blue topaz, and get either a single or a pair. How much would a single cost you retail? $390.