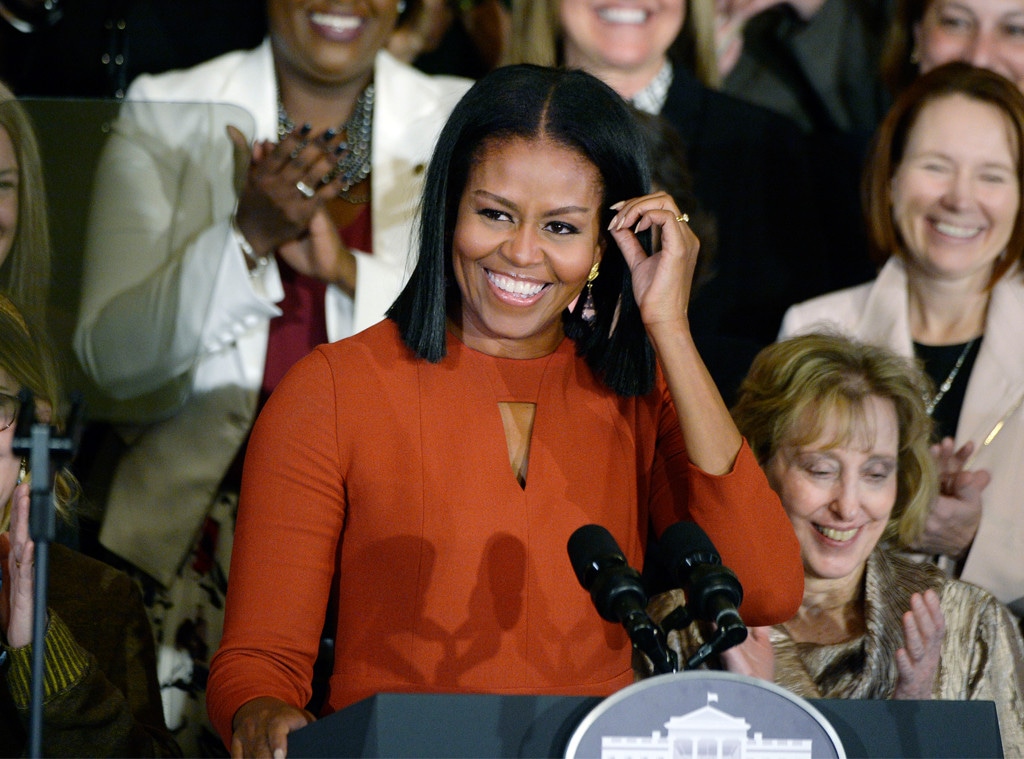 Olivier Douliery/ABACA USA/INSTARimages.com
Michelle Obama is standing by what she said during the 2016 presidential election: "When they go low, we go high."
In her speech for the Democratic National Convention on Monday, Aug. 17, the former First Lady implored the American people to practice "empathy" in their day-to-day lives, especially as the coronavirus pandemic wages on. She explained that in recent weeks, she's been thinking a lot about the term and the importance of recognizing "that someone else's experience has value, too." 
"Most of us practice this without a second thought. If we see someone suffering or struggling, we don't stand in judgment. We reach out because, 'There, but for the grace of God, go I.' It is not a hard concept to grasp. It's what we teach our children," she said, adding that she and former President Barack Obama sought to teach their daughters this same lesson.
However, Michelle, who wore a "Vote" necklace by Black designer BYCHARI, said that she feels like the United States has become an example of what happens when "we stop requiring empathy of one another."
"They see people shouting in grocery stores, unwilling to wear a mask to keep us all safe. They see people calling the police on folks minding their own business just because of the color of their skin. They see an entitlement that says only certain people belong here, that greed is good and winning is everything because as long as you come out on top, it doesn't matter what happens to everyone else. And they see what happens when that lack of empathy is ginned up into outright disdain," she listed. "They see our leaders labeling fellow citizens enemies of the state while emboldening torch-bearing white supremacists. They watch in horror as children are torn from their families and thrown into cages, and pepper spray and rubber bullets are used on peaceful protestors for a photo-op."
These incidents, she said, are what the "next generation" will grow up remembering, despite "the goodness and the grace" that she's personally seen in households and neighborhoods across the country. Michelle added, "This is not who we want to be."
She went on to acknowledge that the events of the past four years have led people to question whether it's still worth "going high" when others go so low. And the answer is yes, because as Michelle explained it, "When we use those same tactics of degrading and dehumanizing others, we just become part of the ugly noise that's drowning out everything else."
"We degrade ourselves. We degrade the very causes for which we fight," she continued. 
But the Harvard Law graduate explained that taking the high road "does not mean putting on a smile and saying nice things when confronted by viciousness and cruelty." She encouraged, "Going high means taking the harder path. It means scraping and clawing our way to that mountain top. Going high means standing fierce against hatred while remembering that we are one nation under God, and if we want to survive, we've got to find a way to live together and work together across our differences."
Michelle stated that many people won't hear what she had to say in her speech, because this is a "deeply divided" country and she's a "Black woman speaking at the Democratic Convention."
But for those tuning in to the history-making speech, she asked, "If you take one thing from my words tonight, it is this: if you think things cannot possibly get worse, trust me, they can; and they will if we don't make a change in this election. If we have any hope of ending this chaos, we have got to vote for Joe Biden like our lives depend on it."
Owen Sweeney/Invision/AP/Shutterstock
Whether it's by mail or in person, Michelle encouraged individuals to "go that extra mile" to exercise their right to vote. "We have got to grab our comfortable shoes, put on our masks, pack a brown bag dinner and maybe breakfast too, because we've got to be willing to stand in line all night if we have to,"  she said.
Not only that, Michelle encouraged voters to go out and get their friends and family to hit the polls.
And to the essential workers, parents and just about everybody else who has "already sacrificed so much this year," she thanked them for keeping this country going. "Even when you're exhausted, you're mustering up unimaginable courage to put on those scrubs and give our loved ones a fighting chance. Even when you're anxious, you're delivering those packages, stocking those shelves, and doing all that essential work so that all of us can keep moving forward," she stated. "Even when it all feels so overwhelming, working parents are somehow piecing it all together without child care. Teachers are getting creative so that our kids can still learn and grow. Our young people are desperately fighting to pursue their dreams."
Despite the adversity many faced this year, she said Americans have proven themselves to be "compassionate, resilient, decent people," something that needs to be reflected in the leaders of this country.
The Democratic National Convention will continue through Thursday, Aug. 20.
Presidential nominee Joe Biden and Kamala Harris, who he selected as his vice president, will speak at the event, among many other influential politicians and figures.