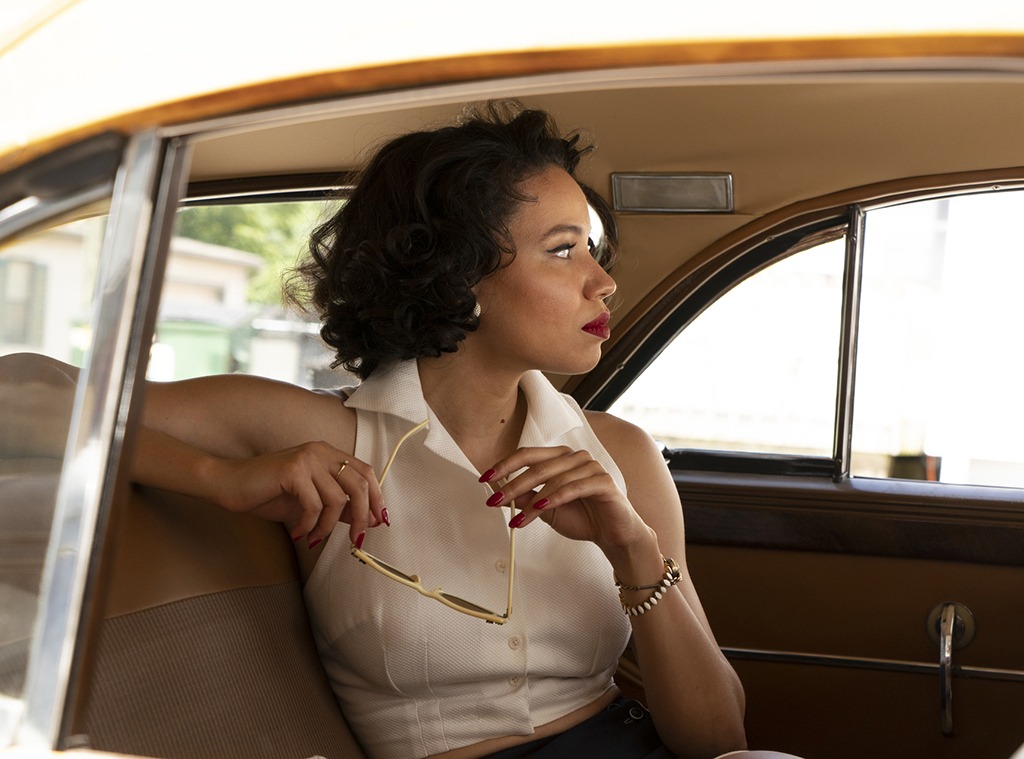 HBO
This post contains very mild spoilers for the first episode of Lovecraft Country. 
If you're looking for a new family drama masquerading as a terrifying fantasy, look no further than Lovecraft Country. 
HBO's newest drama mixes horror movie tropes with the horrors of 1950s Jim Crow laws, and the result is something deeply unsettling and wildly compelling. The premiere, which aired on Sunday night, featured a climactic chase scene unlike any other you've probably seen on TV, before the more traditional horror monsters even made an appearance.
Atticus (Jonathan Majors), Leti (Jurnee Smollett), and George (Courtney B. Vance) left Chicago in search of Atticus' father, only to accidentally find themselves in a sundown town where Black people aren't allowed after sunset. They had to get out of town quickly, but they also couldn't go over the speed limit as a cop followed right behind them, resulting in a car chase where the car couldn't go more than 25 miles per hour. Somehow, the low speed made it even scarier than the terrifying creatures that followed. 
But if you think you know what you're in for now just based off of that one episode, you would be wrong. 
You could almost call Lovecraft Country an anthology series. Each episode follows the same group of characters, but the show switches genre rapidly. No two episodes feature the exact same kind of horror, at least based on the five episodes sent to journalists ahead of time.
During a series of roundtable interviews, E! News asked creator Misha Green which horror trope she was most excited to explore, and she couldn't choose.
"All of them?" she said. "That's kind of the approach I took on this one. I was like, we're doing everything. We're doing mysteries. We're doing sci-fi. We're doing a ghost story. We're doing Indiana Jones." 
Green was particularly excited about that last one, especially since part of the show is about reclaiming genre for people of color. 
"I think the adventure story was probably one of the ones that really excited me, because I was like, "Indiana Jones, that adventure space, where are we? Where do we get to be in that? 
"Every horror trope, the ghosts pulling the sheets and all that stuff, to me is exciting. I was like, "We have 10 hours? Can I get some more time?" 
The show covers cultish rituals, a haunted house, a museum adventure, a metamorphosis story, magic and witches, and that's all just within the first five episodes. But as Jurnee Smollett said, it's not just about the fantasy. 
"This is a big genre piece and yet, at its heart, it's a family drama," she said, which allowed her to be able to make her character Leti into a "full, buoyant woman" who's full of contradictions, and for whom some of those particular moments of horror can really hit hard. 
Jonathan Majors agreed.
"It's a family story," he said. "It's literally in the script. It says, 'This is about our family.' ... It becomes a story about humanity and how we all move forward, so that's what I really hooked onto. The monsters are incredible, the ghosts are incredible. But for me, that's what I know. I know family." 
Watch:
Jurnee Smollett-Bell Recalls "Full House" Days
It's a very chilling, terrifying, sometimes uncomfortable but incredible story about a family dealing with some seriously crazy things, and you're going to want to keep on tuning in.
Lovecraft Country airs Sundays on HBO.