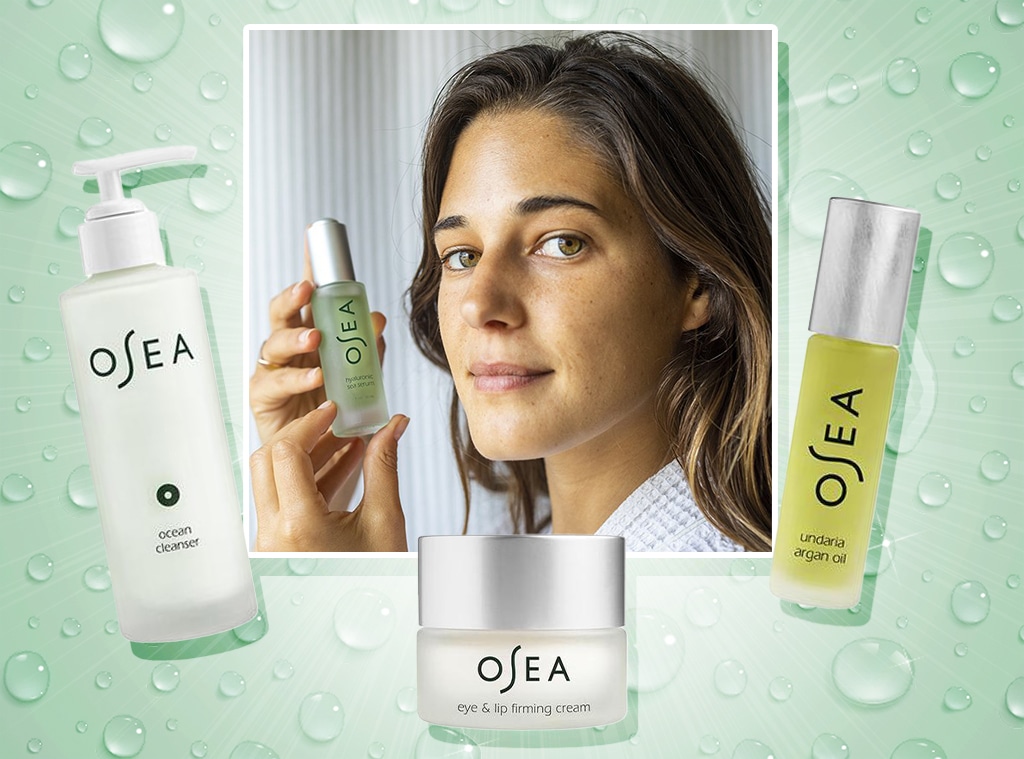 We love these products, and we hope you do too. E! has affiliate relationships, so we may get a small share of the revenue from your purchases. Items are sold by the retailer, not E!.
We've always considered ourselves skincare enthusiasts. But in recent years we've been kind of Goldilocks-ing our way through a variety of brands, trying to find the formulations that worked best for our ever-evolving skin. Then we met Osea.
Launched in 1996, Osea was founded with a mission to give people their best skin ever using high-quality ingredients that draw inspiration from the ocean, sun, earth an atmosphere. Their ingredients are sourced from all over the world, and include innovative formulations of certified organic, bioavailable seaweed, pure steam-distilled and cold pressed essential oils, and more. Nothing in the brand's line features any synthetic ingredients, and everything is safe, non-toxic, plant-based, cruelty and gluten-free, with an eye toward sustainability.
We started out slowly, adding in a product here and there to see how our skin responded. When we began using the Eye and Lip Firming Cream, we admit we were skeptical... but after seeing how it blurred lines and plumped up our skin, we started diving deeper into the well. The Vagus Nerve Oil was next, and found a permanent place on our night side table so we could use it to wind down from a long day before turning in for the night.
But the Hyaluronic Sea Serum was the real game-changer. After just one week of using it daily, we noticed a significant difference in the deep grooves of worry that once decorated our forehead. They're still there, of course, but now they're not as pronounced. They look more faint and faded, and you might not even see them unless you were looking for them. And overall, our skin looks fresher, nourished, and we're no longer battling dry patches the way we once did.
We've since turned over a reasonable amount of our beauty cabinet space to Osea, and we couldn't be happier to do so. Finding formulas that work well for our sensitive skin has been a challenge, and Osea has definitely risen to the occasion. If you're in the market for a new skincare routine, we recommend trying some of the Osea picks below!
Osea Hyaluronic Sea Serum
We saw a major change in our skin after using this lightweight, quick-absorbing serum. Made for all skin types and totally fragrance free, it visibly improves the signs of aging courtesy of three organic seaweeds and multiple molecular weights of Hyaluronic Acid. Not only does it increase your facial volume, but it also brightens and firms your skin. We use it after cleansing, but before moisturizing. 
Osea Advanced Protection Cream
Osea Anti-Aging Hand Cream
With all the extra hand washing and sanitizing going on these days, this hand cream has become a godsend. It's incredibly nourishing and moisturizing, thanks to ingredients like Shea Butter and Gigartina Seaweed, which protect skin's natural moisture barrier. Not only is it fast-absorbing, but the formula also brightens dark spots.
Osea Eye & Lip Firming Cream
Osea Ocean Cleanser
Made for normal and combination skin, this mineralizing marine cleansing gel features vegan Lactic Acid to gently resurface your complexion for clear, radiant skin. Formulated with a plant-based probiotic and pH balanced, it also removes impurities and protects skin's natural moisture barrier, and doubles as a shaving medium.