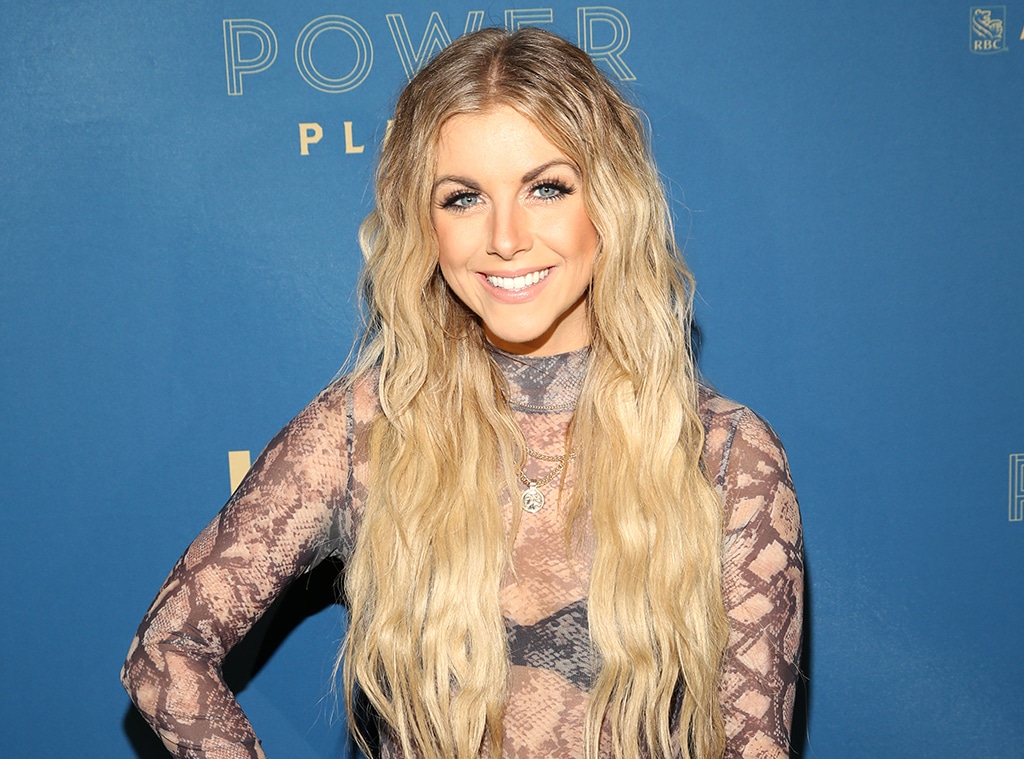 Terry Wyatt/Getty Images for Billboard
Lindsay Ell poured everything she had into her new album.
After all, heart theory—about what she calls the seven stages of grief: shock, denial, anger, bargaining, depression, testing and acceptance—helped the country star heal. "I feel like this record has been therapy for me in so many ways," she shared with E! News. "I probably saved thousands of dollars in therapy writing this album."
And while she delves into heartbreak—"Whenever we go through a breakup, we pause to look back at our life"—Lindsay also opens up about surviving sexual assault as a young girl in her ballad "make you." "I feel like being able to validate myself as a little girl," she shared, "being able to talk about my story as a little girl for the first time has been a huge step in the process to me fully feeling like I have gone to that place of acceptance."
Originally, it wasn't a story she intended to share. But that changed three years ago when she visited Youth For Tomorrow, an organization that provides a safe environment for at-risk, abused and abandoned children. There to help launch a music program, she met with young girls, who were victims of sex trafficking and rape and found herself opening up like never before about her own past.
She was especially struck by a 12-year-old girl whose parents had sold her into a sex trafficking company. "She had so much light in her eyes and light in her heart," Lindsay recalled, "And had this deep, dark past."
It was then she realized her work had just begun. "I left that place that day knowing if I didn't talk about this right now," she said, "then I was holding back the opportunity to help other little girls like that. Or to help little boys like that because this happens far more in our lives than we want to even acknowledge. These are difficult things to talk about, but they need to be talked about."
Her candor about her own past has been life changing for her and for many of her fans. "After releasing the song, I've had thousands of DMs from fans reaching out just telling me their story," Lindsay said. "Sometimes they're like, 'This is the first time I've told anybody' and I just feel like if I can have that kind of influence and really be able to help people speak up and help people find deeper healing then I know that I'm doing something good."
And she's ready to guide survivors forward and be a constant voice they can turn to. "If someone tells you that, you want to make sure you hold that story with all importance and you're pointing them in the right direction where they be able to go," Lindsay explained. "I don't take those things lightly. If anything, I take them with huge weight and make sure that I'm doing everything I can to help people who are reaching out."

Watch:
Lindsay Ell Talks Controversy of Dating Bobby Bones
To further help, she also launched her own charity, the Make You Movement Fund, to benefit survivors and at-risk youth. It's a reminder to all, she said, that they "don't need to fight their battles by themselves."
Today, her purpose is crystal clear. "I would say that the past few years I've done a real deep dive into who I am," she confessed. "I would describe myself someone who wants to create inspiring art to make a difference in this world and to leave people better than when they started listening to the songs, to leave them with something that will hopefully inspire and to find deeper and more honest and true levels of themselves and to fall deeper in love with who they are as a human being so that they can go and turn and love other humans on this planet better."
Finding herself has made her once again feel ready for love. (In 2017, she amicably split from radio and TV host Bobby Bones). "It's such a beautiful moment of being able to feel that true acceptance and in acceptance is being able to open your heart and be ready to new things.  What I look to in my next relationship, I want to find somebody who can truly see me and can truly understand everything that is going on and who I am as a human being and just want to be fully connected to that space."
For free, confidential help, call the National Sexual Assault Hotline at 1-800-656-4673 or visit rainn.org.