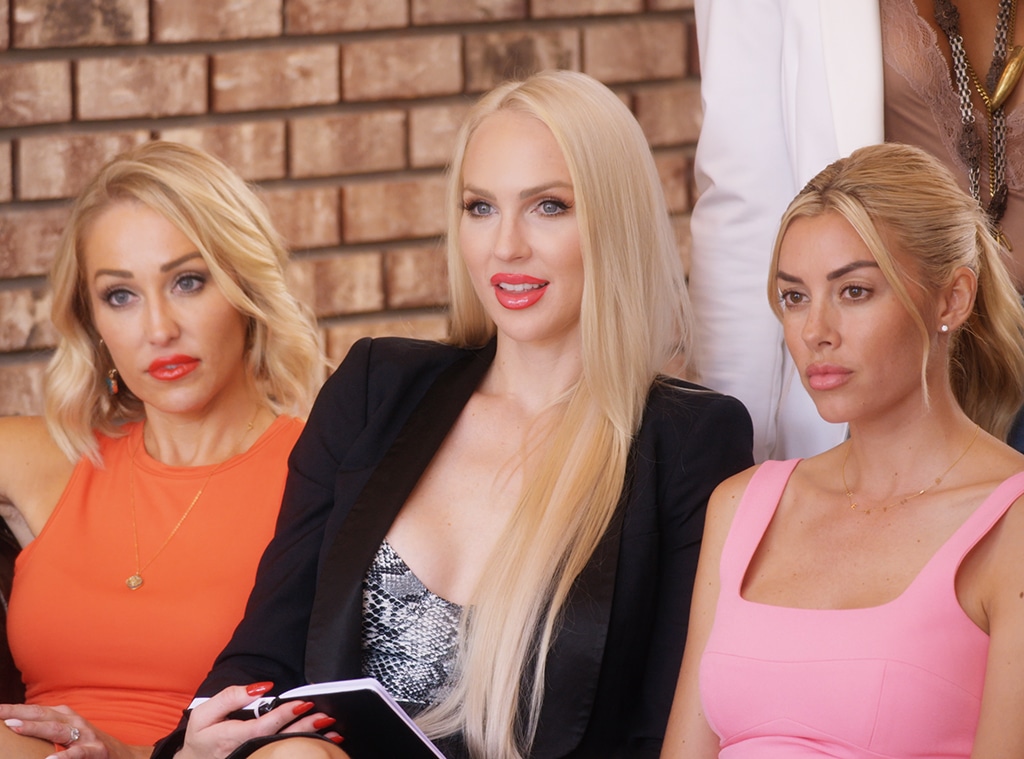 Netflix
Drama abounds in season three of Netflix's Selling Sunset, and not all of it has to do with Chrishell Stause and Justin Hartley's divorce. 
OK, most of it does, but if you look close enough, there's actually quite a few storylines that are completely unrelated to the end of Chrishell's marriage to the man she calls "her person" in the first episode. 
Admittedly nothing will ever beat that scene where the rest of the Oppenheim Group allegedly learned of the divorce news via TMZ alert, and no foreshadowing will ever be quite as crushing as the way Chrishell talks about her husband and their dream home and her hope for kids in the first few episodes.
But we promise, other stuff was happening! And some of it cost $75 million! 
In case you missed some of that other very important drama, we documented it here for you. Prepare to be thrilled! 
Christine's Burgers and Botox 
In an effort to creatively sell a very expensive house, Christine came up with the brilliant idea to host a Burgers and Botox party. Eat a burger, get some Botox! Christine's co-agent Monika was very much not into the idea for this party and was really hoping Christine would go low-key with it, but of course she didn't. It appeared that professional Botox-givers were giving out the Botox, and people were actually eating the burgers, so it was a successful party. (Did the house even sell? And do we even care if it did?) 
Christine's Secret Showing
Christine took her fiancé Christian to Davina's insane $75 million listing, but she didn't think to tell Davina first. So when Adnan, the slightly delusional homeowner, ran into them, he seemed surprised that there were people in his house. It then did not help matters when Christian kept grilling him about why his house is so expensive, to no avail. 
Davina then got very upset. She went to Christine's house to ask her why she did that, and later brought it up to the rest of the staff. On one hand, sure, Christine should not be doing showings of someone else's house without telling them. On the other, Christian's not actually a buyer! He's just trying to help Christine (and by extension, Davina) figure out how to sell this wildly overpriced house. 
Also, let us all remember that everyone advised Davina not to take this listing because it's wildly overpriced and basically unsellable. She should be accepting all the help (especially from people with rich friends) that she can get. 
Amanza Is Always Late 
Amanza has a whole lot going on in her life. Her husband is still MIA, and she's fighting for custody of her kids, and she just can't figure out how to be on time for work. It made Heather totally freak out when she and Amanza were assigned the same listing as a sort of test of their new concierge service, because Amanza's apparently so unreliable. 
Amanza did have to miss a staging appointment due to a court date and the house had a few issues like expensive water damage, but in the end, Heather and Amanza worked well together and sold the house. Amanza actually sold her first two houses ever within this same episode, meaning there was a lot of bell ringing for her. 
Amanza vs. Christine 
Christine and Amanza essentially got into a fight over who's better friends with Mary, but as one of the other women pointed out, Mary herself didn't seem to care. 
Christine's Wedding
The always extra, always over-the-top Christine had big plans for her wedding, but she did not have big time to execute those plans. She told her wedding planner she wants a Gothic winter wonderland wedding in a cathedral, complete with snow coming down, with a menu of pastas, truffles, fried things, and a white cake with black frosting and strawberries that "bleed down somehow." She wants a live band but not a cheesy one, no bridal party, and "no bitches, no buffet, no speeches." 
She also wants it all done in two months! 
"Is that realistic?" she asked. 
Later, she had a dress fitting for her custom black, feathered wedding dress with a "Maleficent vibe," which we saw in all its glory in the very last 15 minutes of the season as the whole staff attended her elaborate wedding. But there was some momentary drama as she had to get it altered due to her boobs getting bigger. Christine had also been throwing up a lot lately, but she's definitely not pregnant. This is never mentioned again. 
Mary's Many Listings
Jason kept giving Mary listings, and everybody else got a little annoyed by it. Or a lot annoyed. 
But Mary also kinda had an issue with Jason, since she found out that he and Brett brought women up to the hotel room at her husband's Bachelor party when "no women" was her biggest rule. She felt betrayed by Romain, even though it was actually her bosses' faults. 
Christine's Missing Dog
Christine was late to a dinner because her dog got lost, but do not worry! She found him! 
Heather's Bush
Sometimes Heather really likes to grow a full bush, as she very appropriately revealed out loud in the office. But it's not like a fluffy bush. She likes to switch it up! 
Heather's Press 
This is tangentially related to Chrishell, but a convo about an accidental interview Heather gave about Chrishell's divorce turned into Christine and Davina insinuating that Heather tells the paparazzi where she is, and maybe has even hired a PR team to get her name in the news. The accusations caused Heather to storm out, calling them "mean" while they claimed they were only joking. 
We can confirm we decided to make "Heather's Bush" a whole section in this article all on our own. 
Karamo Brown's Crazy Sex
Christine showed the Queer Eye star a house, but it wasn't going to work for him due to the low beams in the bedroom. He's tall and he likes to have wild sex, so he's gotta have high bedroom ceilings. Honestly we're just glad he thought of that ahead of time, before he hit his head or something. 
The first three seasons of Selling Sunset are currently streaming on Netflix.