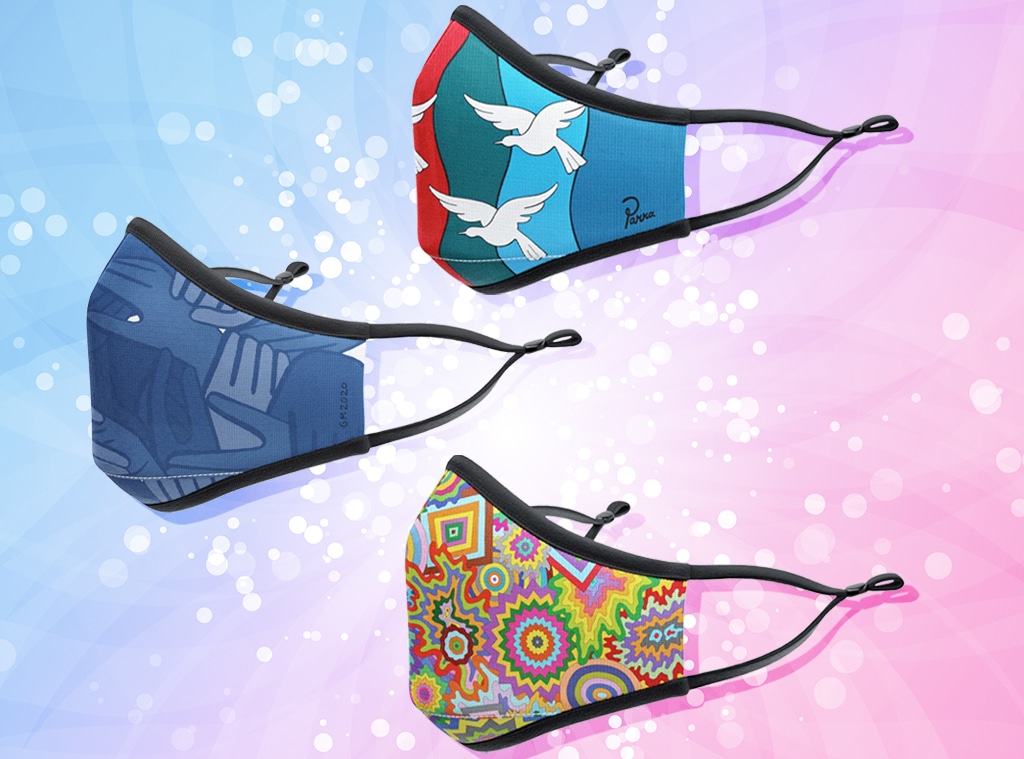 We love these products, and we hope you do too. E! has affiliate relationships, so we may get a small share of the revenue from your purchases. Items are sold by the retailer, not E!.
With face masks now part of the new normal, there are more and more opportunities to find masks that express your personal style. But Vistaprint is changing the game with their new Artist Collection, featuring designs from Futura Laboratories, Jen Stark, Parra and Geoff McFetridge!
Ranging from Futura's graffiti to Jen Stark's colorful 3D art, Vistaprint's first capsule collection from world-renowned artists features bright and colorful options for those who like to show their feathers, or mellow prints if you still want to stand out, but just a little bit. As with all of Vistaprint's masks, each one features advanced protection and layered filtration, with two built-in layers that can turn into three with the addition of a replaceable filter. They're durable, breathable, stretchy and lightweight, with fabric that wicks away moisture and adjustable ear straps. They're also machine washable.
Vistaprint's masks are always in high demand, but there's no doubt the Artist Collection will sell out fast. Make sure you get yours today! Shop below for some highlights from the collection.
Futura Laboratories Forest Mixed Sky Blue Vistaprint Mask
Designed by FUTURA2000, an iconic NYC-based artist, designer, and pioneering voice, this stylish blue graffiti mask also comes in black and white, and greyscale. "When this project arrived, and the opportunity was presented to work with the company and certainly at the moment, in the midst of the pandemic, I was very excited to help create visual public awareness elements in this time of wearing masks, face shields, physical/social distancing and helping everyone stay safe," says Futura Laboratories. Also, Vistaprint will donate a portion of the proceeds of Futura Laboratories masks to Free Arts NYC, an organization dedicated to empowering underserved youth through art and mentoring programs.
Parra The Birds: Classic Vistaprint Mask
This pretty but boldly-striped mask featuring doves scattered among the stripes also comes in a black and white option, or a pride rainbow. The design comes from Parra, an Amsterdam-based artist known for creating striking silhouettes that live in surreal worlds with characters that are rhythmic and bold. "My team and I felt this project was necessary during these tough times," Parra shares. "We saw this as an opportunity to give back in an impactful way, both with the charity component and through efforts to normalize wearing masks without feeling like there's a stigma attached."
Jen Stark Cosmic Shapes Vistaprint Mask
"My mask designs are inspired by elements found in the natural world, such as plant growth, microorganisms, and sacred geometry," says Jen Stark. "I wanted the patterns to create a sense of movement and have an optical illusion type feel. 'Cosmic Shapes' is based on an abstract view of microscopic organisms, and geometric dust floating around in the universe." Stark is L.A.-based, and known for creating compelling patterns that are equal parts mesmerizing and mathematical.
Geoff McFetridge All of Us: Blue Vistaprint Mask
Another L.A.-based artist, Geoff McFetridge is known for his simple sketches and paintings of people and objects living inside flat, geometric worlds. "How I feel about what I wear personally is most important. In this case the safety of others, and my own personal health makes the 'what should I wear today' question much more important!" he says. "Artists and designers can, hopefully, develop options for people. Ideally these designs make some people more comfortable and connected to an object they are putting on their face." McFetridge's "All Of Us" style, featuring clasping hands in various shades of blue, also comes in multicolor and light grey.
Jen Stark Grayscale Mandala Vistaprint Mask
If you prefer a more black-and-white approach to your mask-wearing but still want to stand out, this is the mask for you. "For my black and white design, 'Grayscale Mandala,' I created a moire mandala with contrasting colors that seem to vibrate and move," Stark shares. And remember, for every reusable mask you buy, Vistaprint gives a portion to support local communities impacted by the coronavirus.