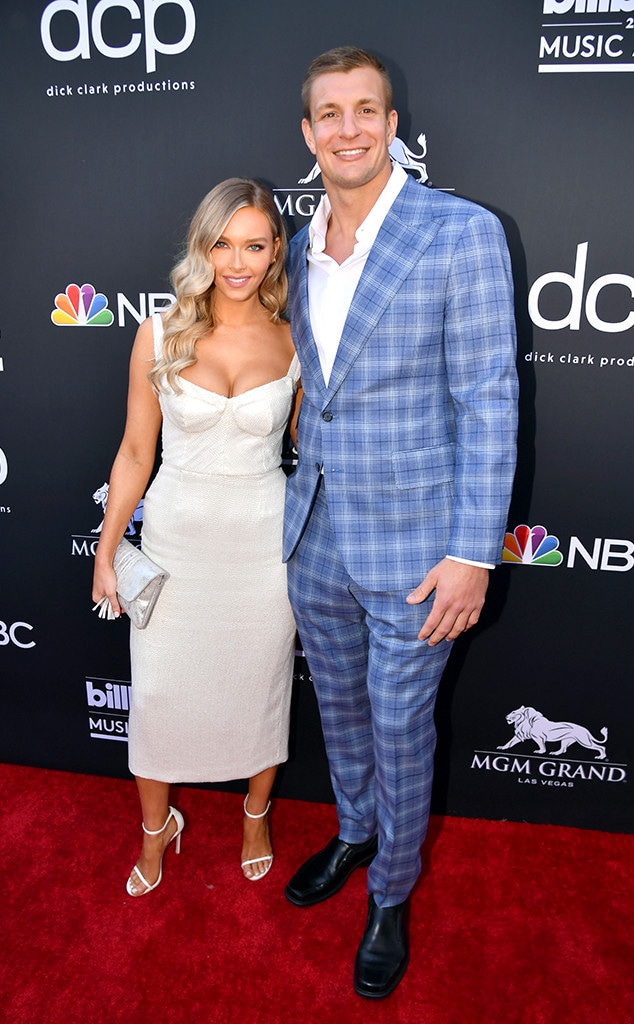 Jeff Kravitz/FilmMagic for dcp
Camille Kostek and Rob Gronkowski's romance may just be picture perfect.
Whether dancing on TikTok or getting flirty on social media, the Sports Illustrated Swimsuit cover model and NFL star are nothing short of #couplegoals.
And in an exclusive interview with E! News, Camille offered a unique glimpse into her five-year relationship with the Tampa Bay Buccaneers football player. 
"I look for someone that makes me feel comfortable," Camille shared with E! News. "The support, it's just effortless like it should be. Whatever he does, whatever he wants to pursue, anything that excites him, I'm like, 'Go for it. I got your back.' And he's the same way with anything. He's watched me on this journey for years as we've been together."
That journey included Camille landing the cover of SI Swimsuit 2019 just one year after her debut in the publication from an open casting call. Fast-forward to today and Camille is hoping to give other women the opportunity to be part of the iconic issue.
To jumpstart Swim Search, SI Swimsuit has teamed up with Vita Coco to create the Feel Good Campaign. Camille and other models are encouraging SI Swim Search hopefuls to submit a photo of themselves doing what makes them feel good.  
And for every submission up to 10,000 entries, Vita Coco will donate $1 to Loveland Foundation, a non-profit that provides funding for Black women to receive therapy and support.
"Every morning, I wake up and I click the #SISwimSearch2021 hashtag," Camille shared before recalling some of her favorite submissions. "I'm like, 'Wait, what?! She has three kids? She's a single mother. She is from another country. She's a lawyer.' It's incredible how you just don't know somebody's story."
And for those hoping to learn more about Camille and Rob's love story, you're in luck. In quarantine, the couple continues to enjoy bike rides, meditation sessions and TikTok dances.
Camille shared, "We cook together. He's like my little sous chef and we bake. We do mediating together. We do a lot of breath work and yoga stretches and I've been teaching him a lot of stuff as much as he teaches me about workouts…It has been cool."
And since quarantine allowed the couple to stay home and sleep in, Camille was able to enjoy the little things even more.
"It would always be like waking up early like 4 a.m. to catch a 6 a.m. flight. Now it's so nice to not set an alarm and sleep in and snuggle in the morning. TMI, but it's those little moments," she joked. "Rob gives me messages and vice versa. It's been really nice to just have those moments rather than, 'Okay. We have this many days together or we have this many hours.' Now it's just nice to kind of be off schedule and learn about each other."
When things get back to normal, Camille is looking forward to making new memories through traveling and being on set. Until then, the advocate for self-acceptance remains grateful for the life around her.
"Rob and I are living by a day at a time," she explained. "We are just taking every day for a day at a time. It's a blessing everyday you wake up and you're healthy. No plans for the future other than a bright future."