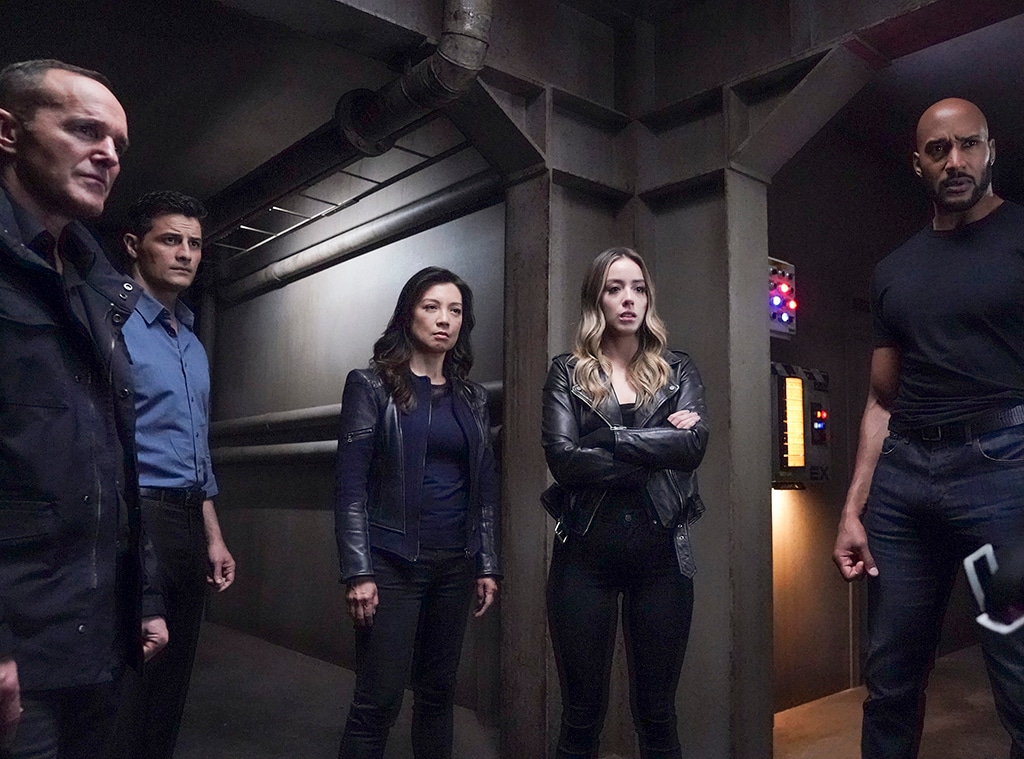 ABC
Agents of S.H.I.E.L.D. is taking a bow tonight, and it's doing it on its own terms. 
Back when the series started in 2013, Iron Man 3 had just been released, and Thor: The Dark World and Captain America: The Winter Soldier were both on deck. Agent Coulson (Clark Gregg) had just been killed a year earlier in The Avengers, so it was a pretty big deal that he was now returning to lead a whole show focused on S.H.I.E.L.D., the ever-changing organization at the center of the Marvel Cinematic Universe. 
The series arrived at the height of Avengers popularity, and dealt with what became a turning point for the MCU: S.H.I.E.L.D. had been infiltrated by the evil Hydra, and the organization that built and supported the Avengers was no more. For a long time, we all obsessed over Agents of S.H.I.E.LD.'s connection to the movies, tracking every mention and cameo (like Samuel L. Jackson's appearance in the season one finale.)  The show was partly a way to pass the time and quench our Marvel thirst between movies. But at some point, the connection to the movies became less and less important, and the show found its own groove as it continued on for a full seven seasons and more than a year past Avengers: Endgame. 
During a series of roundtable interviews with the cast, we asked them to recall the moment that the show moved beyond the MCU, and how life on Agents of S.H.I.E.L.D. changed for the better. 
Clark Gregg: "There was a lot of treading water and kind of circling the airport in season one, waiting to be able to reveal what we were doing and how it was crossing over. I did think that the way it crossed over with Winter Soldier and the use of the amazing Bill Paxton really paid off and the end of season one was pretty spectacular, and holds up really well.
But that said, I don't always feel like with other seasons it was as easy to interact with the features. That serves to publicize the features and certainly helps publicize the show, but I liked when the focus was really just like, look, what's the best way to tell stories with these characters, using what whatever pieces of the Marvel Universe aren't already spoken for? I felt like that really freed up our writers to take chances and take chances they did every season." 
Ming-Na Wen: "It completely tied the writers' hands. They had to write and try to coordinate with the release of the film and the timing of it and it just hampered us. It hampered the writers, it hampered everyone from having the freedom to be our own entity. So I think it was a glorious idea to have it all be connected, but in the end, it was so great because it allowed our writers to just take off and use their imagination and create things that they were allowed to have with different characters and storylines. But the first season was a bit bumpy. It definitely had its issues." 
Natalia Cordova-Buckley: "I'm glad it allowed the writers to then have to imagine different names for Kree, because we weren't allowed to say Kree or anything that was going on in the movies. They had come up with blue demons, blue people, the Blue Man Group, blue serpent, blue snake." 
Henry Simmons: "They couldn't say mutant!" 
Wen: "It's nice, you know. We found our own identity." 
Iain de Caestecker: "I remember this specific moment. I think it was like season one, episode six, and it was about Elizabeth sacrificing herself. It was called 'FZZT.' There's a very specific moment, actually. We were doing the scene, and Simmons, the character, is getting ready to sacrifice herself in order to save everybody else. And she did this scene where she says goodbye to everyone and she kind of breaks down, and no one had known that was something that can happen. As I remember it, it was just this big turning point where no one had done anything like that on the show. And Elizabeth, she has this ability to tap into that emotional side, and I remember that was a big turning point. A few people said that." 
Elizabeth Henstridge: "I think for Fitzsimmons too, that episode was like, we suddenly had dramatic things to do that weren't just like, pop in, say something funny, and pop out, which was also brilliant to do. But Paul Zbyszewski wrote that one, and I remember that episode so clearly. I agree. That was a big turning point. You started to care about the characters rather than the stuff around them." 
Jeff Ward: "It seems like a really cool thing, because I came in so late, it felt like the fans had already been like, "Yeah, yeah, the movies, but this show!" Which is such an interesting thing, because it really did spin off of this global, the likes of which has never been seen, the most expensive television series of all time, the MCU. It feels like it was when the show started to create its own identity, long before I was there, that the fans were hooked into it for what it was, and not just because it's another piece of Marvel fodder that's in the canon." 
Watch:
"Agents of S.H.I.E.L.D" Cast Sounds Off
De Caestecker: "And just to go back to that moment, it's kind of like the show is a semi sci-fi superhero world, which is fantasy. And so you sometimes lose a sense of reality in that, and I suppose when there was that scene, where you're saying to say goodbye to your mom or your dad or whatever, it just added an element of reality to it. That was a big part of what the show was about, really. Within that world of superheroes and fantasy elements, there are real people." 
Henstridge: "I think they're the moments people really want to see and enjoy to see. Like some of our best episodes are the episodes where it's a bottle episode and we're all stuck in one set, and it just has to be about the characters. Most of that, I think, happens out of necessity because we've run out of money, but they make the best episodes because then it's just about these [people]. We've kind of earned those emotional scenes and moments." 
Marvel's Agents of S.H.I.E.L.D. ends tonight, beginning at 9 p.m. on ABC.