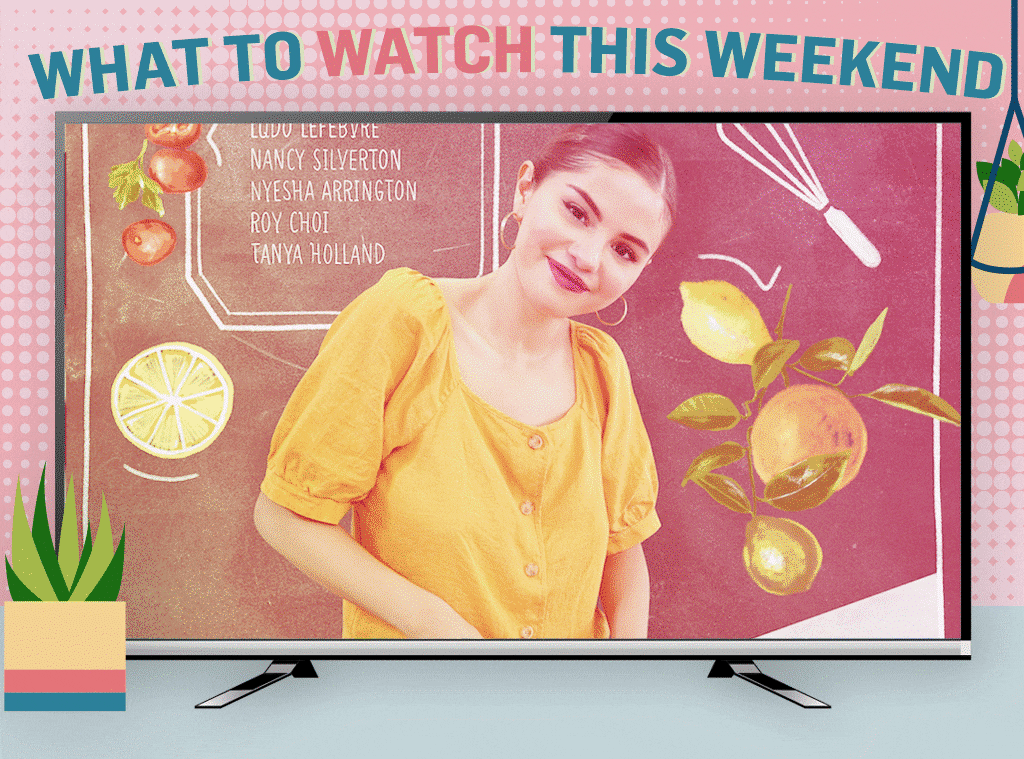 E! Illustration
"Burning toast in the toaster."
Who knew that lyric in Selena Gomez's single "Rare" would turn out to be so literal for the singer, whose new show is just one of our top streaming picks for this jampacked-with-content weekend? 
Joining Gomez in our binge-watch round-up for Saturday and Sunday are Joseph Gordon-Levitt, Jamie Foxx, Zac Efron and Zendaya, which means your living room is basically going to look like an awards show as the streaming services are breaking out the star power.
But we're also recommending some fresh new series featuring up-and-coming stars, including two Netflix series starring badass teenage girls—who anyone with younger cousins knows are not to be messed with—and a Peacock show that delivers quite the twist on the classic strangers-meet-at-a-wedding trope. 
So, like usual, break out your comfies, grab your snacks and avoid your responsibilities for a day or two with our binge picks for August 15-16...
If You've Discovered a Passion for Cooking During Quarantine: Guess what, you're just like Selena Gomez as the superstar's new cooking show Selena + Chef is all about cooking at home. However, unlike you, Gomez is being guided by famous chefs via video chat...not her mother screaming that she is making the family's special sauce wrong. Not like we're speaking from experience or anything.
Still, you can expect to see Gomez f--k up a recipe or two, despite the professional help, as she admitted during a virtual panel for the show, "I hope you're gonna laugh because I look like a fool. I wanted to do this simply because I love cooking, I just don't know how to do it all the time." Look at her now. (Where to Watch: HBO Max)
Watch:
Selena Gomez Shares Heartfelt Message to Fans
If Joseph Gordon-Levitt Has Been Your Fictional BF for Years: Was anyone else feeling a little ghosted by the 500 Days of Summer star lately? Well, it turns out he was just biding his time before returning in spectacular fashion. The actor teams up with Jamie Foxx in Project Power, an anti-superhero movie of sorts, as the two are out to stop the people who created a pill that can give anyone superpowers—or kill them, depending on the individual—in this fast-paced action flick. (Where to Watch: Netflix)
If You Still Belt "This Is Me" While Driving Alone In Your Car: Come one, come all as The Greatest Showman makes its highly anticipated debut on Disney+. The musical, which defied bad reviews and a lackluster start at the box office to become one of the most successful movies of 2017 and 2018, features Hugh Jackman at his best, singing and dancing his heart out (his character's problematic backstory, be damned!), Zac Efron and Zendaya performing one of our favorite duets, and a soundtrack that still, as the kids would say, slaps. We dare you to resist all of the rhythmic clapping. In fact, we double dog dare you! (Where to Watch: Disney+)
If You Obsessively Follow and Question All Things Goop: The wellness space is one of the world's most lucrative industries...but how much of it is actually legit? That's what the new docuseries (Un)Well sets out to investigate, with each of the six episodes focusing on a different trend. Some of the topics covered include tantric sex, breast milk, bee sting therapy and essential oils. So light your vagina candle, break out your matcha and hit play if you dare. (Where to Watch: Netflix)
If You Still Think John Tucker Must Die Is an Underrated Cinematic Masterpiece: We're not sure why more people aren't talking about Get Even, the British prep school drama that just dropped its first season on Netflix, but we're here to fix that by telling you to imagine if John Tucker Must Die and Gossip Girl had a vengeful baby with an irresistible accent. That's Get Even, which follows four female classmates who couldn't be more different—except for their taste in doling out justice at their elite academy, secretly branding their operation as DGM: Don't Get Mad. You know you love it. (Where to Watch: Netflix)
If You Just Can't Resist an Australian Accent: Make room in your queue for an Aussie invasion with the premiere of Five Bedrooms, a dramedy that has an outrageous premise: Five strangers who meet at a wedding ('sup, singles table?) decide to buy a house to live in together. So just imagine Friends but with strangers and a lot more awkwardness. (Where to Watch: Peacock)
If Your High School Experience Left Something to Be Desired: To vicariously relive your formative years with a twist, look no further than Teenage Bounty Hunters, a new drama about, you guessed it, teenage bounty hunters. Fraternal twin sisters Sterling (Maddie Phillips) and Blair (Anjelica Bette Fellini) team up with a veteran bounty hunter in this deliciously wacky ride that mixes high school woes with bail-jumping stakes. (Where to Watch: Netflix)
If You Believe Politics Really Are Just Like High School: Feel free to use Boys State as your prime piece of evidence. This new documentary, directed by Amanda McBaine and Jesse Moss, takes viewers inside the world of two American Legion programs: the Girls State and the Boys State, specifically focusing on the actions of the Texas Boys State in 2018. While the educational group sets out to teach young people how government works through mock trials, the participants quickly begin engaging in social media warfare, the spread of disinformation and more after they are split into two political groups.
Still, you'll likely walk away from your viewing experience feeling hopeful and inspired by many of the candidates, especially Steven Garza, a Mexican-American teen whose unassuming demeanor might just be the bridge between the two warring parties. (Where to Watch: Apple TV+)