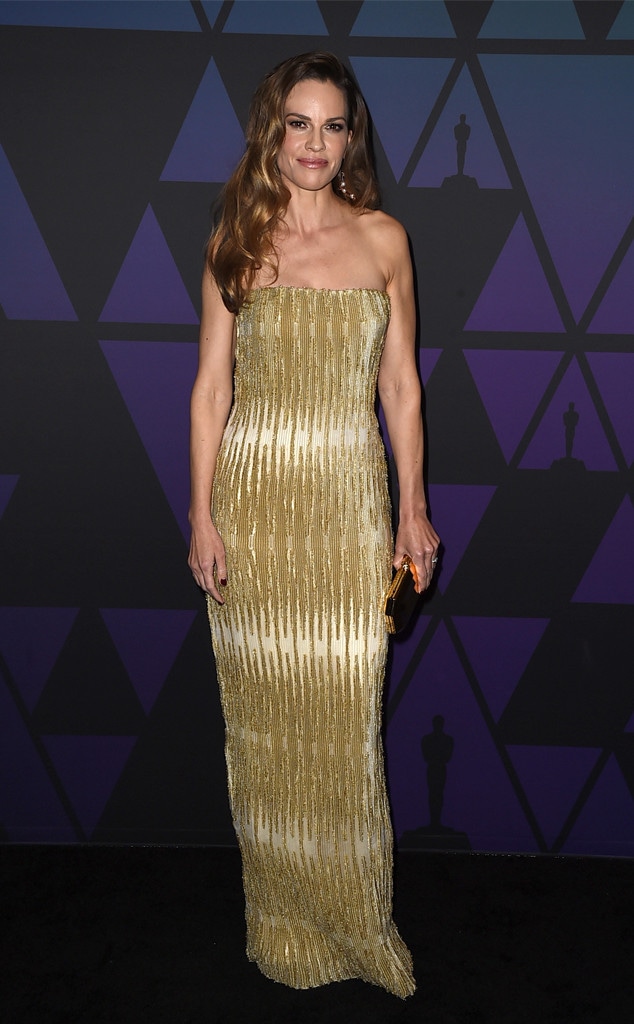 Kevin Winter/Getty Images
Hilary Swank is ready for her close up.
The Oscar-winning actress stepped out of the spotlight from Hollywood in 2014 to focus on personal matters. Now, she's back in her element. Earlier this year, she starred in The Hunt and will soon hit the screen again with her new series, Away, which releases on Netflix in September.
Speaking to Health magazine, Hilary opened up about her five-year hiatus, why she made that decision and so much more.
For one, the 46-year-old star said that putting her career on hold was a no-brainer considering she helped her father during his lung transplant recovery.
"It was supposed to be a year, because it takes a year to see if an organ transplant takes. A lung transplant is the most difficult of all, as it's an incredibly delicate organ. The plan was to take off a year," she explained. "I became my dad's health advocate. One year quickly turned into two, and then three."
"And, thank God, prayers were answered. He is healthy and doing really well five-plus years later," she shared.
While the actress shifted her priorities to focus on her dad's recovery and eventually became a health advocate herself, she admitted that it's a lot to take on.
"It takes a lot of energy, love, and edifying yourself on the matter at hand. The ups and downs are so challenging and can be overwhelming," she pointed out. "Make sure that you're taking time for yourself and that you vocalize what your needs are to the people who are around you so they can help support you."
Watch:
Foam Rolling 101: Learn At-Home Moves From Fitness Expert
For Hilary, wellness is an important part of her daily routine. Even though that can vary day-to-day, she said it's all about feeling comfortable enough to ask: "What do I need?"
"It can change daily. It can change hourly. But it's the idea of honoring what it is that you need for yourself, and doing it," she explained. 
Exercise is another way for the star to unplug and de-stress. Plus, she brought up the fact that fitness can be a safe space for women and girls, and an outlet for them to feel empowered.
"Sports were my babysitter—they were what I could do after school while my parents worked. It's such a healthy place for girls to be. Women have notoriously been objectified and trivialized, and so, for me, sports were an important part of making up my identity and making sure my body was being used for a goal," Hilary described. "Instead of working out to look a certain way, I work out because it makes me feel good."
"It's a stress relief. It helps me sleep better. I could not live without exercise. To me, it's like the air that I breathe or the food that I eat," she added.
Now that the Oscar winner is getting back into her element, she's taking in projects that not only spark her interest but that mean something to her. With her upcoming series Away, she admitted that portraying an astronaut was like a dream come true.
"Before being an actor, I wanted to be an astronaut. I had such passion for, and respect for, astronauts and people who are exploring something that's so much bigger than all of us," she shared. "Something else, which was just as significant to me when I read Away, was that the script was unique in its inclusion of so many multiethnic characters. They too are all struggling with their own powerful personal stories, which really connects all of us. It also highlights the beautiful fact that space has no borders."
She added, "We could use more of that down here right now."
Read Hilary's full interview here.