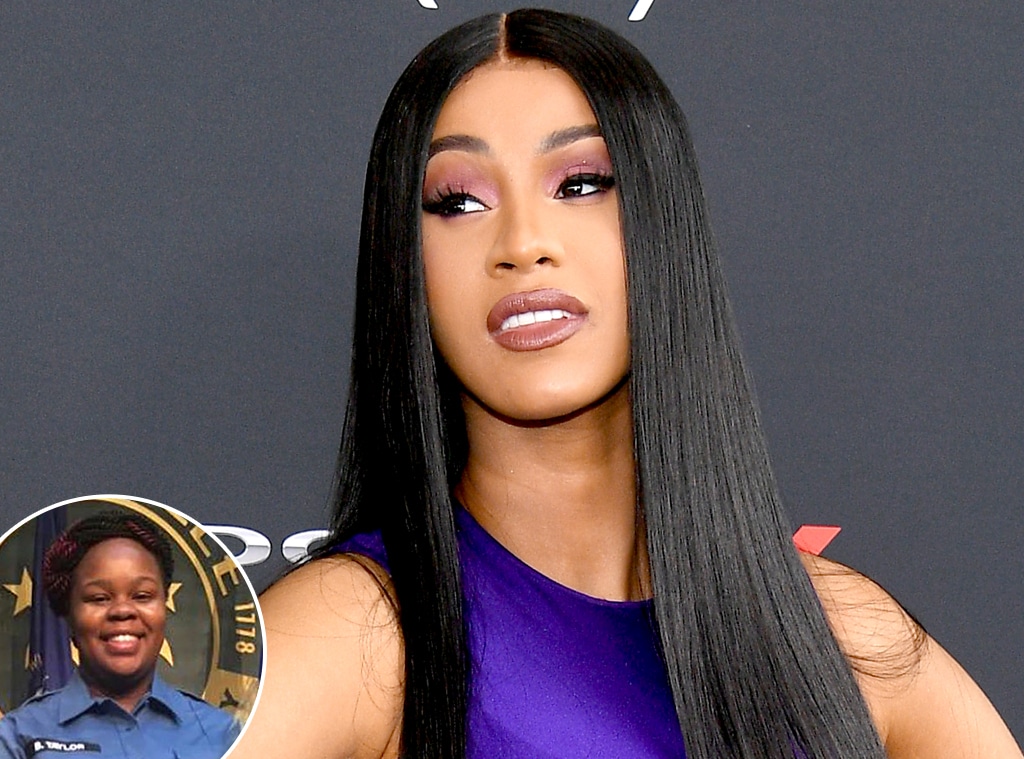 Getty Images/Instagram
Cardi B is calling on male rappers to speak out about the death of Breonna Taylor.
The 27-year-old artist discussed why she wishes they did more in a cover story for Elle's September issue. 
"A woman like Breonna Taylor, she was young. She looked like she was listening to your music. She looked like she was your fan," Cardi said. "You should stick up for her." 
Taylor was killed on March 13. The 26-year-old emergency room technician was shot eight times in her Louisville home by plainclothes police officers who had obtained a "no-knock" search warrant in connection with a narcotics investigation. No drugs were found in Taylor's home. According to NBC News, citing Taylor's family, the man police were looking for was also already in custody. 
"That is so insane to me," Cardi said. "[I saw] Breonna Taylor's name everywhere, but I didn't really know her story. What they did to her is really f--ked up. Really f--ked up." 
According to NBC News, police Lt. Ted Eidem claimed officers knocked on the door several times and "announced their presence as police who were there with a search warrant"; however, Taylor's mother, Tamika Palmer, alleged in a lawsuit that police did not knock or identify themselves before forcing entry.
Per the lawsuit, Taylor and her boyfriend, Kenneth Walker, believed their apartment was being broken into. According to NBC News, Walker, who was licensed to carry, fired his gun and shot an officer in the leg. The lawsuit accused the officers of then "blindly firing." The police, per CBS News, claimed they fired after Walker shot first.
The Louisville Metro Police Department announced one of the police officers, Brett Hankison, was fired in June. According to The New York Times, the other officers involved in the case, Jonathan Mattingly and Myles Cosgrove, have been placed on administrative reassignment. None of the police officers have been arrested or face criminal charges. In a recent statement to ABC News, the office of Kentucky Attorney General Daniel Cameron confirmed the investigation into Taylor's death remains ongoing. 
 "What's the excuse? Why is the cop not in jail? Wasn't what he did a crime? It's a crime!" Cardi told the magazine. "And no apology. No apology. No video of the cop coming out crying, 'I f--ked up. I don't this. I don't that.' Nothing. It's nothing. I don't even know how her mom still holds her head up. Unbelievable."
Watch:
Breonna Taylor Remembered By Celebs on 27th Birthday
During an interview with ABC News, Palmer said she spent hours searching for Taylor before learning of her death and claimed an officer was asking her questions about Taylor and Walker at the scene. Per the news outlet, Palmer was also told she needed to go to the hospital but later learned her daughter wasn't there.
"Imagine how frustrated her mom was, crying, probably hysterical," the Grammy winner said. "The cops call her saying her daughter is in the hospital, and her daughter is not even there. Then the person who's supposed to protect her is asking her mom, 'Do you know anybody who [would] want to hurt Breonna Taylor?' when you guys know who killed her!"
Cardi has been calling for justice for Taylor in recent months, talking about her on social media and changing her Instagram photo to Taylor's name. 
To read Cardi's full interview, see the September issue of Elle.