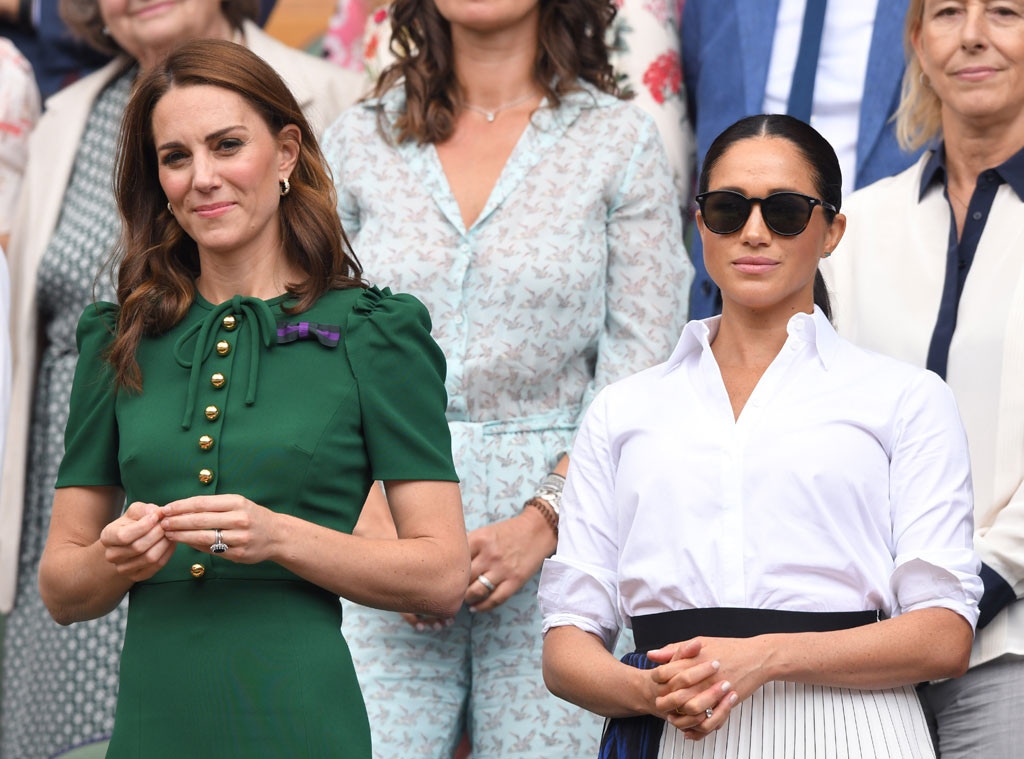 Karwai Tang/Getty Images
Omid Scobie is spilling the royal tea on Meghan Markle and Kate Middleton's relationship.
The royal reporter sat down with Deborah Roberts for Monday's episode of Good Morning America to discuss the duchesses' level of camaraderie as reported in his new book Finding Freedom: Harry and Meghan and the Making of a Modern Royal Family.
"These are two women that really have very little in common," he said when asked if Meghan and Kate get along. "I think being a newcomer and knowing that Kate was once a newcomer, I think there were times where she, from speaking to sources, knew that Meghan felt that she could of or needed a little bit more support from Kate and didn't get it in some of those important moments."
When Meghan and Harry announced their engagement back in 2017, Kate said she and Prince William were "absolutely thrilled" about the news. In fact, during their first interview as an engaged couple, Meghan told the BBC Kate has "been wonderful" and Harry said she's "been absolutely amazing, as is William as well," noting the "fantastic support."
However, things seemed to take a turn. Soon, reports started to spread that there was a rift between the brothers and tension between Meghan and Kate. At one point, Kensington Palace even shut down a report by The Sun that claimed Kate told Meghan not to berate her staff, with the Palace noting, "This never happened." The publication also reported Kate broke down in tears at a fitting for Princess Charlotte's bridesmaid's dress ahead of Meghan and Harry's wedding. But when asked if the report about Kate breaking down at the wedding was true, Scobie said it "couldn't be further from the truth." 
He explained, "When I spoke to the people who were actually there and involved, the first thing they all said was, 'There were no tears.'"
While Harry has spoken out about his relationship with William before, Scobie also wanted to cover it in his book.
"I felt it was important to really dive into this in the book because we had seen Meghan and Kate really blamed for almost driving a wedge between them," he said. "You know, they're both men in their 30s and Harry not wanting to play that role of sort of the younger, more subservient brother anymore."
In addition to addressing any allegations of family feuds, Scobie spoke about the media's portrayal of Meghan and the Duke and Duchess of Sussex's decision to step back as senior members of the royal family, claiming the couple "had no choice other than to leave." At one point in the interview, Scobie was also asked if he boiled "this down to a racial issue" or if it was "really more complicated than that." 
As he explained to Roberts, "In terms of ticking those boxes that may ruffle feathers within an ancient institution such as that of the monarchy, she had really ticked all of them. But race did play a role."
He was also asked how history will remember Harry and Meghan.
"History will remember them as a couple that were perhaps failed by the institution of the monarchy, where there was this chance to have a woman of color, an American woman of color, in the House of Windsor representing the monarchy just as much as her husband," Scobie said. "That was a chance for the royal family to have diversity, inclusivity and representation in a way that no other moment in their lives could have brought. And for them to not have harnessed that is something I'm sure historians will be looking at for years to come."
Watch:
Prince Harry & Meghan Markle's 2-Year Anniversary: Their Royal Romance
Scobie wrote Finding Freedom with Carolyn Durand. He told Roberts the book is based on 100 interviews with "those who know Harry and Meghan best, close friends and even Buckingham Palace aides." He also denied claims Harry and Meghan were involved with the book.
"I know there's a lot of speculation about the couple having sort of given secret interviews for the book and having weighed in," he said, "but it really couldn't be further from the truth."
A spokesperson for Harry and Meghan also told E! News, "The Duke and Duchess of Sussex were not interviewed and did not contribute to Finding Freedom."
"This book is based on the authors' own experiences as members of the royal press corps and their own independent reporting," the spokesperson added.
Buckingham Palace did not respond to GMA's request for comment.
Watch the interview via the video above.
Scobie is set to appear on Daily Pop this Friday.