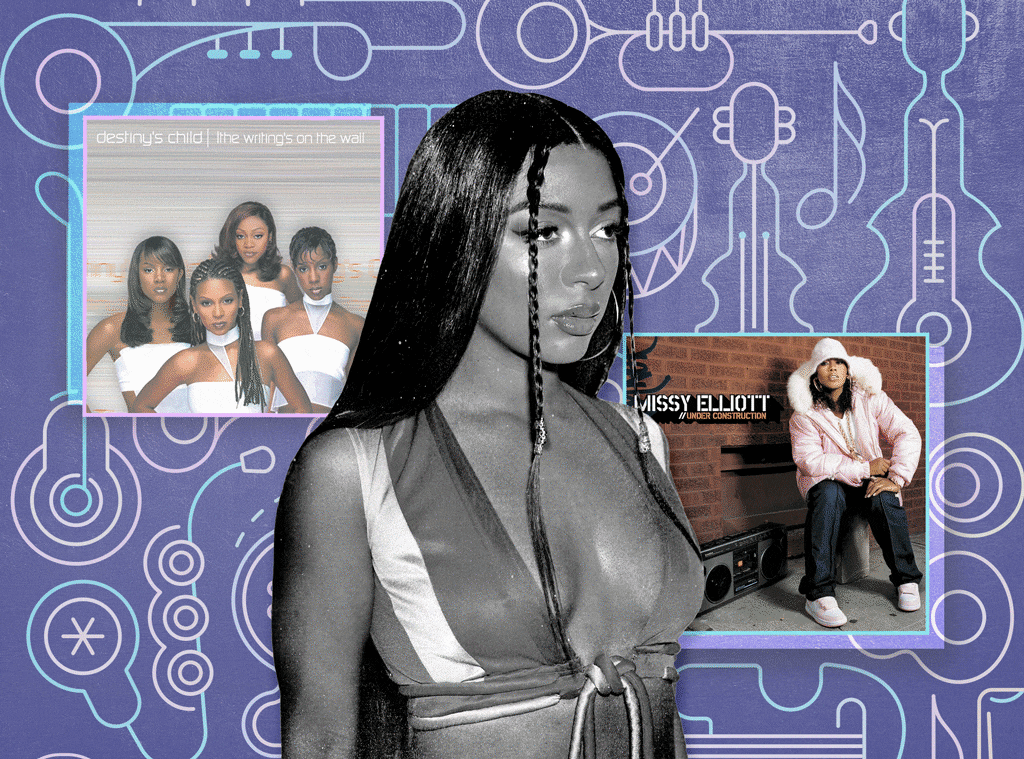 Dana Trippe/Atlantic Records; Columbia Records; Elektra Records/E! Illustration
Victoria Monét is ready to take you into her world.
After years spent building up her resume as an in-demand, Grammy-nominated songwriter—she's worked with Fifth Harmony, Chloe x Halle and BFF Ariana Grande, to name a few—she's finally fully stepped into a spotlight all her own as a singer with the release of her debut album JAGUAR. Over the course of nine tracks, Monét delivers a set of songs steeped in sensuality, an R&B sound simply radiating warmth. The self-assured LP reveals an empowered artist in complete control of her vision, unfettered by the constraints of writing for someone else.
We're talking a real "star is born" moment here.
In celebration of JAGUAR's arrival on Aug. 7, E! News asked Monét to pull back the curtain on the artists and albums that have influenced her throughout her life and career. From the songs she can't live without to the one she hopes she'll never hear again, this is the soundtrack to her life.
The song/album that reminds me of childhood: The Writing's on the Wall by Destiny's Child. I played that album so many times! I even remember staring at the cover and wanting to get braids like Beyoncé.
The first album I remember buying: I actually can't remember! I think when I was younger my friends and I were making mixtapes and burning each other compilation mixes of our favorite songs and writing on the CD with sharpie! The first versions of a playlist. Such good times. 
The song/album people might not expect me to love: I really like Mylo Xyloto [by] Coldplay! Their music feels so big and euphoric! Makes you feel like you're floating in and endless sky night or day. I'm also a really big fan of Chris Martin's voice.
The song/album that makes me think of falling in love: "My Boo" [by] Alicia Keys and Usher! That was my song with someone I thought was my first love as a kid. It still gives me that nostalgia to this day. It reminds me of a really easy, happy, young times [sic] when I thought I knew so much about love and feelings. Boy was I wrong. 
The song/album I turn to when I'm at my lowest: I put on a gospel playlist or Bob Marley! Both make me feel hopeful and pick me right back up.
The song/album I hope I never hear again: This answer is really mean, but probably that "Friday" song by Rebecca Black. I could definitely die happily without ever hearing that ever ever...ever again.
If I could only hear one song for the rest of my life, it would be: This question is impossible. I would lose my mind trying to narrow this down when I can barely pick which candy bar I want in the store. I could do a Bob Marley or Sade playlist for the rest of my life, though, for sure.
The song/album that's guaranteed to get me turned all the way up: I love Missy Elliot['s] Under Construction! The nostalgia really puts me in great place and makes me want to dance like I used to! 
The song/album I wish I wrote/recorded: Definitely Mariah Carey['s] "All I Want for Christmas Is You"! That song will forever be a holiday staple and make people feel so happy! It also charts pretty much every year, which must be really fulfilling and such a beautiful monetary reward to top it off.
My own song that I'll never get tired of performing: "Jaguar!" It's just the one. So much energy and there's a whole live band break in the music where I can just live my best life.
My own song that I'll be happy to retire: Anything prior to the "Life After Love" era, I could definitely do without! 
The song on my new project that I can't wait for fans to sing along with me on tour: "Dive" should be fun! There are so many words, so it will be interesting to see if they know all the lyrics and can keep up with the rap-sung first verse! 
JAGUAR is available now.