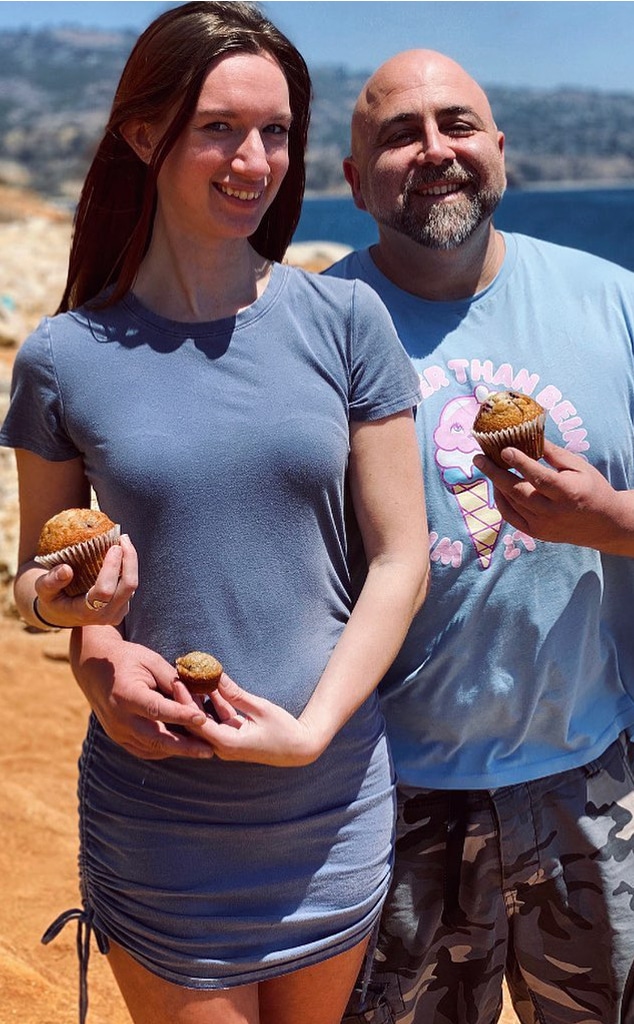 Instagram
Duff Goldman and his wife have a "muffin" in the oven.
The Food Network star, 45, and wife Johnna Goldman, 26, announced on Friday, Aug. 7 that they're expecting their first child together. Duff shared the happy news to his Instagram, which boasts over 500,000 followers, by posting a photo of the couple holding regular sized muffins, along with a smaller muffin in front of her stomach. He aptly captioned the pic, "Muffins!"
She added in her own post, "Our biggest adventure yet! Mini Muffin expected January 2021!"
The happy news comes just over a year after the pastry chef and writer wed in a unique ceremony at the Museum of Natural History in Los Angeles. Martha Stewart Weddings reported that the bride and groom exchanged vows underneath the skeleton of a T-rex, because why not? Guests later mingled outdoors, where they dined on savory meats and sweet treats of equally epic proportions.
He wrote on Instagram this April, "I am the luckiest guy in the universe and I'm reminded of that every morning when I wake up next to an angel."
Watch:
Katy Perry Is the Ultimate "Poopedstar" While Baby Shopping
Likewise, Johnna couldn't help but gush over her life with the Charm City Cakes owner on their recent anniversary. "This life with you has already been so magnificent and I'm so giddy when I think of all the incredible things we will do together! I love you my muffin, my ride or die," she wrote, alongside a picture of her butcher twine engagement ring.
And though the pandemic put Charm City Cakes operations on pause for a moment, the pair will be able to celebrate with a slice since the bakery is once again taking orders.