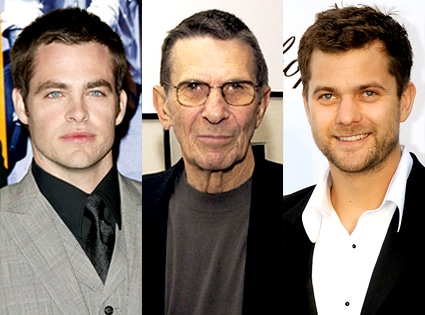 Rena Durham/ZUMAPress.com; Albert L. Ortega / Getty Images; Dominique Charriau/Getty Images
As you may have heard earlier today, Leonard Nimoy will guest on Fox's Fringe as the infamous mad scientist William Bell, but what you haven't heard is everything we just learned about Nimoy's work in Fringe and Star Trek from Roberto Orci.
Orci, who cocreated Fringe with partner Alex Kurtzman and J.J. Abrams and who cowrote two of this summer's blockbusters-to-be, Star Trek and Transformers 2, just gave us the exclusive deets on when Bell will ring in, what questions he knows the answer to and why he might be trying to destroy the world.
Plus, how does Nimoy fit into this summer's Trek, where do things currently stand on the sequel and what are the prospects for a second season of Fringe?
Get the exclusive answers inside...
On Fringe, is William Bell the answer to some of the questions we've been asking about the Bishops and Olivia?
Several answers will come outside of William Bell, and then William Bell will be the beginning of the answers to even bigger questions.
How do you see the relationship between Walter Bishop (John Noble) and William Bell (Leonard Nimoy)?
We always imagine that they were two of the smartest guys in their classes, and they went through the Ivy League together. At that point in college, you're discovering yourself, but these guys, the intelligent geniuses they are, they might come to conclusions about what's important in this world. So we always imagine that they were very much like each other, very much friends, and very much a team—brothers in a way, and that life took them in different directions, either complementary or not directions, and we're going to find out.
Way back last summer, we talked about how the Pattern could be about either saving the world or destroying it. Do Walter and William take those different approaches to the Pattern?
That's absolutely right. They have not only different approaches to the Pattern, but different interpretations of what the Pattern is. The Pattern is slightly in the eye of the beholder, you're going to find out. And sometimes what you think is real can become real. In a way, these two are the top minds in the world attempting to figure out the Pattern and how to react to it, based on their world view.
When will we first see William Bell?
We're going to want to build the anticipation to meeting him as much as we can. So close to the finish line.
Like the final scene of this season?
Who knows?
And if you're picked up, will we be seeing much more of him?
I think it would be so cruel if we didn't see him again. I think that would be a horrible decision.
Speaking of a pickup, what's the vibe on a second season for Fringe? It seems pretty likely, right?
The vibe is that we can't stop thinking about what we're going to do next. Until someone tells us to stop thinking about what we're going to do next, we're not going to stop thinking about it.
And what about Nimoy in the Star Trek movie? What can we expect?
It's not just a cameo; it's a significant role, and it plays an important part of the story. He's not in every scene—it's not that kind of thing. It was nice to see some people saying that they were surprised that even though we said that, it truly was.
Is it like Marlon Brandon as Jor-El in Superman, in terms of mythological heft?
He's an active part of the story, not just backstory. He interacts with our players.
And what about the possible sequel to Star Trek? Where are you in that process?
[J.J. Abrams, Alex Kurtzman, Damon Lindelof and I] are all friends in addition to working together, so you can't not hang out and not talk about what you might do next with Star Trek, but we're waiting to see, because these [Star Trek fans] are the most important fans, and we really do want to hear what the reaction is before we commit to what we want to do next. Even though we have ideas, we've always been very much thinking of fans as consultants for us, and I think it would be disrespectful to pick what we're going to do before we even hear what they have to say about the first movie.
Whee! Are you loving the genre goodness of Fringe? How excited are you for the new Trek? Post in the comments!
Get full episodes of Fringe at Fancast.
Fringe airs Tuesdays at 9 p.m. on Fox.