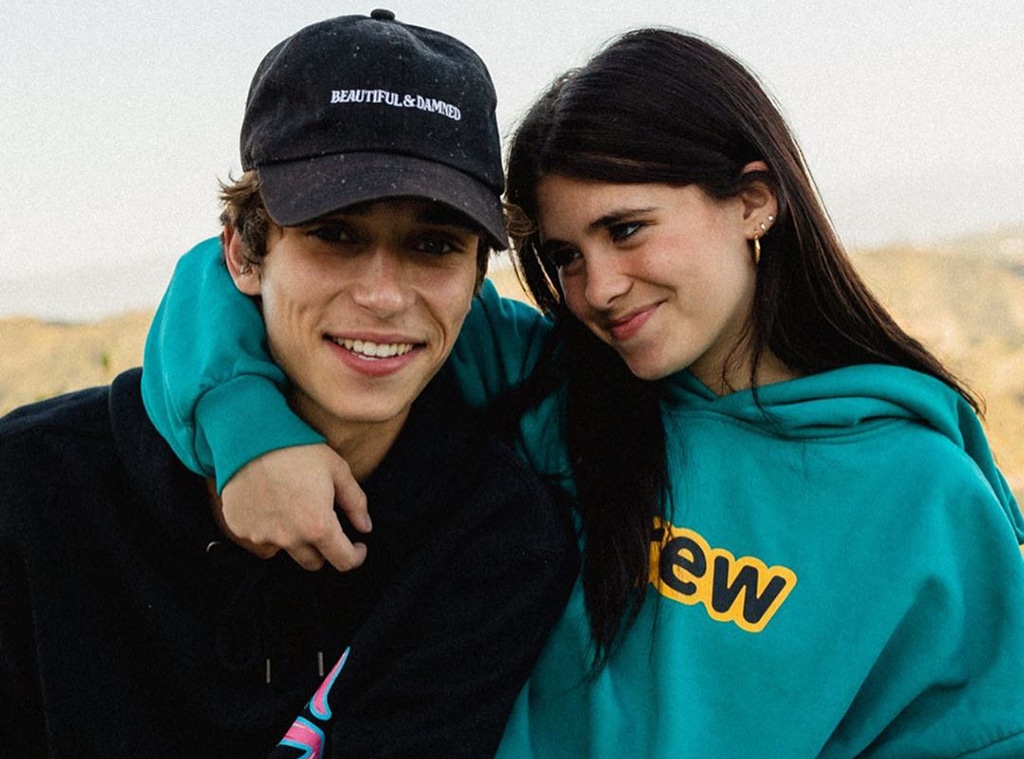 Instagram
People can't stop keeping tabs on Josh Richards.
With over 20 million followers on TikTok and more than 1 billion likes on his posts, the 18-year-old has developed a fan base that can't get enough of his life.
But with great success online also comes interest in romantic relationships. Back on June 18, Josh and Nessa Barrett went on YouTube where they confirmed they had split. The video titled "We Broke Up" received more than 8 million views.
In recent weeks, however, fans have been speculating that the twosome could be back together partly because of a recent TikTok cameo. The rumors certainly didn't stop when Josh wished Nessa a "happy birthday" online on Aug. 6. So what's really going on with these two?
"Me and Nessa are really good friends. We were friends before we started dating and everything like that so we kind of promised each other at the start that we were going to do everything we could to not lose that," Josh exclusively told E! News. "So, I mean, that's why we are still friends today. But yeah, that's kind of it for that. I'm not really doing anything in the dating world aspect right now."
In fact, Josh admitted that he would open to dating a fan or not-so-famous person in the future.
"I mean, yeah, always," he explained. "Like I think that people put a weird stigma around stuff with social media influencers that they will only get with other social media influencers. That's not it at all."
For now, Josh has his hands full on and off social media. He recently teamed up with Bryce Hall for a new energy drink company called Ani Energy. Josh also was appointed the Chief Strategy Officer for the Triller app.
"Triller is by the artists, for the artists. They are 100 percent creators first. When we first started talking to them, they really listened to our ideas, added to our ideas, started implementing our ideas into the app right away. It was a refreshing feeling," he explained. "I want everyone to get on it."
Josh is also excited to explore the music space thanks to a new contract with Warner Music. As for a future in reality TV, the singer is open to exploring the idea.
"I definitely would be open to doing a reality show. I think that myself with Jaden and the rest of the Sway boys and everyone in that kind of group are pretty crazy on and off social media. And I think it probably gets even crazier when the cameras are actually off," he explained. "So I think people would love it and it would be super entertaining."
Watch:
6 TikTokers Guaranteed to Blow Your Mind
At the same time, Josh doesn't appear to have regrets about leaving the Sway LA house, a social media collective where members create content and live together under one roof.
"I decided to leave because myself and then also my friend Jaden, we both were focusing kind of on a little bit of a different path I guess at the time and we wanted to be able to get away from a lot of the noise that was always going on in the Sway LA House," he shared. "So we just decided to take a hiatus and get our own place for a while. And on going back, I don't see that, but I definitely see us all together on the regular so you still get that OG Sway content."
And as Josh continues to grow his following—he has close to 7 million followers on Instagram and 2 million subscribers on YouTube—the social media creator continues to be blown away by all the support and opportunities from fans. 
"I am someone who just loves to socialize. I love hanging out with people and having a bunch of friends and it's definitely brought me some of the closest friendships I've ever had," he explained. "Also getting to meet all these people who support is just like absolutely crazy for me and it blows my mind every time. Like I get on a Facetime call and someone's like, 'Oh this is my sister and she's a huge fan' or I see them in person and they start like nervously shaking. That stuff is so cool to me just because I never thought I would be in this position."