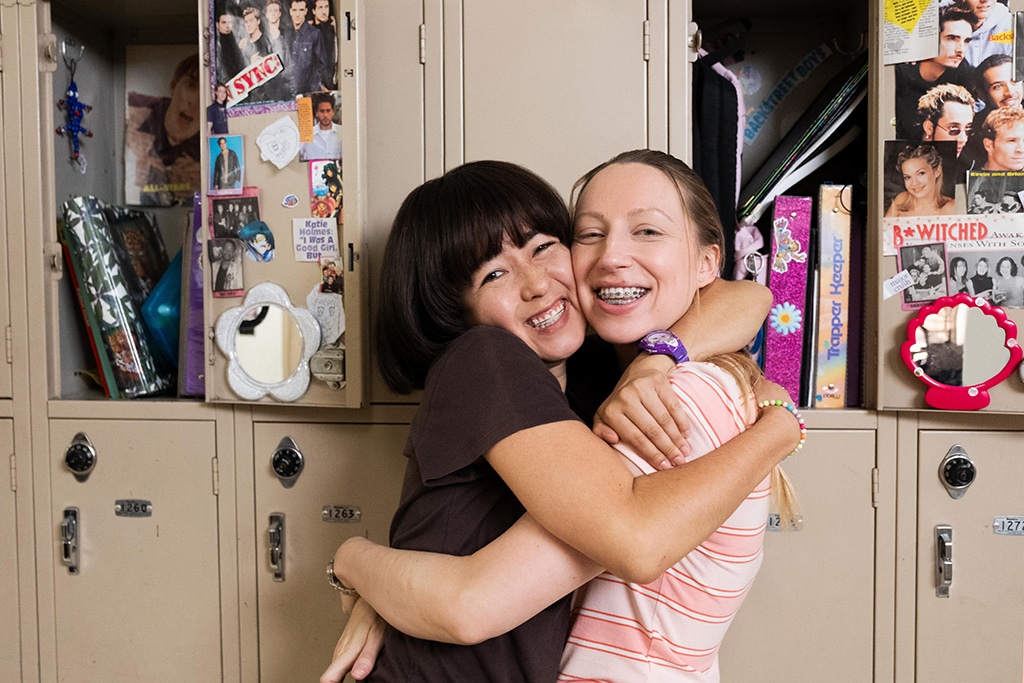 Hulu
The girls are back, and they're as awkward as ever. 
Hulu just released the season two trailer for Pen15, the critically acclaimed comedy we sometimes have to watch through our fingers due to the secondhand embarrassment that inherently comes with reliving the horrors of middle school.
Once again, Maya Erskine and Anna Konkle are playing their 13 year-old selves in middle school in the year 2000, surrounded by real tweens and teens playing their peers. This time around, they're into witchcraft, wrestling, and perhaps just a little kissing. They've also got a new friend, some new outfits, a lot of hormones, and a new crisis to deal with as Anna's parents are getting a divorce. You can get a taste of all of that in the new trailer. 
Season two will include a total of 14 episodes, with the first seven premiering September 18 and the remaining seven making their debut sometime in 2021. 
Both Maya and Anna spoke about season two during a summer press tour panel on Friday morning, revealing that it was "tough" to continue to mine their own childhoods after how many subjects they tackled in season one. 
"We had so many firsts in the first season," Anna said, which made it harder to come up with new things for the BFFs to deal with. "There was a lot of secret-sharing and a lot of being like, 'what do I not want anyone to know?'" 
"We treated the first season like, what if this was the only season we ever have," Maya added. "Like what if this was it? So we kind of picked our deepest, darkest secrets that we had shared over and over with each other for that first season, and then this second [season], we still had more stories, but I think what it is is that Anna and I have been friends for a long time, so we've also shared these stories countless times. I still tell Anna the same story as if it's a new story."
Maya said she thinks that she repressed the "pain" associated with some of her middle school memories, because to her, they were always funny. Making the show with her own experiences has changed how she looks back at her tween years. 
"I would, as a defense mechanism, tell [those stories] in a humorous way as a way to cope with it, and then as you're writing in the writers' room, you start to find that the hole opens up a little bit of that pain. It just kind of cracks open, and then when you're on set, it cracks open more... I'm realizing newfound revelations about those experiences that I didn't really think about even when we first put them in the scripts." 
Part of those stories involve the joys of experiencing a first kiss, which is made extra awkward by the fact that all of Maya and Anna's co-stars are actual middle schoolers. But the two stars, who are in their 30s, are actually kissing adult stand-ins. 
"Fortunately the reality for a lot of people [is that] it's uncomfortable, liking someone or kissing for the first time. So there's this inherent kind of distance, I think, that fortunately feels natural for our characters," Anna explained
That allows for a lot of wide shots of the two actors standing far apart, while extreme close-ups are used for both laughs and for allowing a body double to step in. 
"Let's see the kiss. Let's go right up close," Anna said. "Fortunately that allowed us to use adults to do the making out." 
Pen15 returns to Hulu on September 18.