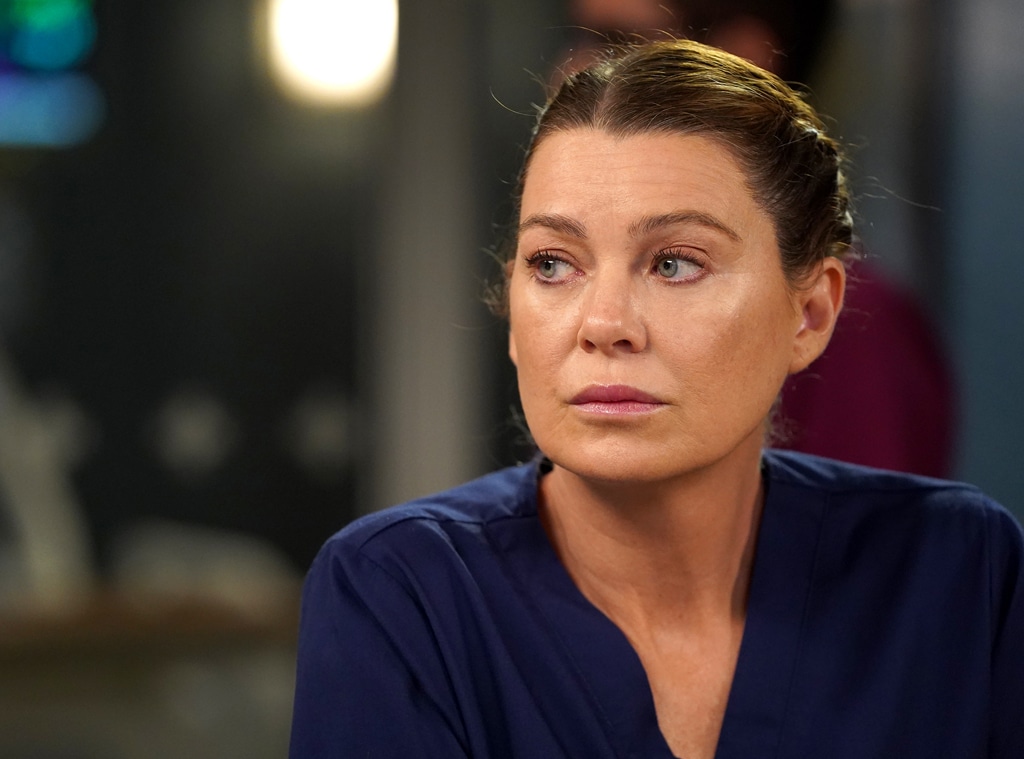 ABC
Grey's Anatomy will have a lot on its plate when it returns for season 17. 
There were four episodes left unfilmed when the show shut down production in early March, and since then, the world has gone through and continues to go through a major medical crisis as well as a huge civil rights movement. Grey's is a medical show that takes place in present day, so to ignore the coronavirus pandemic would be both difficult and somewhat irresponsible, as showrunner Krista Vernoff eventually realized. 
"I spent the whole hiatus kicking it around, and I came into the writers room thinking that I had made the decision that we were not going to do it," she said on THR's TV's Top 5 podcast, explaining that she simply felt pandemic fatigue. But a conversation with all the writers and particularly the medical experts in the room, who are referred to as "Team Medical," totally changed her mind.
"They really convinced me that it would be irresponsible to not. To be kind of the biggest medical show and ignore the biggest medical story of the century felt irresponsible to them to the medical community," she said. "These doctors are traumatized. They are not trained or wired to hold the hands of dying people all day who are alone without their families."
Vernoff explained that doctors who they were hearing from were really struggling with how much is still so unknown about COVID-19, and described heartbreaking situations. 
"They were saying things like, kids, their first year out of medical school, are seeing more death in the first year than many doctors see in a decade, and it just felt like we had to tell this story. We have to tell this story, and so the conversation became, how do we tell this very painful, brutal story that has hit our medical community so intensely—and as they keep saying, permanently changed medicine? How do we do that and provide some escapism? How do we do that and create romance, and comedy, and joy, and fun?" 
Vernoff said she believes that the writers have risen to the occasion, and next season will be able to "honor the heroes on the front lines, and provide some escapism and some romance and some laughs." 
For those of us who are feeling the pandemic fatigue, the most devastating aspects of coronavirus will not be the focus of every story. 
"There's a lot of story to tell that is sort of COVID-related, but not about death and despair," Vernoff said. "It's pervasive, because it's pervasive. I don't know a person who works in the medical world who isn't affected." 
However, Vernoff also explained that she had a friend who is a surgical nurse and currently is not working, because elective or non-emergency surgeries have largely been put on pause. 
"Our show is a surgical show. There are a lot of surgeries that aren't happening or are simply being delayed or postponed," Vernoff said. "There are also a lot of medical stories to be told about the fact that death has increased in this country, particularly because people were afraid to go to the doctor and afraid to go to the hospital." 
Coronavirus will certainly impact the usual way the show tells stories, since so much of Grey's involves sex and romance, and Vernoff said it's "safe to say" that TV will be featuring a lot less kissing on TV next season, though she was confident that Grey's has already mastered being both socially distanced and sexy. 
"Obviously, you can't have people making out, but there's been a lot of sex on Grey's Anatomy that doesn't involve kissing," she said. "There's a lot of sexy lifting of clothes, and pulling down of clothes, and taking off of things, and standing behind a person in a sexy way. There's a lot of ways to skin a cat, so to speak." 
Vernoff also said it might be a little easier for Grey's to return to production simply because all of the characters can already justify wearing medical-grade masks at all times. 
"You can't be in a hospital without a mask right now," she pointed out. "So that's actually gonna, I think, allow us to get back to work safely before some other shows can. 
On Twitter on Wednesday, Ellen Pompeo replied to a fan asking when filming would resume, revealing that "the plan is to start in a few weeks." She said there's no exact start date, but director Debbie Allen is already prepping. 
Another fan asked if Pompeo had anything to share about Meredith in season 17, and Pompeo said, "She's going to be so worth the wait!" 
There will at least be some romance in the Grey's Anatomy and Station 19 world next season, just based on the casting announcement that was made last week. 
Richard Flood, who plays Dr. "McWidow" Hayes, is now a series regular, alongside Anthony Hill, who played Maggie's (Kelly McCreary) love interest in one episode last season. Stefania Spampinato, who plays Carina, is jumping over to Station 19 now that Carina and Maya (Danielle Savre) are officially together. 
Grey's Anatomy will return later this year on ABC.