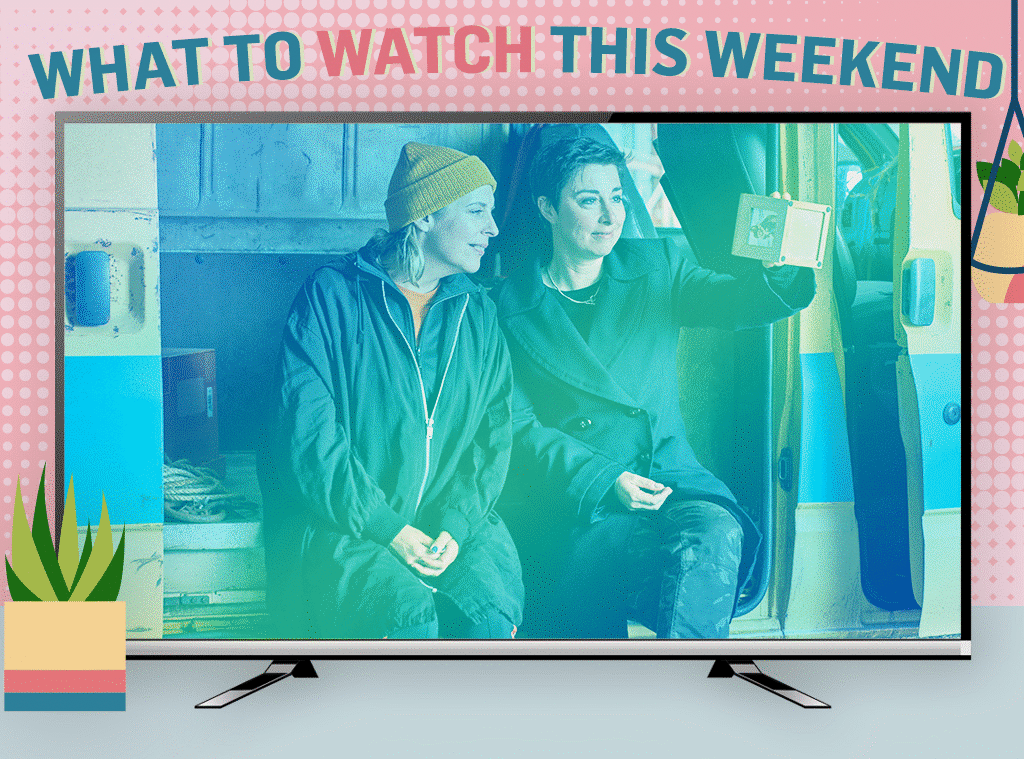 E! Illustration
We're in the dog days of summer, so you know what that means: Netflix and chill—literally.
If you're looking to beat the heat this weekend by blasting your A.C. and making a dent in your couch, we've got just the list of binge picks to watch this weekend, August 8-9.
Included in this week's round-up of streaming suggestions are the highly anticipated third season of one of our favorite reality series that will finally dish the dirt on a shocking divorce in Hollywood, as well as Netflix's latest rom-coms that will be all over your Twitter feed by Monday. 
Plus, the man behind some of Disney's most iconic tunes will get his time in the spotlight, Peacock is showing you a killer new side of The Great British Bake-Off's lovable hosts, and you can try to resist, try to hide from celebrating the 20th anniversary of a beloved rom-com. But, really, why would you want to fight the moonlight?
So break out your comfiest clothes, grab your snacks and prepare to binge the weekend away...
If You Are Embarrassingly Intrigued By Chrishell Stause and Justin Hartley's Divorce: Sure, he had never actually appeared on her Netflix reality series Selling Sunset, but he did have somewhat of a presence, with Stause constantly referencing her well-known actor husband. And the This Is Us star will inadvertently be front and center when the real estate drama returns for its third season as the focus will fully be on the sudden divorce bombshell he dropped on Stause in November 2019. Just as shocked by the news as we were? The rest of the Oppenheim Group gang 'cause they learn about it from a TMZ alert. You hate to love to see it. (Where to Watch: Netflix)
Watch:
Jordan Fisher Explains Bromance With Noah Centineo
If You Are Looking for Your Next Netflix Obsession: Another weekend, another ridiculously charming rom-com from Netflix. Starring faves like Sabrina Carpenter, that boy we've definitely loved before Jordan Fisher, Love, Simon's Keiynan Lonsdale and Liza Koshy, Work It ups the ante by adding in a dance competition element, giving us Center Stage and Step Up feels. And you know the music will be good when Alicia Keys is an executive producer. Work it, Work It! (Where to Watch: Netflix)
If You Are Looking for Your New Favorite Comedy Duo: Mel Giedroyc and Sue Perkins, known for their stellar work hosting The Great British Bake Off, are back together in the new killer scripted series Hitmen, which follows BFFs Jamie (Giedroyc) and Fran (Perkins) as they try to make the most of life while also being, you guessed it, hitmen. Look away, Mary Berry! (Where to Watch: Peacock) 
Willy Sanjuan/Invision/AP/Shutterstock
If You Keep Getting Confused Over the Sudden Obsession With Banana Splits on Your Timeline: Sorry, sweet-toothers, but we're not talking about the tasty ice cream confection. Banana Split is the latest Netflix film that has captured the attention of the youths and it's easy to see why. The movie is filled with hot up-and-comers, including Hannah Marks (who also co-wrote the teen rom-com), Liana Liberato, Luke Spencer Roberts, Spider-Man's Jacob Batalon, and, of course, Dylan Sprouse. Is it truly a Gen-Z obsession without a Sprouse twin? The great question of our era. (Where to Watch: Netflix)
If You Want to Learn More About the Immigration System Before November: It's not all YA dramas and reality series on Netflix as the streaming giant is debuting the documentary ICE (U.S. Immigrations and Customs Enforcement) never wanted you to see. Immigration Nation's six episodes take viewers inside the bureaucracy of immigration enforcement in the United States, with Christina Clusiau and Shaul Schwartz actually receiving support from ICE for a short period of time over the course of their four-year investigation. Relevant, impactful and timely, this docu-series is a must-watch in the lead-up to the 2020 election. (Where to Watch: Netflix)
If You Belt Disney Tunes All Day Every Day: Get to know the lyricist behind some of the House of Mouse's most beloved movies in Howard, an intimate new documentary focusing on the late Howard Ashman. Just 40 years old when he died of complication from AIDS, Ashman was responsible for the lyrics in fairy tales such as Aladdin, Beauty and the Beast and The Little Mermaid, but this doc isn't afraid to get gritty as it delves into the Oscar winner's life story and his working partnership with composer Alan Menken. (Where to Watch: Disney+)
If You Want to Add a Prestige Drama to Your Queue: Matthew Rhys. John Lithgow. Tatiana Maslany. Need we say more to get you to catch up on Perry Mason in time for the season finale on Sunday at 9 p.m.? While it was initially set to air as a limited series, HBO was so into the latest take on the famed defense attorney that they recently renewed it for a second season. (Where to Watch: HBO Max)
Buena Vista Pictures/Getty Images
If You Still Can't Fight the Moonlight: Coyote Ugly just turned 20 and there's no way we're not standing up on our kitchen island while we rewatch the irresistible cult classic this weekend. Join us, won't you? (And then check out what the cast is up to now right here.) (Where to Watch: Cinemax)
If You Just Can't Resist That Seth Rogen Charm: Rejoice, the funnyman has a new film and we're 90 percent sure  the title alone could get you to watch: American Pickle. And we're 99.9 percent sure that the fact that Rogen takes on two parts could get you to watch. American Pickle finds Rogen playing an Ashkenazi laborer who immigrates to America in 1920 only to wake up in modern-day Brooklyn with his last remaining descendant (also played by the Pineapple Express star) after getting preserved in a pickle jar. Double the Rogen, double the roaring laughter. (Where to Watch: HBO Max)
(E! and Peacock are both part of the NBCUniversal family)