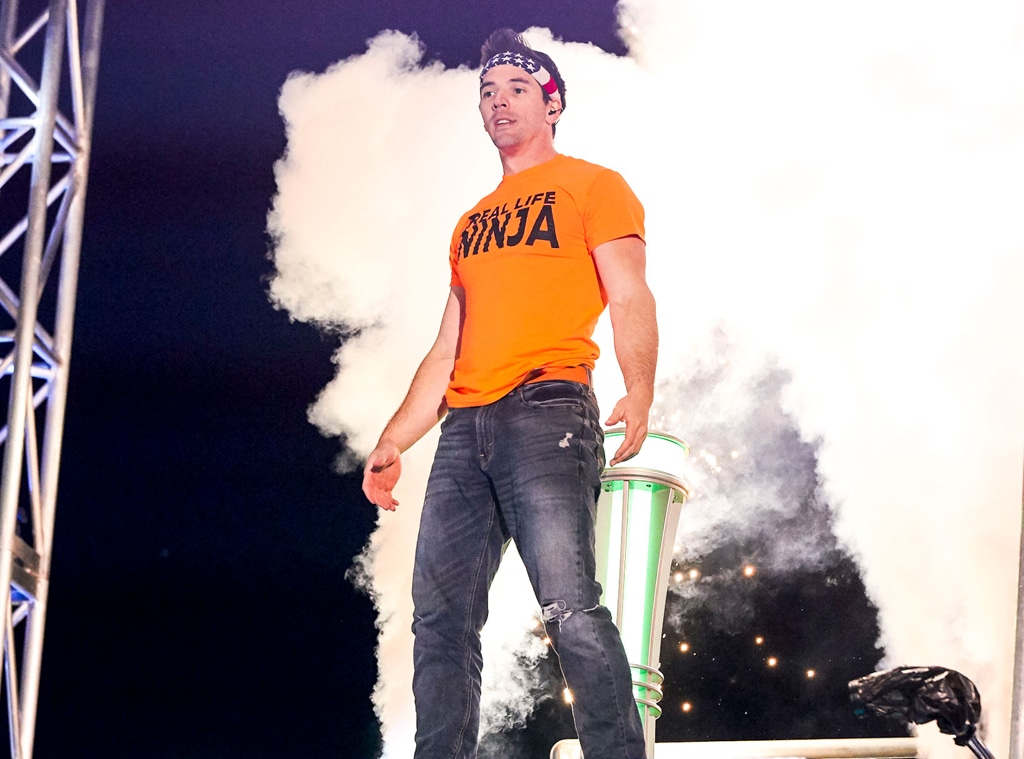 Quantrell Colbert/NBCU Photo Bank/NBCUniversal via Getty Images via Getty Images
Andrew "Drew" Drechsel, American Ninja Warrior's season 11 champion, was arrested in Florida on Tuesday, Aug. 4, and accused of seeking sex with a minor and inducing her to send him sexually explicit images, according to U.S. Attorney Craig Carpenito. 
Per a release shared by the U.S. Attorney's Office for the District of New Jersey, the 31-year-old contestant is "charged by complaint with manufacture of child pornography, enticement of a minor to travel for illicit sexual conduct, travel with the intent to engage in illicit sexual conduct with a minor and use of interstate commerce to entice a minor."
According to a criminal complaint filed July 31, 2020, a female made a complaint to the Cherry Hill Police Department in Cherry Hill, New Jersey on June 23, 2019. The then-19-year-old woman claimed she and Drechsel had a sexual relationship that began when she was 15 years old and he was 26 years old. The criminal complaint stated she confided in her mother when the sexual relationship began. However, the mother claimed her daughter threatened to harm herself if the police were called.
The female claimed she met Drechsel after a 2014 event that was attended by several American Ninja Warrior contestants. She said they exchanged phone numbers and began texting each other, which allegedly continued until June 2019.
According to the criminal complaint, Drechsel and the young woman exchanged text messages on July 6, 2015, when she was 15 years old, about her traveling from her home in New Jersey to his gym in Hamden, Conn. The messages allegedly contained plans for sexual activity. She also claimed she and Drechsel discussed the visit as her 15th "birthday present."
Per the documents, the teen and Drechsel spent time alone together after Drechsel's girlfriend left the gym. They then allegedly proceeded to have sex. The complaint stated the teen told her mother about the alleged incident the next day and that the mother then confronted Drechsel. According to the documents, the mother said Drechsel "did not deny the sexual activity but rather stated he didn't know" the teen's age at the time.
According to the criminal complaint, Drechsel and the teen continued to exchange text messages about sexual activity. The teen claimed that, in one January 2016 conversation, Drechsel told her he would be traveling from Connecticut to New Jersey and that he wanted to meet for a sexual encounter. Drechsel also allegedly told the teen to delete their messages. The teen claimed they had sex in a parking lot. She also said she met Drechsel "multiple times" at a gym in New Jersey, where they had sex outside the building. She said these encounters occurred when she was 15 to 17 years old. In addition, the two allegedly had Skype sessions.
According to the complaint, videos and images of the teen were found on Drechsel's phone.
In part of a statement shared to Twitter, Drechsel's attorney Frank J. Riccio II said, "I am representing Drew Drechsel with respect to the criminal charges filed against him. Mr. Drechsel is presumed innocent of the charges and that presumption will remain throughout the pendency of his case. He intends on entering a 'not guilty' plea. It is respectfully requested that you respect the privacy of Mr. Drechsel and his family."
E! News has also reached out to Drechsel's lawyer for comment.