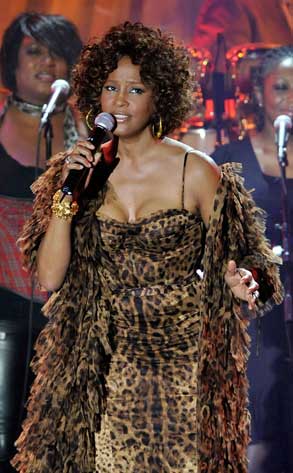 Kevin Winter/Getty Images
To hear Whitney Houston tell it, she's got her very own evil stepmother.
The songbird is countersuing Barbara Houston for $1.6 million, the star's rep, Nancy Seltzer, confirms to E! News. "[Whitney] Houston is using the legal remedies available to her," she says.
Last December, the widow claimed the singer kept a $1 million insurance payout from her father's estate that was earmarked for the mortgage on his Fort Lee, N.J., condo, where the stepmom has lived for the past 20 years. She said the 45-year-old Grammy winner was supposed to fork over $723,000 for the mortgage, which is in Barbara's name, and give the change to Barbara directly. Instead, the stepmom accused her of holding onto the entire sum after John Houston's death in 2003.
Now, the R&B diva is claiming she put up the initial cash for the home, and her dad still owed her most of the balance—plus interest—when he died.
No word on when her next album, tentatively titled Undefeated, will be hitting the streets, but her voice—if not her affairs—was supposedly in terrific shape in February.