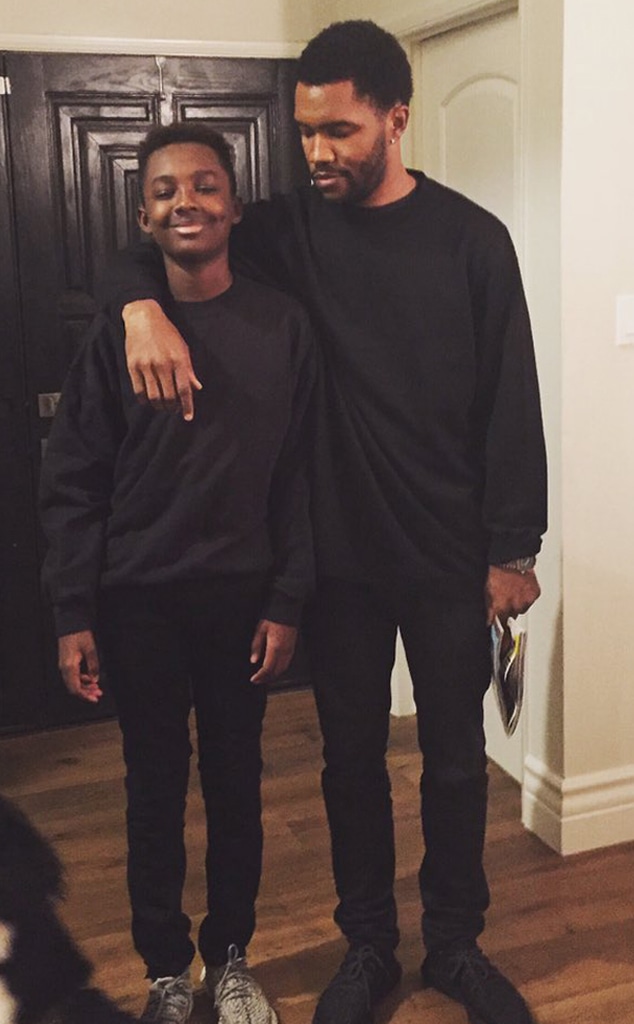 Twitter
Frank Ocean's teenage brother has passed away, a source confirms to E! News.
According to the insider, Ryan Breaux died early Sunday morning, August 2, in a single-vehicle car crash in Thousand Oaks, Calif. He was only 18 years old.
A press release issued by the Thousand Oaks Police Department states there were two victims in the accident, however, they have yet to identify the individuals pending notification of their families. Thousand Oaks Acorn, a local publication, reported that 20-year-old Ezekial (Zeek) Bishop also died.
Per the press release, authorities and the Ventura County Fire Department were both called to the scene at Westlake Blvd. (just north of Skelton Canyon Circle) around 1:33 a.m. local time.
"Upon arrival, deputies discovered the vehicle engulfed in flames," law enforcement said. "The two occupants of the vehicle were pronounced deceased at the scene by the Ventura County Fire Department."
An initial investigation revealed that the vehicle appeared to veer off the roadway and collide with a tree.
At this time, it's unclear who was driving the car. The victims' cause of death has not been determined.
In light of Breaux's death, many have taken to social media to mourn his loss and send his family condolences.
Paris Brosnan, Pierce Brosnan's son, took to Instagram to share a heartfelt message. "To my brother, who was talented beyond belief, possessed a heart of gold, had an energy that was infectious, a smile & laugh that lifted everyone's spirit, and was a loyal and authentic friend to anyone he knew," Paris began his post.
"You were just getting started and ready to show the world who you were. You were a leader and you had a whole army of loyal soldiers behind you," he continued. "Thank you for being there for me when I needed you most, thank you for all the wild nights, thank you for your music and all the late night studio sessions with Fray, thank you for blessing us ALL with your presence on this earth. I will carry you in my heart always."
He closed, "Until I see you again brother. Ryan Breaux forever & Zeek Bishop forever."
Rapper, MadeinTYO, wrote, "Ryan Breaux you was a good kid & always showed me love. see you up top ! pray for frank family. broken hearted."
Watch:
In Memoriam: Fallen Stars of 2020
It's unknown if there will be a public or private memorial service held in Breaux's honor. Moreover, Ocean has yet to comment publicly on his brother's passing.