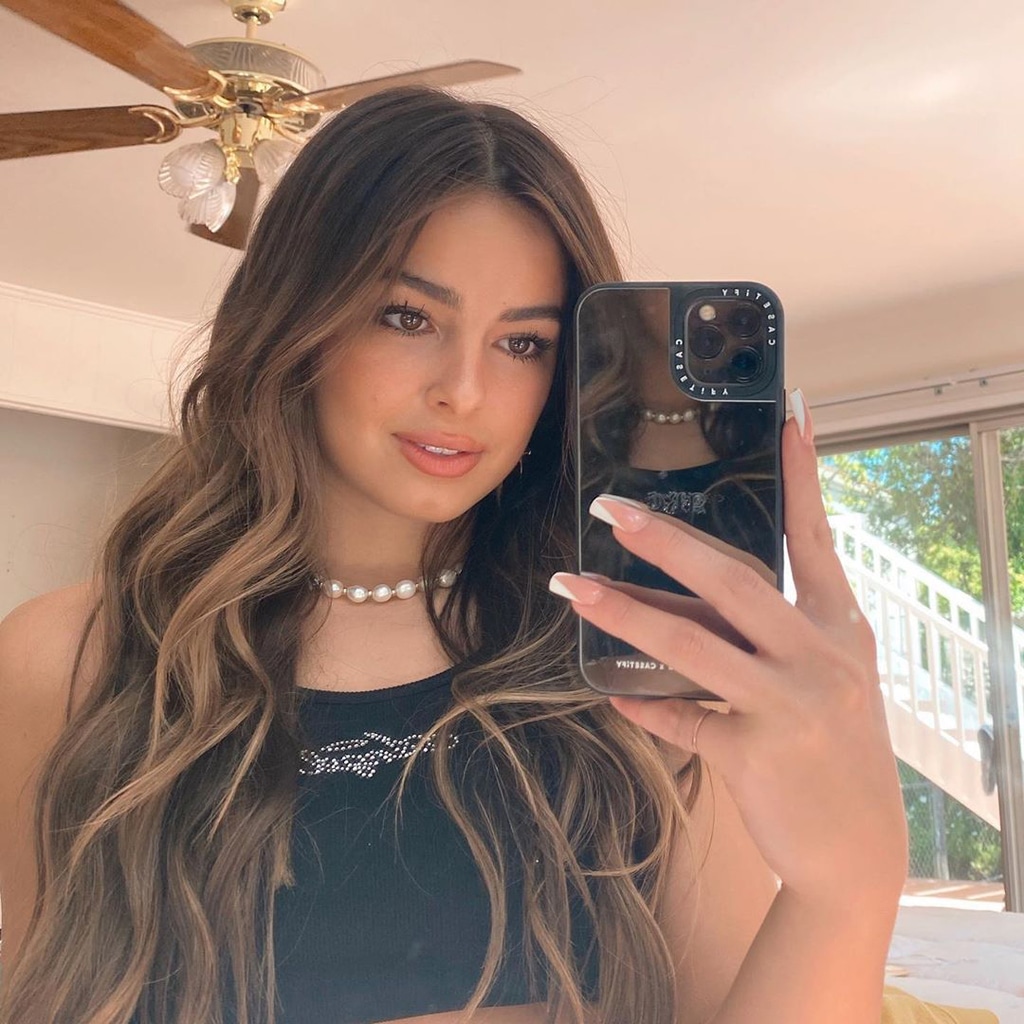 Instagram
If you're not already keeping up with Addison Rae, now is about the time to start. 
After taking over TikTok (she's the second-most followed creator on the app behind one Charli D'Amelio), Addison has her sights set on a new venture fitting for any Gen Z influencer with millions of fans ready to swipe up on Instagram: the cosmetics industry.
Enter ITEM Beauty, a collaboration between Addison and brand innovation incubator Madeby Collective. The teen, who is the brand's co-founder and Chief Innovation Officer, tells E! News in an exclusive interview that she's "always loved makeup" and uses it both as a form of self-expression and self-love. 
"I wanted to create a brand that supports individuality in a very real and authentic way," she says. "ITEM approaches beauty the same way that I do. I want to be able to put something on my face that I can feel good about—clean products with ingredients that are good for my skin and enhance, not mask, my features."
Launching Aug. 11 on the brand's site, the debut collection features six cruelty-free, dermatologist-tested products ranging from $12 - $22. Makeup fanatics can get their hands on a mascara, jelly eyeshadow, translucent powder, bronzer, brow definer and lip oil, each of which is formulated without harmful ingredients like parabens, phthtalates and mineral oil. 
Beyond Addison's first foray into the beauty world, we got to talking about her newfound friendship with Kourtney Kardashian and the advice she's gotten from celebs in her inner circle. Keep reading for our exclusive Q&A!
E!: How did your own personal style play into the creation of ITEM Beauty?
Addison Rae: I've always enjoyed expressing myself through looks. Whether that be a very natural, dewy and glowy look, or a dramatic eye or lip, I've always been super versatile on my makeup routine. I use it as a way to express myself and my thoughts or complement outfits. So I took that and made it into these products, which I love so much. All of these products have amazing ingredients that are really beneficial for your skin, your eyelashes and your lips. They all come together to have a really clean look. 
E!: Why was it important for you to start your own brand as opposed to collaborating with an existing brand?
AR: I wanted to be able to really, truly give my input and ideas. ITEM stands for exactly what I stand for as a co-founder, so it's just a bigger picture [relationship] for me and something that I want to really, really work on.
Watch:
Kourtney Kardashian & Addison Rae Recreate "KUWTK" Scenes
E!: Being that this is E!, we're all Kardashian obsessed. What is the one thing you've learned from spending time with Kourtney and the rest of her family that would surprise even some of her biggest fans?
AR: I've had such an amazing time spending time with Kourtney and meeting the family. They're all just such loving people that genuinely care about each other. That just continuously inspires me. They all have such an amazing bond that I always valued in my family, so it really just makes me love them even more as people, because not everyone gets to see every second. It just really shows you how genuine they are. It's not all just for the show, it's how they really are.
E!: Have you gotten any advice from Kourtney ahead of your launch? As a fellow entrepreneur whose family has made a mark on the beauty industry, has she offered any tricks of the trade?
AR: Everyone that I've met in the industry has all pretty much said the same thing. Just be confident in what you produce and really do what you love, because at the end of the day your ideas and your happiness is what's really important. Using that [advice] to fuel my inspiration was really beneficial. 
E!: Whose support has surprised you the most, whether it be a fellow TikTok creator or another celebrity?
AR:  Everyone I surround myself with have all been so insanely supportive. James Charles is one of my really good friends who obviously loves makeup and is very well known in the beauty space. He's inspired me and just told me to chase my dreams and make things that I really, really love come to life.
E!: How do you maintain such a positive outlook online, especially when there's so much negativity on social media and in the beauty world?
AR: It's something that takes lots of work, and just reminding yourself that you are the way you are for a reason. It's definitely not easy at all times because there is negativity and there are hate comments and people that are just looking to bring you down. But at the end of the day, it's just really about positivity and being happy and loving who you are and embracing that. Your flaws make you who you are and that's what makes you unique.
Watch:
Dancer Uses TikTok to Help Fight Cancer--Feel Good Friday
E!: You have so many young fans looking up to you. What's the message you want ITEM Beauty to convey to them? 
AR: Just to really express yourself through the items that you're getting. Get it? ITEM—any items of choice. Whether that be through clothing, makeup, your voice, just really never let the true side of yourself go. Embrace your flaws and don't let your insecurities take over. These items are obviously super special to me and close to my heart. They're everything I stand for and believe in. 
(This interview has been edited and condensed for clarity.)