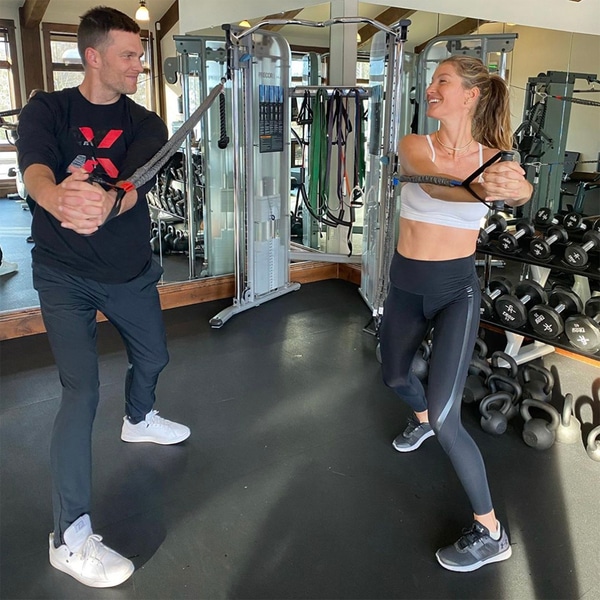 Instagram
Tom Brady was welcomed to Tampa Bay with open arms, but he probably wasn't expecting a shout-out from city officials so quickly.
"Sorry @TomBrady! Our @tampaparksrec team can't wait to welcome you and our entire community back with even bigger smiles—until then, stay safe and stay home as much as you can to help flatten the curve," the City of Tampa tweeted in April after the Buccaneers' new star quarterback was cited for working out in a public park, at the time a big no-no—even for him—as officials were trying to get a handle on the COVID-19 pandemic.
"I always tell people, 'Now I'm not one to gossip so you didn't hear this from me," Tampa Mayor Jane Castor told St. Petersburg Mayor Rick Kriseman in a Facebook Live chat with thinly veiled "oh, by the way, we've got Tom Brady, didn't you hear?" enthusiasm when she quickly relayed the anecdote.
In both a coup for the city and the entire state of Florida, the six-time Super Bowl champion with the New England Patriots opted to head south for the golden years of his Hall of Fame-worthy career, and after his two-year deal with the Bucs was announced on March 20, he wasted no time settling in with wife Gisele Bündchen and their kids, Vivian, 7, and Ben, 10.
"Trespassing in parks, breaking and entering... Just making myself at home in Tompa [sic] Bay!," Brady poked fun at himself on Twitter in April. (Ah yes, the latter offense he was referring to came in early April, when he mistook the house next door for the home of Tampa Bay's offensive coordinator, Byron Leftwich, and walked right in.)
So that makes one local homeowner and one Tampa Parks and Recreation staffer who have epic Brady stories to tell before the Brady era in the city has even officially begun.
Fast-forward a few months and professional sports are precariously back on, the NBA restarting its suspended season in "the Bubble" in Orlando and Major League Baseball proceeding with a 60-game season, both leagues playing without fans in the stands, while soccer, tennis, golf, NASCAR, et al. are also all trying to navigate this strange new world.
NFL training camp for the 2020 season started on July 28 amid publicly voiced concerns over whether the league was doing all it could to protect players and no one able to say for sure that a single snap will be taken this fall. But as of now they're planning on starting as scheduled, and one of the safer bets in all of pro sports right now is that Brady will be ready when they do.
It seemed fairly clear last summer, heading into the final guaranteed year of his contract with the Patriots, that Brady was seriously reconsidering his future in New England when he and Gisele put their spectacular home in Brookline, Mass.—the one he gave an unprecedented glimpse into with his 2018 Facebook series Tom vs. Time—on the market for $39.5 million.
"That is the great part for me, I don't know," Brady told Boston's WEEI in October when asked what his post-2019 plan was. "I think that has been a unique situation that I have been in because I think when you commit to a team for a certain amount of years you kinda feel like [there is] the responsibility to always fulfill the contract. For me, it's been good because I am just taking it day-by-day and I am enjoying what I have.
"I don't know what the future holds and the great part is for me, football at this point is all borrowed time."
Watch:
Tom Brady Announces He's Leaving the Patriots
After what turned out to be his final season with the Patriots that was dominated locally and throughout the sporting world with speculation about his next move, the age-defying athlete, who's celebrating his 43rd birthday on Aug. 3 and has expressed his intention to play until 45 (at least), took up Tampa Bay's offer to spend at least two more years on the gridiron.
"Excited, humble and hungry ... if there is one thing I have learned about football, it's that nobody cares what you did last year or the year before that ... you earn the trust and respect of those around through your commitment every single day," Brady wrote on Instagram in March. "I'm starting a new football journey and thankful for the @buccaneers for giving me an opportunity to do what I love to do."
The reported $50 million they're paying him to do what he loves may also have been an incentive.
Brady continued, "I look forward to meeting all my new teammates and coaches and proving to them that they can believe and trust in me...I have always believed that well done is better than well said, so I'm not gonna say much more - I'm just gonna get to work! #Year1 p.s. Jack Brady with the photocred."
There were a number of teams interested, naturally, but sources told the New York Post that Brady wanted to remain fairly close to New York, where his eldest son, 12-year-old Jack, lives with his mom, Brady's ex Bridget Moynahan, and that factored heavily into his ultimate decision.
"4 factors to consider when thinking about Brady's next spot: A collaborative coach, a well-built roster even if not perceived as a clear Super Bowl favorite, good weather and favorable proximity to NYC for personal reasons," ESPN reporter Jeff Darlington tweeted three days before the deal was sealed with the Bucs. "But don't use any of those to cross teams off the list."
As it turned out, Tampa Bay checked off all the boxes.
So far, Brady and his family have been doing what so many people do when they move to a new city: they decided to rent instead of buy right away.
Unlike most people, they're leasing a 30,000-square-foot house in the exclusive waterfront community of Davis Islands from retired New York Yankees star Derek Jeter, who's now an owner of the Miami Marlins.
"We have a beautiful view overlooking the bay," Brady said on The Howard Stern Show during a lengthy interview conducted via video chat in early April, also memorable for the technical difficulties that were still being worked out in the early days of pandemic broadcasting.
In addition to the view, they've got seven bedrooms, nine bathrooms, an entertainment room, a billiards room, two three-car garages, a pool, a boat dock and an eight-foot wall shielding the front of the property that Jeter had installed in 2017, a less aesthetically pleasing option that needed approval from the city council. (Cue the jokes about Brady not having enough room for a decent workout after he was spotted in the park.)
He assured Howard Stern that he personally wasn't involved in hammering out the details of the lease (he's got people for that), but joked that if something broke, "I call [Derek] and bitch to him, and he gets it fixed."
Tall wall aside, "where I lived in Chesnut Hill [in Brookline], I was pretty private," Brady told Stern. "I forgot that people can drive up to your house. Here, they can pull right up here to the back to the house. I'm a little bit of an introvert."
He continued, "They [lookie-loos] can pull right up in the back of the house, so Derek did a pretty good job of screening it. I think part of it is when I come home, I want to be able to let my guard down and relax, but this is a little different when you go out to the backyard, there's a lot of folks that have pulled up and people out front. It's a little different."
While he can't prevent some people from literally cruising by his backyard, to further protect his family's privacy, Brady has contracted with the Tampa Bay Police Department to have off-duty officers patrol his waterfront. A spokeswoman for the department told the Tampa Bay Times in May that Brady is paying for the service himself (at ease, taxpayers!) and that it's a common enough practice in their city for those seeking extra security (like at construction sites or special events) to pay cops for extra duty.
When Brady's new abode was revealed in April, a real estate agent who worked with athletes told the TB Times, "There are not many homes in the Tampa Bay market that exist like this, and even fewer that might be available for rent. In this case, you had a pre-existing relationship among the parties that could presumably affect the rental amount. But homes I have listed in the past of this scale could ask $75,000 a month or more."
Mike Ehrmann/Getty Images for The Match
Aside from the waves Brady made with his illicit outdoor workout, he and Bündchen lived a relatively quiet life this past spring, minus his massively hyped outing in May to pair with Phil Mickelson for a charity golf match against his former longtime rival Peyton Manning and Tiger Woods. The Match: Champions for Charity, which Woods and Manning won, was watched by roughly 5.8 million sports-starved people to make it the most-viewed golf telecast in cable history.
The family had auspiciously vacationed at their home in Costa Rica in early March (well-timed considering the COVID-related travel restrictions that came later that month, but planned because of Brady's training schedule) and then made their big move.
"This Easter has been a truly unique one," Brady captioned a photo of himself with his wife and all three kids on the beach on April 12. "I was thinking this morning of how the busyness of my life often keeps me from recognizing the most simple and joyful moments over the course of a year. Like this one; being surrounded by my family, sharing a beautiful sunset and realizing these moments are the ones that matter the most to me. Blessings from our family to yours!"
In addition to Mother's Day and Father's Day, other big days the family has marked in fame-enhanced quarantine include Brady's parents' 51st wedding anniversary, his mother Galynn's birthday and Bündchen's 40th, which she celebrated by having 40,000 trees planted in the Amazon rain forest.
"Every day, you inspire me to be the best person I can possibly be," Brady said in a video he made for his retired-supermodel wife's milestone. "Thanks for being the most wonderful example of what's possible in this world. Your love, your dedication and your love of helping people around the world is so inspiring to all of us, so I'm lucky to have you as my wife, our kids are lucky to have the best mom in the world. We love you so much."
Then Ben, who was hanging out behind his dad, popped up to add a sweet "I love you, Mom!"
Meanwhile, Brady could have said "lucky to still have you as my wife," since he also recently got real about the toll his 1,000-percent dedication to football was taking on his off-field life at one point. 
A couple of years ago, the athlete told Stern, Bündchen had written him a letter spelling out some of the problems that had crept up on the home front.
"She felt like I would play football all season and she would take care of the house and all of a sudden when the season would end, I would be like, 'Great, let me get into all my other business activities. Let me get into my football training,'" Brady said. "And she's sitting there going, 'Well, when are you going to do things for the house? When are you going to take the kids to school and do that?' And that was a big part of our marriage. I had to, like, check myself. Because she's like, 'I have goals and dreams, too. You better start taking care of things at the house.'"
"She didn't feel I was doing my part for the family," Brady continued. "I had to make a big transition in my life to say, 'I can't do all the things that I wanted to do for football like I used to. I gotta take care of things in my family because my family, the situation wasn't great. She wasn't satisfied with our marriage."
They did couples counseling and Brady keeps the letter in a drawer, to remind him of the most important contract in his life and how he has promised to hold up his end of that deal.
The pair celebrated their 11th wedding anniversary in February, and the weirdness of 2020 has at least resulted in even more at-home family time for the Brady-Bündchen household.
"Happy birthday love of my life!" Bundchen wrote for her husband's birthday on Monday. "You are the best dad, the best partner and the best friend. We are so lucky to have you in our lives and we are looking forward to all the adventures ahead. We love you so much!"
Of course, it's not as if Brady isn't still balancing more than your average fellow on his plate. Along with his numerous endorsements and partnerships, Brady is also busy growing his TB 12 brand (all of his existing merch marked "TB" sure turned out to be convenient), the intricate lifestyle regimen he follows that he has credited for his longevity.
He's relegated to virtual promotion for the time being, but otherwise that's business as usual for him. Less normal, however, is how his competitive drive and commitment to staying in game-ready condition at all times has ruffled some feathers this summer. (As did his plug for a $45 bottle of TB 12 supplements "to support a healthy immune system" during a pandemic.)
Chris Urso/Tampa Bay Times via AP, File
"I think that you are basically giving your union the middle finger," Mike Florio of ProFootballTalk.com said in June about Brady conducting workouts with his teammates (now including former Patriot Rob Gronkowski, who came out of retirement to join the Bucs and play at least one more season with his favorite QB) after the players' union advised against group workouts. "You are undermining your union. You are working against the group that is in place to advance your interests. You are hurting their credibility by flaunting it. That's what bothers me the most about it.
"If the union hadn't said anything," Florio continued, "then we could say, 'Well, you know, Tom Brady's doing Tom Brady things, and he's working hard and he's getting his guys ready, he's not violating any ordinances in Florida right now'… But once the union says 'don't do it' and once Brady decides to turn it into a social media catalog of photos, it's just one middle finger after another at the NFL Players Association."
Noted one of many excited but concerned fans on Twitter: "I love seeing this however it is my hope that they've all been tested I can't believe that any of them would put their families in danger so there has to have been some kind of testing done or something for them to be doing this."
But in keeping with the first 20 years of his career, Brady has shrugged off his critics and has remained laser-focused on being ready to start the season. The NFL has canceled all preseason games, but the Bucs' season opener is scheduled for Sept. 13 against the New Orleans Saints.
"I think the most fun texts we've had is when Gronk signed," Tom House, Brady's personal throwing coach, told GQ Sports in June. "Tom texted me and said, 'Football's fun again.'" 
Vacation time was long over by then.
"When he sends a video, I pretend like I've never seen it before," House said, "and he'll either text me or leave me a voicemail and say, 'Look, I just filmed about 20 throws. Have a look. Give me a shout if you see anything, or let's talk this afternoon or tomorrow. And we'll do it."
And with training camp underway, they're still doing it.
"There was never a doubt I was going to coach, especially once I'd seen the protocols in place," Tampa Bay coach Bruce Arians, who can't not be excited about his team's prospects with Brady at the helm, told reporters at a press conference last week. He'll "coach like I've always coached," he said, only he'll also be wearing a mask and taking all of the other recommended precautions.
"You would hope we would have had spring practice, so all of them—especially the younger players—could get over the awe of Tom Brady walking into the locker. But we'll get through that, I think, within a week."