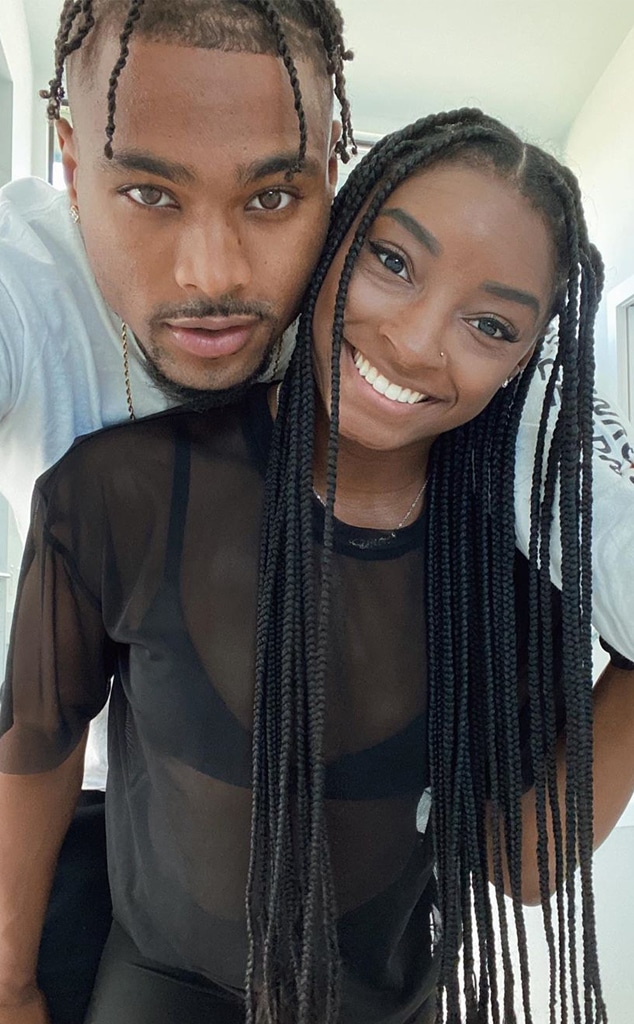 Instagram
Simone Biles has struck gold with her new boyfriend.
The 23-year-old Olympic athlete put her love on full display in a sweet Instagram post on Sunday, August 2. If anything, Simone made her romance with Houston Texans player, Jonathan Owens, officially official.
"It's just us," she captioned her post, alongside two adorable images of her and her beau. In the first photo, Simone is smiling from ear-to-ear, as Jonathan smizes into the camera. The second picture shows the two cozying up, with the NFL star leaning in for a kiss.
It was only last month that the couple sparked romance rumors, which happened the same month Simone confirmed she and Stacey Ervin Jr. decided to split after three years together.
On Jonathan's birthday, the 23-year-old star shared a special tribute on her Instagram Stories, according to The Shade Room. "Happy 25th birthday," she captioned her post at the time, alongside an image of the NFL star giving her a piggyback ride. "Hope this year brings you everything you want & more."
While Jonathan hasn't gone IG official with the Olympic athlete, he posted the same images as his girlfriend on Instagram Stories.
Watch:
Simone Biles & Boyfriend Break Up After 3 Years
In July, Simone shared the news in her Vogue cover issue that she and Stacey had gone their separate ways. "It's hard being young and having that long of a relationship and then ending it," she explained to the publication. "But it was for the best."
While Simone didn't dive into detail about what caused their split, the magazine noted that they ended their three-year relationship in early March.
The duo began dating in 2017 and gave their followers insight into their romance with frequent social media posts about each other. Last October, Simone gushed over Stacey with a sweet shout-out on his birthday.
"Happy birthday to the man of my dreams. So many things I love about you. Your energy lights up an entire room. you're a true gentleman and you always put others first," she expressed at the time. "Your mindset, grit and your passion for greatness. 26 will be a great one! Never stop being you Stacey Ervin Jr. I love you."
But as the saying goes, all good things must come to an end. And it looks like Simone is finding her happily ever after with Jonathan.